Texas A&M junior center Kelsey Bone will forego her senior season and enter the 2013 WNBA Draft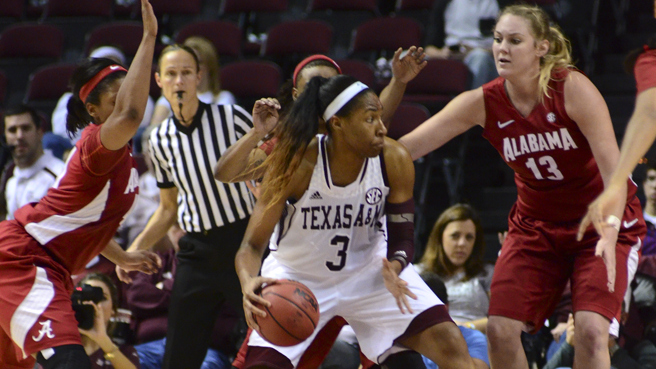 From Texas A&M:
Texas A&M junior center Kelsey Bone announced Wednesday that she has decided to forego her senior season and will enter the 2013 WNBA Draft.
"The growth and maturity that I have acquired has prepared me to be able move on to the next phase in my life as I will be entering the 2013 WNBA Draft," Bone said. "The experiences I have gained at Texas A&M have prepared me for the challenges ahead. I am not afraid of these challenges, I embrace it with the Aggie Spirit and core values that I have learned here in Aggieland. Texas A&M has been all that I have wanted it to be for me. I will wear my Aggie Ring with pride going forward throughout my career."
The 6-foot-4 Houston native came to Texas A&M after competing her freshman season at the University of South Carolina. During the 2009-10 campaign at USC, Bone led the SEC in rebounding and placed eighth in scoring, garnering SEC Newcomer of the Year from the Associated Press and Second Team All-SEC from the league's coaches. After sitting out a year due to transfer rules, Bone returned to the court for the 2011-12 season in Aggieland and once again received Newcomer of the Year Honors, this time in the Big 12, and garnered Honorable Mention All-Big 12 accolades. Bone was second on the team in scoring and ranked third in the league in field-goal percentage and fifth in offensive rebounds.
Bone led the charge for the Aggies' first season in the SEC during which they earned a program-best eighth consecutive trip to the NCAA Tournament and claimed the school's first ever team SEC team championship by winning the league's post-season tournament in Duluth, Ga.
"Kelsey Bone is who I consider in my ten years at Texas A&M the best spokesperson for A&M and women's basketball," head coach Gary Blair said. "Her future is unlimited and I am very excited for her today and her future. Kelsey is just the third player that I can think of has made this decision following Candace Parker of Tennessee and Epiphany Prince of Rutgers. There is nobody in the country that has improved as much as Kelsey Bone in the past year. She put in the work in the summer, streamlined everything and made up her mind to be a next-level player for us this season and for her future"
Bone's 2013 season will remain etched in the record books as she scored the fourth most points in a single season in program history with 582, while ranking third in the SEC at 16.6 points per game. Additionally, the Dulles High School product pulled down 326 rebounds to rank second in the A&M single-season record books and place second in the SEC by averaging 9.3 rebounds per contest.
Among Bone's highlights in an Aggie uniform were a career-high 33-point outburst in the World Vision Classic in Las Vegas against Old Dominion, one of her SEC-leading two 30-point outings this past season. The center also recorded an Aggie Reed Arena-record 17 rebounds against Ole Miss in late February. Additionally, Bone led the league in field-goal percentage.
Bone is projected to go in the top-half of the first round in the upcoming WNBA draft, which would make her the 10th Aggie under Blair to be drafted by the WNBA, including at least one draftee each of the last six drafts (2008-2013). The Aggies that have been drafted under Blair are Tocarra Williams in 2004 to San Antonio, A'Quonesia Franklin in 2008 to Sacramento, Morenike Atunrase in 2008 to San Antonio, Danielle Gant in 2009 to Chicago, Tanisha Smith in 2010 to Seattle, Danielle Adams in 2011 to San Antonio, Sydney Colson in 2011 to New York, Sydney Carter in 2012 to Chicago and Tyra White in 2012 to Los Angeles. Additionally, three Aggies that played under Blair (Takia Starks, Adaora Elonu and Skylar Collins) have had the opportunity to play professionally overseas.