The "Three to See" lead poised and polished draft class into the WNBA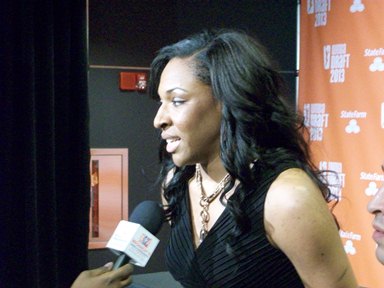 The college draft for any professional sports league is usually more of a celebration of the sport than an actual sporting event. Yesterday on the campus of ESPN, the WNBA celebrated its re-branding and re-packaging with the introduction of a new group of rookies, a group with perhaps more pressure on them than any group in the league's history.
The WNBA has seen the drafting of Lauren Jackson and Sue Bird and Diana Taurasi and Candace Parker and Maya Moore, who all came in with expectations of building the league to mainstream status; each of them was to be a savior of the league.
Although WNBA President Laurel Richie stated, "I would categorize it as three phenomenal players entering into a league that has more than a handful of phenomenal players," there is no denying that Brittney Griner, Elena Delle Donne and Skylar Diggins have been the ESPN's poster children for women's basketball, the "three to see," and the expectation for each is continued success as pros.
If the draft was any indication, the league has a poised, polished and ready to contribute group of rookies. This includes not only those three, who not surprisingly went one, two, three in the draft, but also the players drafted after.
Griner began the party as the number one pick, and before the Phoenix Mercury unveiled a 77-foot tall banner hanging in their city, Griner was already focused on building attendance by converting non-fans into fans and helping grow not just the Mercury, but the league as a whole.
"Phoenix already has a great fan base," Griner commented about the "X-Factor" in Phoenix, "and I hope that me going to the team can help bring out even more, and turn non-basketball fans into fans and bring out even more people. Pack the house every night because that's what we need to help out the league, pack the house every time."
Delle Donne complimented her new teammates on the Chicago Sky, emphasizing that she is not there to take over the team, but instead be in her words "a puzzle piece." She said that Chicago was her team of choice to go to and that she has high hopes.
"I want to leave a legacy there. I will work incredibly hard and play my heart out for this team," was her first message to Sky fans.
While Griner and Delle Donne will be going into situations that are poised for immediate success, Diggins is joining an improving, but developing, Tulsa Shock team. Diggins said that she has not always played on a perennial contender, but instead she helped build one at Notre Dame.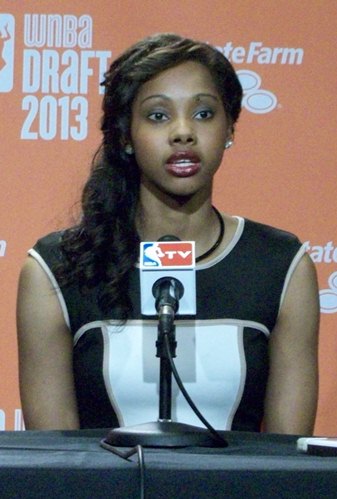 "When I entered Notre Dame we lost in the first round of the tournament the year before," she explained. "I tried to come in and be a leader right away and by the end of my career we had brought the program back to the elite level." Unlike 2010 pick Liz Cambage who has declined to return to Tulsa after her rookie year, Diggins is excited to do whatever Shock coach Gary Kloppenberg wants her to do and to bring success to Tulsa.
"I am looking forward to the opportunity to get to Tulsa," Diggins said, "and try my best to show my leadership skills and the skills that made me so successful on my team, so successful in college, and I hope it translates, and I will try my best to do whatever coach Klop wants me to do."
The Mystics selected Tayler Hill as Mike Thibault's first pick as a general manager, and while mentioning her physicality in driving to the basket and ability to hit three pointers, the Ohio State guard mostly discussed her passion for the game as what Mystics fans should expect from her most.
It continued throughout the evening, as each pick that was present was clearly excited by the new opportunities they would be presented with, and the new doors they can open.
Fifth pick Kelsey Bone of New York talked about her mother's sarcastic wit as preparation for Liberty coach Bill Laimbeer, and joked that between the Southern gentlemen style of her college coach Gary Blair and Laimbeer, she will have seen the two opposite sides of the spectrum. She also gave a big hug and yelled "teammate!" when seventh-pick Toni Young of Oklahoma State entered the interview room. Young, the athletic forward with the slight frame, discussed the fact that she played at least twice per season against Griner as proof she was ready for the physicality of the WNBA.
Tianna Hawkins, selected sixth by the Seattle Storm, seemed a little nervous about packing up and moving cross-country from Maryland to Seattle, but relishes the opportunity to play for the Storm in the absence of Lauren Jackson, and flashed the smile that Storm fans are going to enjoy.
San Antonio took the first non-attendee in Syracuse center Kayla Alexander at number eight, a post still developing her game, but already a tremendous offensive talent in the low post, something the Silver Stars have been lacking. Coach Dan Hughes will develop the defensive and physical side of her game, but she will is WNBA-ready in the paint offensively.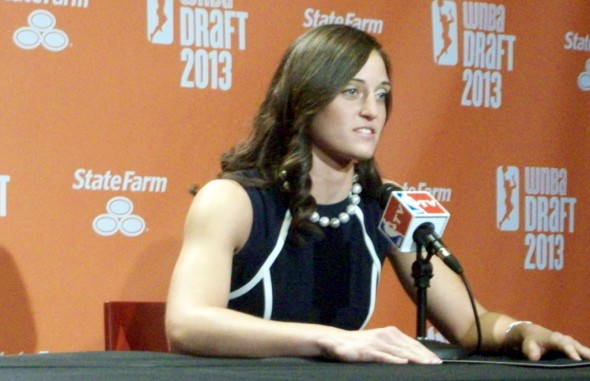 Indiana Fever fans that are used to the pure joy and effort on the court provided by Tamika Catchings now have another person to enjoy. Cal's Layshia Clarendon said that since Catchings likes the mohawk, the mohawk is headed to Indianapolis. As excited as any player at the draft, Clarendon was amazed the defending champions selected her, and she expressed excitement about the team's Pac-12 flair, with Jeannette Pohlen and Briann January also being form the conference. She did admit that getting used to coach Lin Dunn's drawl may be the biggest thing she has to adjust to in the league.
After Los Angeles selected A'dia Mathies, the second non-attendee, at number ten, the Connecticut Sun pushed their season ticket sales up with the selection of UConn fan favorite Kelly Faris.
Projected as going anywhere between five and the second round, Faris was absolutely thrilled to continue to play basketball in the state of Connecticut, starting her comments with "I guess you guys aren't getting rid of me yet." Faris is far more than just a ticket promotion though; her on court intelligence and ability to thrive without dominating will fit a Sun team with established leaders Tina Charles and Kara Lawson.
Minnesota completed the first round with Nebraska point guard Lindsey Moore and then added with the second choice of the second round Sugar Rodgers of Georgetown. The Lynx roster is stacked, but both Moore and Rodgers bring skills that could fit the Lynx well. The departure of Candice Wiggins and Erin Thorn opened two guard slots on the roster. Moore really drove her stock up with her NCAA tournament run, saying that it was the fact "it could always be the last game" that was a motivating factor. Rodgers, known as a volume shooter and a prolific scorer at Georgetown, emphasized she likes to play defense as well, as "you can't always control if it goes in (your shot), but you can control if you move your feet and hustle."
The only team without a first round pick, the Atlanta Dream is hoping lightning strikes twice for the franchise. Last season, Tiffany Hayes slid to them in the second round, and she was a strong contributor all season; this year Penn State point guard Alex Bentley slid to their first pick of the second round. Point guard is a position the Dream is looking to improve, with the loss of Lindsey Harding as a free agent, and Bentley talked about how excited she is to play with Angel McCoughtry, Atlanta's leading scorer.
It was a draft that began under the cloud of the events in Boston, and ended with the selection of North Carolina center Waltiea Rolle by the Minnesota Lynx. In between there were laughs and smiles, even some tears, but overall a sense of excitement about the new opportunities opening to these talented and successful young women. They will now be professionals, no longer student-athletes, and they faced their first challenge with confidence and poise, ready to take it head on.