What if Breanna Stewart entered the WNBA draft this season? Some WNBA GMs weigh in anonymously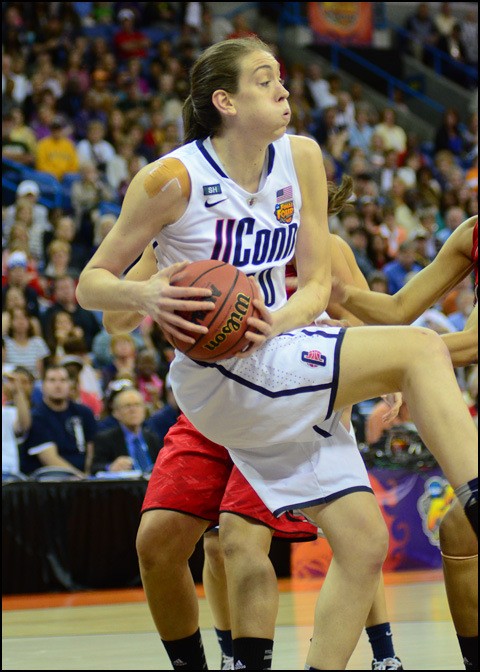 What If Breanna Stewart were to enter the WNBA draft this season…
One of the great things about women's college basketball, at least great for the fans, is that the players stick around for four years. The players develop from being young kids used to high school and AAU ball, into young women, ready to take on the rigors of professional and international play.
Every now and then, however, there comes along a freshman that may be that transcendent player that is ready right out of high school for the pros, or at least shows enough promise of what may be still to come that the pro scouts think "what if." Connecticut's Breanna Stewart may be just such a player. At 6-4, she has a ridiculously long arm span and incredible timing that make her a threat to block every shot and grab every rebound, despite her willowy frame.
On the offensive end, she has shown an ability to not only score inside with her size, but also to knock down three point shots. If she were a man, we would be discussing if Stewart would come out of school after her freshman year ends tonight, and would she be the number one overall draft choice in the NBA. As the "woman to the NBA" story has been played out already this week, what if Stewart was able to enter the WNBA draft this year? With the "three to see" of Brittney Griner, Elena Delle Donne, and Skylar Diggins being available, would Stewart be the top pick overall? Would she be drafted before Griner? Let's begin by comparing first year statistics for Griner and Stewart.
As a freshman, Griner played in 35 games, averaging 33.5 minutes. She scored 644 points, or 18.4 per game, while shooting just over 50 percent. She did not hit a three-point field goal, averaged one assist per game, and shot only 68 percent from the foul line. Where Griner excelled of course the rebounds, totaling 297, or 8.49 per game, and blocked shots, with 223 or 6.37 per game. Stewart has played in 35 games (with one to go), averaging 23.5 minutes. She scored 474 points, or 13.5 per game, while shooting just over 50 percent. She has hit 25 three-point field goals, averaged under one assist per game, and shot 79 percent from the foul line. Stewart has pulled down 220 rebounds, or 6.3 per game, and has 71 blocked shots or 2.03 per game. Clearly, Griner dominates the statistics. If you prorate the statistics to "per forty minutes" status, the story is different. They would look more like this:
| | | | | | | | |
| --- | --- | --- | --- | --- | --- | --- | --- |
| | PTS | PPG | REB | RPG | BLOCKS | BPG | 3-PT FG |
| Griner | 766 | 21.90 | 353 | 10.10 | 265 | 7.58 | 0 |
| Stewart | 806 | 23.03 | 374 | 10.69 | 121 | 3.46 | 42 |
Not so one sided any more is it? Now consider that Stewart is only 18 years old and still developing physically. So what would the WNBA General Managers that would have to actually make that decision say? Three gave opinions under the cloak of anonymity, as they did not wish to publicly discuss a player that is only a freshman in college.
GM Number One
"Stewart will be special. But she's still growing and learning the game. Griner can dominate both ends of the floor & has shown growth in her game. I would choose Griner if I had that chance."
GM Number Two
"I would choose Griner because she impacts the game so much defensively. Opponents shoot 22 percent against her! And her low block scoring is a challenge to guard. Stewart will be great but Griner is game-changing."
GM Number Three
"Well, that is a very interesting question. Griner is the most dominate player to have come out, but not as versatile offensively as Stewart. So it depends what you like. Plus that question may be easier to answer when Stewie is a senior, when we can find out how tough mentally and physically she is. If she was in the draft right now, she would go 3rd or 4th. Is she better than Delle Donne? I'm not sure about that."
So while all the General Managers were very high on the potential upside of Breanna Stewart, all of them would take the more known commodity, the Naismith and Wade winning talents of Brittney Griner.
Aren't you glad that we do not have to face this problem though, and we can enjoy three more years of college ball for Breanna Stewart. After that, when she is pro eligible with continued improvement, as GM number three also said, "then it is a whole new ball game for the WNBA."