Despite changes in the Eastern Conference, Connecticut Sun show confidence at Media Day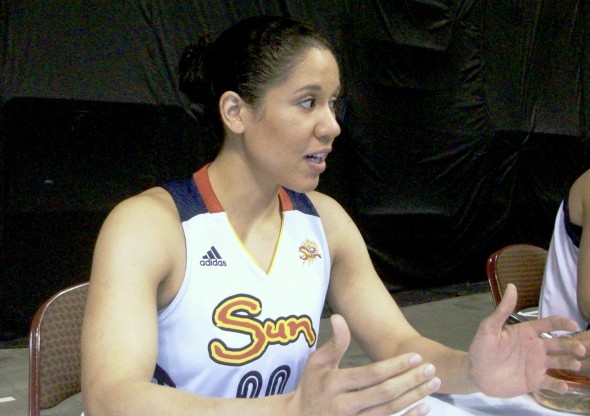 UNCASVILLE, Conn. – Former head coach Mike Thibault is in Washington and All-Star and USA national team player Asjha Jones is at home. Bill Laimbeer is trying to recapture Detroit Shock glory in New York, Elena Delle Donne is in Chicago, but Tamika Catchings is still in Indiana and Angel McCoughtry is still in Atlanta. The Eastern Conference of the WNBA is potentially tighter than ever before. After chatting with the players and the coach, it was clear the Sun knows what lies ahead. They are confident, and ready for the challenge.
When the Sun management decided to fire Thibault after last season, the only coach the team has had since moving from Orlando, there was some concern from players and fans alike as to how they would replace the success The Anne Donovan era has officially begun at Mohegan Sun Arena, and she is as surprised as anyone that she is here.
"I was really thinking Seton Hall and building that program was going to be my energy, and might be a career-ending move for me," Donovan explained. "I really thought I'd left the WNBA behind, but I never dreamed this job would become available. When the phone rang to come look at Connecticut it was an easy decision."
The key word for the 2013 Sun appears to be "defense." and it was heard from virtually every player. Kalana Greene, who was drafted when Donovan was coaching in New York, explained that the team's defense will need to be better to succeed this year.
"I don't think teams in the East like to play difference for an entire game," Greene said. "We're going to score, but I think we are the team that's going to buckle down and defend for the entire game."
There is no denying the strengths of the team are 2012 Most Valuable Player Tina Charles at center and the stability and three-point shooting of Kara Lawson at the guard position. Both are ready for the challenges ahead, especially the new rule changes moving back the three-point line and the introduction of defensive three seconds.
"I think it's going to show everybody's skill," Charles said in discussing how the changes would spread the floor.
"I think it's definitely going to expose people." Lawson joked, "Now we'll see the real three-point shooters," and that "there's been posts shooting three-pointers before, this should stop a lot of that."
The forward slots are where the questions will arise.
At the small forward spot, rookie Kelly Faris (currently in a boot and not yet practicing from a foot injury) and Greene bring similar skills to the position; defense, smart play, but not necessarily consistent offense. Tan White is back and was in the mix when the Sun went small last year, but the loss of Danielle McCray to a torn Achilles' tendon weakens the depth, and will give a player like England's Johannah Leedham who has a great deal of international experience a chance to stick.
The power forward slot, has more depth. While Jones' absence is important, the Sun did play twenty games last year without her due to injury around the Olympic break. Mistie Bass and Kelsey Griffin return after stellar overseas seasons, with great confidence and both feel that they have an excellent chance of claiming the position. In addition, Ashley Walker, Latoya Williams, and Chatilla van Grinsven are all in camp trying to claim time in the post rotation.
While Donovan stated that a mix of players will most likely fill both the production and minutes Jones provided, Charles is not concerned.
"Somebody will step up, I have no doubt in my mind," Charles said. "She (Jones) didn't come back after the Olympics and somebody stepped up then so I'm sure they will do it again."
With the changes throughout the league, it is hard to imagine the Sun will be able to duplicate their 25-9 regular season record. The good news for Connecticut fans, though, is that may not be necessary for the team to still be a force in the East and contend for a conference championship.
Last year's conference final loss to Indiana has left a bad taste for the returning Sun players, and there is no denying that they all would like to cleanse their palette with a WNBA championship.