Dishin & Swishin 5/23/13 Podcast: A Roundtable preview of the 2013 WNBA season – Part Two, the Eastern Conference and the Panelists fearless predictions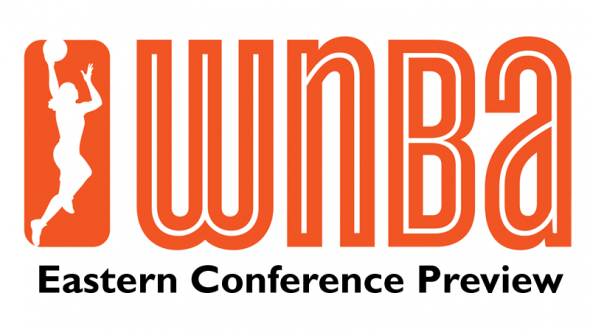 [display_podcast]
We hope you enjoyed Part One of the Dishin & Swishin 2013 WNBA preview roundtable podcast, which was posted yesterday!
This year the roundtable was so good, and so loaded with information from our esteemed panelists, we have to divide it into two parts. Yesterday you heard the preview of the Western Conference. Today you will get to hear the preview of the Eastern Conference and the predictions for the season from our panelists.
As always the roundtable is hosted by Dishin & Swishin host David Siegel. The panel members joining David are:
Mechelle Voepel, ESPN journalist
Debbie Antonelli, television analyst who covers the Indiana Fever and a great deal of NCAA action
Christy Winters-Scott, television analyst who covers the Washington Mystics and NCAA games
Cindy Brunson makes her Dishin & Swishin debut, Fox Sports Arizona, former studio host of the WNBA for ESPN and SportsCenter anchor
Can the Indiana Fever repeat in the East? How will the coaching changes impact the division? The roundtable will discuss each team in detail. Topics include arrivals and departures, rookies and veterans, and injuries and health. Who will improve, who will slide back? Who will contend for the playoffs and who will contend for the lottery.
To help you find your favorites, just like yesterday's discussion of the Western Conference, we have for you a guide as to where they are approximately located in the podcast (minutes:seconds). Obviously the best way to enjoy the flow of the roundtable is to listen in its entirety, but we understand sometimes that is not possible.
Introduction and Washington Mystics preview – 00:00
New York Liberty preview – 10:46
Chicago Sky preview – 17:05
Atlanta Dream preview – 25:05
Connecticut Sun preview – 31:37
Indiana Fever preview and subsequent discussion on Lin Dunn and the evolution of coaches in women's basketball – 41:21
Once the individual teams have been discussed, it is time for the fearless predictions from each member of the Dishin & Swishin roundtable panelists! In sequence the predictions are:
Conference champions, playoff teams, and finals predictions – 49:20
Most Valuable Player award winner – 54:37
Rookie of the Year and the player you want to see, that you think will make an impact for whatever reason – 58:30
Final thoughts, parting comments, from each panelist on the upcoming season (and the challenge Mechelle Voepel throws down to host David Siegel) – 1:04:38
One small disclaimer, the Roundtable was pre-recorded, so if you hear references to recently waived players (ie Gemelos, Jeffery) or injuries (Phillips), it is not that the roundtable does not know about them, they just had not happened when the Roundtable was recorded.
Remember, if you have not already, go back and check out part one, the Western Conference! Enjoy the podcast!