Dishin & Swishin 6/27/13 Podcast: Seimone Augustus embraces her role in Minnesota on and off the court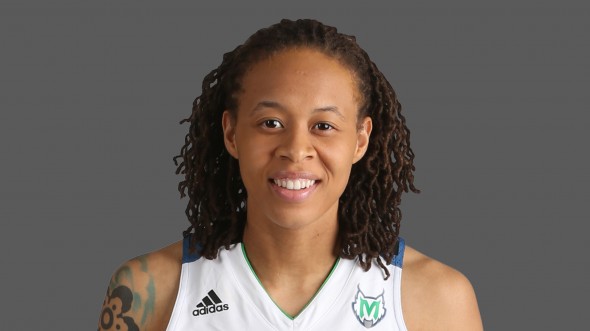 [display_podcast]
Things have certainly changed for the Minnesota Lynx franchise over the last few years. Once a doormat, the team has been a dominant force the last few seasons, winning the 2011 championship and making the finals for a second straight year in 2012. This season, they hope to return to the top, with a team that has four new players, but still led by the constant, consistent excellence of Seimone Augustus.
Augustus has seen the franchise lows in her career. The year before she was drafted Nicole Ohlde led the team in scoring at only 11.2 points per game, and Augustus was the only player to average in double figures in 2006, her rookie season. Drafting Augustus was the move that started the franchise best known for trading away Katie Smith. Subsequent drafts and trades assembled the core of the franchise and Cheryl Reeve does a masterful job coaching them.
As good as Maya Moore, Lindsay Whalen and Rebekkah Brunson are, the Lynx most likely would not have been a championship team without Augustus.
It is her silky smooth jump shot and slashing to the basket that creates space and separation for the others. Her dramatic improvement and dedication on the defensive end are integral parts of their success. She has overcome injuries and illness to become a three-time All-star, two-time Olympic gold medalist and finals Most Valuable Player.
Off the court, Augustus has publicly embraced her position as a role model in the lesbian and gay community, talking openly about wanting to get married in Minnesota to her fiancée, and passionately discussing her happiness when Minnesota approved same-sex marriage.
On today's podcast, Augustus talks about the 2013 Lynx, including candid comments about the lessons learned from their two road losses, at Minnesota and a disappointing performance in Los Angeles last weekend.
Other topics include her overcoming difficult injuries to make the 2012 Olympic team after not being selected for the World Championships, the new additions to the team and what they bring to the table, her feelings on the loss to Indiana in the finals, and Brittney Griner's publicly coming out and the media coverage.
It is an informative and interesting look from one of the truly great players in the WNBA.
Enjoy the podcast!