Lynx, Sparks dominate All-Star reserve selections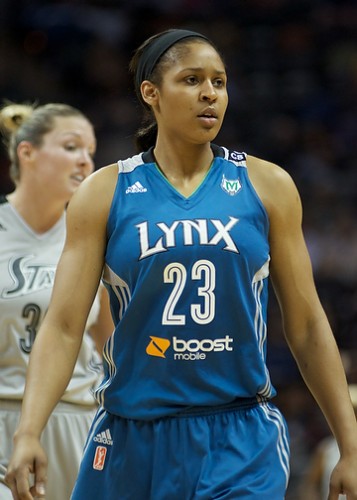 The Minnesota Lynx and Los Angeles Sparks, frontrunners in the Western Conference, dominate the reserves selected for the 2013 WNBA All-Star game. Lynx guard Lindsay Whalen and forward Rebekkah Brunson joined starters Seimone Augustus and Maya Moore, while Sparks guard Kristi Toliver and forward Nneka Ogwumike joined All-Star starter Candace Parker on the squad.
In the East, division leading Chicago added Sylvia Fowles to starting forward Elena Delle Donne and guard Epiphanny Prince. The rising Washington Mystics, a surprise this season, had two players selected by the coaches, guard Ivory Latta and forward Crystal Langhorne, while hosting Connecticut placed guard Allison Hightower and center Tina Charles.
Delle Donne, Latta, and Hightower are part of nine first-time participants in this year's game. Indiana's Shavonte Zellous was added as well to the Eastern Conference team. In the West first-time selections include number one draft pick Brittney Griner, Tulsa's Glory Johnson, San Antonio guard Danielle Robinson, plus Toliver and Ogwumike.
There are eight former number one overall draft picks in the game, starting with 2004's Diana Taurasi of the Phoenix Mercury, Augustus (2006), Parker (2008), Atlanta's Angel McCoughtry (2009), Charles (2010), Moore (2011), Ogwumike (2012) and Griner (2013).
Indiana Fever coach Lin Dunn will lead the Eastern team, which will have her own Tamika Catchings in the starting lineup, while the West will be led by Minnesota Lynx coach Cheryl Reeve.
Every team except the Seattle Storm will be represented, a disappointment for Storm fans accustomed to having Sue Bird and Lauren Jackson in the game.
The All-Star game will be aired on ABC on Saturday at 3:30 pm ET.
2013 WNBA All-Star Rosters
EASTERN CONFERENCE ALL-STARS
Head Coach: Lin Dunn (Indiana Fever)
Player
Team
Position
Tamika Catchings*
Indiana Fever
Frontcourt
Tina Charles
Connecticut Sun
Frontcourt
Elena Delle Donne*^+
Chicago Sky
Frontcourt
Sylvia Fowles
Chicago Sky
Frontcourt
Allison Hightower^
Connecticut Sun
Guard
Crystal Langhorne
Washington Mystics
Frontcourt
Ivory Latta^
Washington Mystics
Guard
Angel McCoughtry*
Atlanta Dream
Frontcourt
Cappie Pondexter*
New York Liberty
Guard
Epiphanny Prince*
Chicago Sky
Guard
Shavonte Zellous^
Indiana Fever
Guard
WESTERN CONFERENCE ALL-STARS
Head Coach: Cheryl Reeve (Minnesota Lynx)
Player
Team
Position
Seimone Augustus*
Minnesota Lynx
Guard
Rebekkah Brunson
Minnesota Lynx
Frontcourt
Brittney Griner*^+
Phoenix Mercury
Frontcourt
Glory Johnson^
Tulsa Shock
Frontcourt
Maya Moore*
Minnesota Lynx
Frontcourt
Nneka Ogwumike^
Los Angeles Sparks
Frontcourt
Candace Parker*
Los Angeles Sparks
Frontcourt
Danielle Robinson^
San Antonio Silver Stars
Guard
Diana Taurasi*
Phoenix Mercury
Guard
Kristi Toliver^
Los Angeles Sparks
Guard
Lindsay Whalen
Minnesota Lynx
Guard
* denotes member of the starting lineup, as voted by the fans
^ denotes first-time All-Star selection
# denotes injured and will be unable to participate in the WNBA All-Star Game
+ denotes rookie
WNBA ALL-STAR GAME HISTORY
Date
Location
Winning Team
Losing Team
July 14, 1999
Madison Square Garden (New York)
West 79
East 61
July 17, 2000
America West Arena (Phoenix)
West 73
East 61
July 16, 2001
TD Waterhouse Centre (Orlando)
West 80
East 72
July 15, 2002
MCI Center (Washington)
West 81
East 76
July 12, 2003
Madison Square Garden (New York)
West 84
East 75
July 9, 2005
Mohegan Sun Arena (Connecticut)
West 122
East 99
July 12, 2006
Madison Square Garden (New York)
East 98
West 82
July 15, 2007
Verizon Center (Washington)
East 103
West 99
July 25, 2009
Mohegan Sun Arena (Connecticut)
West 133
East 118
July 27, 2011
AT&T Center (San Antonio)
East 118
West 113
* No All-Star game was held in 2004, 2008, and 2012 due to the Olympic Games in Athens, Beijing, and London, respectively.
Similarly, no All-Star game was played in 2010, due to the FIBA World Championships in Czech Republic.
An exhibition game was conducted at Radio City Music Hall in the summer of 2004, and in 2010, an exhibition game was held at Mohegan Sun in Uncasville, Conn. with a USA vs. WNBA format in the "WNBA vs. USA Basketball: The Stars at the Sun."
The 2011 All-Star Game featured a record 10 first-time All-Stars and was marked by a halftime ceremony honoring the top 15 players in the WNBA's 15-year history. Seattle's Cash led the West with 21 points and 12 rebounds and was named MVP for the second time. She joined Lisa