USA women lock down Russia to capture gold medal with 90-71 victory at World University Games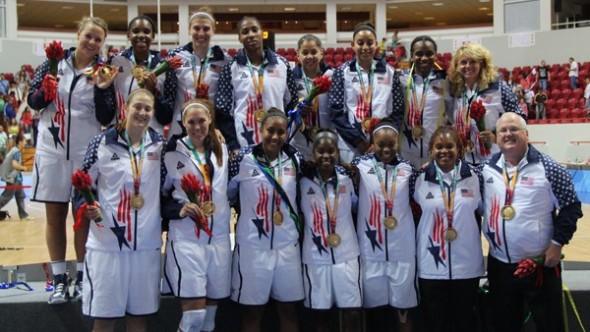 From USA Basketball:
July 15, 2013 • Kazan, Russia
Behind an outstanding defensive performance, the 2013 USA Basketball Women's World University Games Team (6-0) never trailed and kept Russia (5-1) at a distance for most of the second half on its way to claiming the gold medal in the 2013 World University Games with a 90-71 victory on Monday night at Basket Hall in Kazan, Russia.
The USA now has won three-consecutive gold medals, and nine overall, at the World University Games.
Bria Hartley (University of Connecticut/North Babylon, N.Y.) led the charge for the USA, scoring a game-high 17 points on 6-of-7 shooting from the field, including 2-of-3 from beyond the arc. Crystal Bradford (Central Michigan University/Detroit, Mich.) and Kaleena Mosqueda-Lewis(University of Connecticut/Anaheim Hills, Calif.) added 16 and 15 points, respectively, while World University Games Co-MVP Odyssey Sims (Baylor University/Irving, Texas) contributed 10 points and three assists. Sims, who averaged 12.7 points per game and a competition-best5.3 assists per game, shared MVP honors with Russia's Tatiana Grigoryeva.
The USA limited Russia to just 41.6 percent shooting (27-65 FGs) and 31.4 percent in the first half (11-35 FGs), and forced 20 turnovers, which led to 27 U.S. points.
"We had a defensive game plan that our kids executed beautifully," said USA head coach Sherri Coale(University of Oklahoma). "They did a tremendous job defensively against a team that is very hard to guard."
"Coach Coale told us there were three things we were going to have to do defensively," detailed Mosqueda-Lewis on the USA's defensive game plan. "That was stay in a stance, close out and rebound, and I think we did those three things pretty well throughout the whole game. We made sure that we always had the upper hand on Russia."
Getting off to a quick start, the USA built a 13-3 lead with just under four minutes left in the first quarter after aJordan Hooper (University of Nebraska/Alliance, Neb.) jump shot. Making her first start of the competition, Hooper played a critical role in the USA building an early lead as she scored seven points and reeled in four rebounds in the opening quarter. Russia tightened the score to 19-13 before Mosqueda-Lewis hit a 3-pointer to end the scoring in the first period with the USA ahead 22-13.
Russia started the second quarter strongly, going on an 8-3 run to open the frame, including six-straight points that prompted Coale to call a timeout with 7:46 remaining and the USA lead cut to 25-21. Mosqueda-Lewis would nail another 3-pointer to stop the run, and the USA outscored Russia 16-6 over the remainder of the half, including eight points and two 3-pointers from Bradford.
"I'm coming off the bench to bring a spark and intensity into the game, and that's what I knew I had to do," said Bradford on her contributions to the USA's 41-27 halftime lead. "I'm just happy that I could do that for my team."
Despite falling behind by as many as 15 points early after halftime, midway through the third quarter, Russia began to build some momentum and scored four-straight points to cut the U.S. lead to 50-42 with 5:14 to play in the period. Hartley immediately answered, however, hitting a 3-pointer assisted by Ariel Massengale (University of Tennessee/ Bolingbrook, Ill.) ten seconds later to put the USA back up 11 points. Russia would not bring its deficit to single digits again.
Following a steal by Cassie Harberts (University of Southern California/San Clemente, Calif.), Hartley scored on a fast-break layup. Next, Massengale made a driving lay-in on the right side, which preceded another Hartley 3-pointer assisted by Massengale. With 3:17 to play in the third quarter, Hartley and Massengale, who finished with a game-high five assists, had pushed the U.S. lead to 60-44 – at that point the USA's largest lead of the night.
"Ariel did a good job of pushing the ball, and she was able to find me on those two threes," said Hartley on the game-changing sequence. "A lot of the stuff we did sparked off our defense. We were able to get some stops and get some rebounds and push it."
The USA's lead would balloon to 68-47 heading into the fourth quarter. Two free throws by Sims gave the USA its largest advantage of the game at 73-49 with 9:26 to play, and Russia was kept at bay, never closing the margin any closer than 15 points in the final period.
After letting a 17-point fourth-quarter lead slip away in the semifinals against Australia before coming back to win, the USA never let its foot off the gas.
"With two minutes left," said Coale when asked at what point she felt comfortable with the lead. "I just didn't feel like anything was safe and tried to focus on every possession. But with about two minutes left, it felt pretty good."
Sims scored the final bucket for the USA with 44 seconds remaining before Russia's Nadezhda Grishaevascored to bring the score to the final tally of 90-71. As the co-MVP Sims dribbled out the clock, the USA began celebrating.
"It's an unexplainable feeling," said Bradford on how she felt when the final horn sounded. "I wouldn't want to have it with anyone but these 11 girls. I think everybody on this team deserved it. We all worked hard. The best feeling is it wasn't given to us. We worked for it, so to say we deserved it is huge."
"I think our success speaks to the selflessness of these guys on this team who were willing to play roles, whatever those roles might be, different roles on different nights," said Coale on what made it so special to win with this collection of players. "Guys who were willing to buy in and be respectful of our coaching staff and try to do it the way that we asked. You couldn't do that without them being mature enough to do that, and they did in a great way."
For the game, the USA shot 52.2 percent from the field (35-67 FGs), 45.0 percent from 3-point territory (9-20 3pt FGs) and 73.3 percent from the line (11-15 FTs). For the competition, the USA shot .802 from the stripe (93-116 FTs) which bested the previous USA World University Game competition-best of .750 free-throw shooting set by the 1995 squad. Also, with 32 assists for the competition, Sims broke the previous mark for most assists by a U.S. player at the World University Games of 30 assists held by both Kamie Ethridge (1985) and Suzie McConnell (1987).
By winning her second gold medal at the World University Games after helping the USA earn the top placing in 2011 as well, Sims becomes the first women's basketball two-time gold medalist for the USA at the World University Games. Also adding to their golden collection are now four-time USA Basketball gold medalists Hartley, Massengale and Mosqueda-Lewis; as well as two-time gold medalists Reshanda Gray (University of California/Los Angeles, Calif.), Harberts and Theresa Plaisance (Louisiana State University/New Orleans, La.).
In the bronze medal game earlier today, Australia (5-1) defeated Taiwan (4-2) 99-58 to claim a spot at the medal ceremony.
Assisting Coale on the USA sideline were Brian Giorgis of Marist College and Coquese Washington of Penn State University.
Organized by the International University Sports Federation (FISU) and held every other year, the World University Games is a multi-sport competition open to men and women who are between the ages of 17 and 24 (born Jan. 1, 1989 through Dec. 31, 1995). The USA women's team is comprised of U.S. citizens who are currently enrolled in college and have remaining eligibility.
Since 1973, the first year the USA women competed in the WUGs, the United States has compiled a 101-15 record.