Dishin & Swishin 8/29/13 Podcast: The WNBA Eastern conference – Swin Cash & Chicago are #SkyHigh & Ros Gold-Onwude discusses the final playoff spots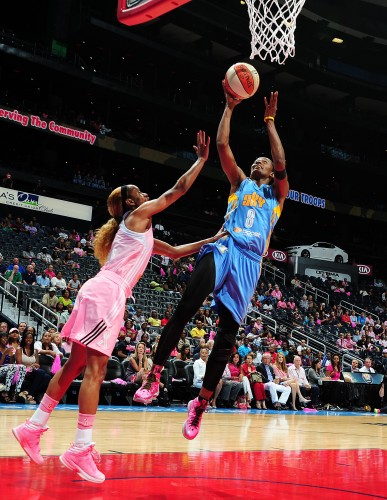 [display_podcast]
Pundits across the WNBA felt that the Chicago Sky would be a playoff team this season. They returned young stars Sylvia Fowles and Epiphanny Prince and a maturing Courtney Vandersloot plus added a star rookie in Elena Delle Donne. Even the staunchest Sky supporters however, may not have expected to for the team to be tied for the best record in the league today.
In looking at the Sky, the stabilizing, veteran presence of Swin Cash cannot be overlooked when evaluating their success.
Cash is a winner, that cannot be denied. She has missed the WNBA playoffs only three times since entering the league in 2002: her first year, then 2004 when her team qualified but she tore her ACL and finally last season with the Sky. Cash has three championships on her resume, plus gold medals and NCAA titles.
This season Cash has a different role; she is a mentor to Delle Donne, and a jack-of-all-trades performer who on one night scores, another night rebounds and every night defends. She has helped coach Pokey Chatman instill a winning culture in a city that has not tasted the playoffs previously.
Off the court, Cash has shown impressive growth and a willingness to take chances that is inspiring. Her Cash For Kids foundation is going strong, and in her book Humble Journey, she provides an insight into her previously guarded life. She topped it off by posing for the ESPN Body issue this summer.
Cash joins Dishin & Swishin this week to discuss the Sky's success, her team and teammates, and her off the court endeavors. She even gives a response to Diana Taurasi's All-star Weekend challenge about going "full frontal" this time in ESPN!
While Chicago and Atlanta seem to be pretty well set as playoff teams out in the east, the battle for the final two spots between Washington, Indiana, and New York is going to go down to the wire, and be an exciting one.
Former Stanford guard and current Liberty commentator Ros Gold-Onwude is the second guest on this week's podcast, to discuss the playoff race. Topics include overcoming and dealing with injuries old and new, the upcoming schedule, the coaches and who will be the key players. Gold-Onwude helps break it down and gives you information to formulate your own opinion on who will make the playoffs.
To summarize then, Dishin & Swishin this week gives to you an enjoyable look at the Eastern conference of the WNBA with one of its stars, Swin Cash, and one of its broadcasters, Ros Gold-Onwude. Enjoy the podcast!