Frustrated Tina Charles helps Sun overcome early struggle to defeat undermanned Fever, 70-64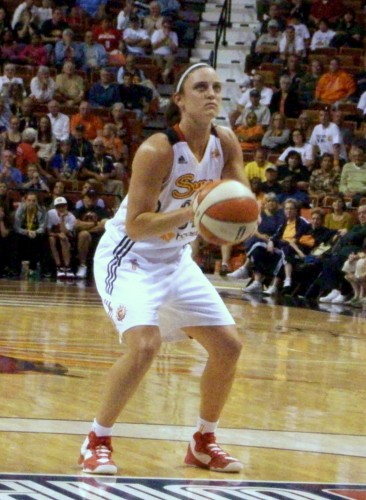 UNCASVILLE, Conn. – For the better part of three quarters, the Connecticut Sun and Indiana Fever struggled to put the ball in the basket in an unevenly paced, low scoring game. The Fever had an excuse; they were down to eight players when Tamika Catchings and Erin Phillips did not make the trip east for various reasons. The Sun, on the other hand, were missing only Kara Lawson, and needed a win badly to stay within reach of their Eastern conference foe and keep their playoff hopes alive.
After scoring only 41 points through three quarters, the Sun posted a 29-point fourth quarter to defeat the Fever 70-64 in front of a sparse Thursday night crowd of under 5,000 faithful.
Sun coach Anne Donovan went with five people for the entire fourth quarter, with the exception of two seconds: Tina Charles, Mistie Bass, Tan White, Allison Hightower, and rookie Kelly Faris. They rewarded her with one of the best quarters of the season for the Sun.
"I loved the energy from that group," Donovan said, "I didn't see a lot of fire in the first half, we were a little bit flat. So it was really nice to see that out of that group."
Donovan refused to discuss the fact the Fever was down to eight players, and that they were missing such crucial pieces in Catchings, Phillips, plus also injured Katie Douglas, Jeanette Pohlen and Jessica Davenport.
"A win is a win," she explained. "At this point, I'm not going there."
Still, with only eight players for the Fever, one has to wonder if the Sun's fourth quarter run was mostly attributable to their own performance, or the Fever simply being exhausted. The Fever played four of their starters over 32 minutes. Shavonte Zellous led with 35 minutes and Jessica Breland played 29:30. Through three quarters the Fever shot 51.1 percent from the floor, but in the fourth quarter, they shot 4-for-16 (25 percent). They also had a 34-21 rebounding edge after three quarters, but were outrebounded 11-4 in the final quarter.
The Suntook advantage of the situation. Mistie Bass hit all three of her fourth quarter shots. Tina Charles, Allison Hightower and Tan White each hit two. They controlled the boards, only committed two turnovers, and hit eight-of-nine foul shots down the stretch.
Tina Charles led the Sun with her 12th double-double of the season (22 points, 12 rebounds), which tied her on the career list for fifth all-time with Chamique Holdsclaw. What was striking though, was how demonstrative she was, slapping her hands and throwing back her head and yelling throughout the game, but especially when her teammates would commit costly miscues.
The 2012 Most Valuable Player is having an outstanding season once again, and made it clear post-game that she is not satisfied with the team's 5-12 record, and she expects her teammates to step up.
"It's a frustrating season," said Charles. "When you know your teammates' capabilities, and when they're not doing it, you get frustrated. When you see them in practice perform to the best of their abilities, and when it's time, when it's on the line, for them to perform and do their job, it gets really frustrating."
Charles said Donovan lit a fire in the team at halftime.
"Anne came in, she said what she had to say to motivate us. Everybody took that to heart, and in the second half we played great. In the fourth quarter we scored 29 points."
In the end, however, Charles put it back on her teammates to execute for the Sun to win games.
"Like I said it's expected of me to always get 20 and 10, it's always expected of them to do their part. I believe they can do it, they just have to be consistent, and take it personally."