Dishin & Swishin 9/05/13 Podcast: The WNBA Western conference – Maya Moore & the Lynx want the title back & Jayda Evans discusses the West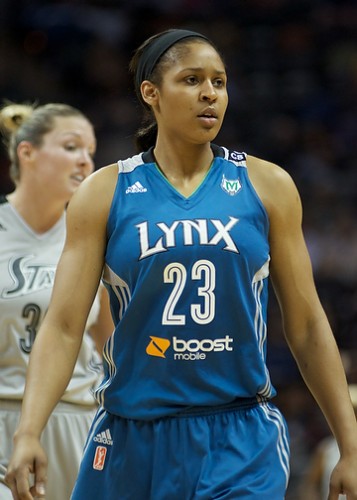 [display_podcast]
As we near the end of the WNBA regular season, the playoff spots in the Western conference look pretty similar to what many predicted at the start of the year, with possibly the only exception being the Seattle Storm's success. It is how they have gotten there that is the surprise!
The Minnesota Lynx look poised and confident, holding a 2.5 game lead over second place Los Angeles after last night's victory over the Sparks. Minnesota is an impressive 12-2 at home, and an even more impressive 15-3 in conference this season.
Minnesota's starting five boasts four All-stars and all of them are having amazing seasons. Perhaps the best of all belongs to the first guest on today's podcast, the WNBA Player of the Month for the Western conference for August, Maya Moore. Minnesota's first title coincided with Moore's arrival, and she has improved each season.
The improvements this season however, have many saying the three letters M-V-P:
18.6 points per game (16.4 last season)
0.507 field goal percent (.465 last season)
0.458 three-point field goal percent (.388 last season)
6.3 rebounds per game (6.0 last season)
1.63 turnovers per game (1.82 last season)
14 games with at least 20 points
2 games with at least 30 points
Moore's hustle and effort, as well as her smile and personality have endeared her to the Lynx faithful, and they are showing it in ways that are beneficial to the community. At the recent Breast Health Awareness game, the Lynx's pink jerseys were auctioned off for charity post game. Moore's jersey sold for an unbelievable $6,700, a feat she is as proud of as her game stats and she discusses on the podcast.
Can the Lynx be stopped in the Western Conference? That is a good question, and Dishin & Swishin has a good person to help answer the question.
Jayda Evans of the Seattle Times has seen all of the contenders up close this season, on their visits to KeyArena and joins the podcast to discuss the wild Western conference season which has included:
MVP candidates from at least three different teams.
A Phoenix Mercury team that did not get back one of their expected stars, fired their coach, and still appears to be destined for a playoff spot.
An inconsistent but extremely talented Los Angeles Sparks team that may have the deepest roster in the division.
A perhaps over-achieving or under-appreciated Seattle Storm that is missing two of the greatest players in the world and still has clinched a playoff spot
The podcast features a fun conversation with Evans about her impressions of the conference and what teams need to do to win the West come playoff time.
Enjoy the podcast!