Taurasi explodes in third quarter to propel Phoenix over Los Angeles in conference semifinals game one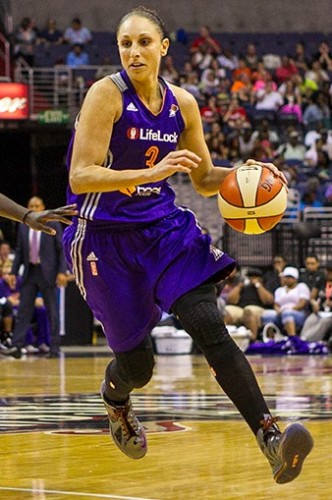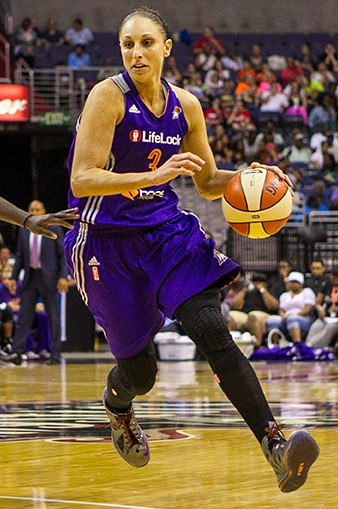 While Candace Parker had an MVP performance worthy of the honor received before her team's Western Conference semifinals opener, in the end it was a previous MVP, Diana Taurasi, that ruled the court to help Phoenix defeat Los Angeles 86-75 at Staples Center Thursday night.
The Sparks jumped out to a 26-20 advantage after one quarter with the help of a 14-2 rebounding advantage. The Mercury entered halftime at a deficit. The Sparks led 43-38 at the break on the strength of Parker's 16 first half points.
However, the Mercury came alive after the break, stealing the momentum from the Sparks with a huge rally led by Taurasi. She scored 14 of her 30 points in the third quarter leading her team in outscoring Los Angeles 27-17 in that stanza. Taurasi also contributed seven assists and four rebounds.  Candice Dupree scored 16 points and DeWanna Bonner added 13 for Phoenix.
Parker led the Sparks with 28 points, scoring 12 points in the first quarter. Guard Lindsey Harding contributed 16 plus five assists. Forward Nneka Ogwumike had eight points and pulled down 14 rebounds.
Parker complimented Phoenix on their comeback.
"We give Phoenix all the credit. They came out in the third quarter and really put it on us. We knew they were going to shut down our driving lanes and make us take shots from outside. We had a poor shooting night from outside. Our turnovers really hurt us. It's not like me to have zero assists. I have to find a way to put my teammates in a better position to knock it down and get it better shots whether that's in transition, early offense or in the half court set. We know what they are going to do. They are going to try to load the floor and double. I just have to do a better job of making decision to put my teammates in a better position to score. I think that's the game."
The best-of-three series resumes Saturday in Phoenix.
Sparks Quotes
Head Coach Carol Ross
On Ogwumike and Toliver's shooting
"At this point, it's my job to get everybody ready to go.  Everybody's got be on point, and clearly I've got to help them more and get them in a better position to be the great players they are."
On the team's poor offense
"We were not good offensively, for sure, you have to give Phoenix credit, defensively, as well.  Our spacing was poor; our movement to get the ball down inside was not what it needed to be.  We played way too much five-on-five offensively, we didn't play to our strengths, part of that was that they took us out of those, but at the same time, great teams impose their will.  We have to find another level to play the way we need to play on the offensive end to be successful."
On how Phoenix took over the second half)
"The third quarter was really the difference maker, it shifted greatly.  I thought we didn't stay as assertive as we needed to be offensively with pace, with pushing.  We don't have a choice, that's what we need to do, that's how we need to play; I just thought we gave that up too easily.  But, to their credit too, they got back in transition.  Toliver wasn't knocking down shots, that make it a little tougher for us, and we didn't get as many offensive rebounds.  We got a lot of defensive rebounds, but we didn't convert a whole lot of offensive, second opportunities.  We got more than they did, but we should have had more opportunities.
On stopping Diana Taurasi
"Clearly I've got to do a better job of finding somebody or something to bother her more.  We're just not making her uncomfortable enough.  So, we'll have to go back and look at it again, and see if we can't come up with something better from the get-go, and hopefully if it's good enough, we can ride it for four quarters.  With her, you have to be able to change things, because she's very smart, and if you go to one thing too long, she figures it out and beats you in other ways."
Forward/Center Candace Parker
What changed in the second half in regards to second chance points and free throws)
"If you look at our offense in the second half we had four people on the perimeter and one person at post and everyone was just standing. We had horrible possessions and we were giving up easy baskets. We can get off offensive glass but it's hard to know when they shot is going to happen when we are playing so stagnant. We are not that team. We are a run and gun, early offense team. We looked up at halftime and had like five assists and that's not us. I take personal responsibility because I had zero and that's not setting the tone."
On her emotions from winning MVP to losing the game
"If anybody knows me, I'm pretty focused. I can turn my mind on and have tunnel vision in a heartbeat. The MVP presentation before the game didn't really effect me in terms of the game. Obviously I'm disappointed that we lost game one. We are fortunate that it's a series. We have a lot of reflection to do."
Forward Nneka Ogwumike
On her thoughts on the game
"I think we started strong, maybe not as strong as we usually do, but we were in control of the game in the first half. I think in the second half we kind of lost ourselves. We didn't play like we had been practicing the past few days. We just need to be as aggressive as we can.
On her thoughts about what went wrong in the second half
"A lot of things got in the way in the second half. We could have moved the ball better on offense and we were not getting the stops we were getting in the first half. It's a team effort, it's a collective effort and we just didn't play as smart as we did in the first half."
On what Candace Parker said at the end of the game and her general thoughts about the teams potential
"She just said we need to respond like champions, you know, we know what we want and we know the caliber of play we can play at and its something we have been talking about all season. We just have to fight back, we know what we expect of each other and of the team."
Guard Jenna O'Hea
On her thoughts on the game
"We have a lot to learn from that game, we need to make some adjustments. Defensively we shouldn't jump, On offense we didn't not execute to the best of our ability and it will be something that is addressed at practice tomorrow."
Mercury Quotes
Head Coach Russ Penell
Opening statement
"It was typical of a playoff game, it was back and forth.  They obviously hit us in the mouth in the first half and really were killing us on the glass.  I thought that was the area that was hurting us the most at half time.  Second to that, was transition defense, and those were the two things we tried to address at halftime.  I'm really proud of our ladies and the way they fought back.  It's really tough to win on the road, and it's certainly tough to beat a team like Los Angeles who's got such a good team and a good record.  So, we're real pleased to get in here and get Game 1."
On how Phoenix can close out the series
"I think the obvious thing is on the glass.  The second half we were a little bit better, but we're going to have to rebound better and try to keep L.A. out of transition.  I thought the second half tonight the game kind of got down to more of a possession/half-court game.  I think that's definitely in our favor, I know that sounds funny being a Phoenix team, but I think that's who we are now.  We're going to be challenged, we know they have the MVP, they've got a great team and they're not going to come in and just roll over.  It's going to be a very difficult game, but I think we can start with rebounding the ball better and transition defense."
Guard Diana Taurasi
On the game
"It was a game of runs for the most part.  They came out in the first half, played really well. We didn't really get any kind of rhythm offensively and then defensively they pretty much did what they wanted. All the things we knew that could hurt us they did in the first half and they did it really well. In the second half, we made some simple adjustments and that helped us get back in the game. Then we got a little bit better rhythm and flow and that helped us through the fourth quarter."
On specific changes made over the course of the game
"Sometimes it just comes down to making shots. You play so many games and so many different seasons that people think a good game is just because you made shots. First half, I didn't make them, second half, I made them. Got some good looks. My teammates got me open on some of the things we worked on all week. Then on the other end, you just try to guard the basket a little bit better. They're so athletic with Candace (Parker) and Nneka (Ogwumike) and (Jantel) Lavender, Lindsey (Harding) getting to the basket. That really hurt us in the first half, so we try to do a little bit better job in the second half of protecting the basket."
On what the team has to do to carry momentum from this game to Game 2 in Phoenix
"We know this game means nothing if we go back to Phoenix and lose. To come back here on Monday would be a very dangerous scenario for us because we know what a great home team they are. Going back home and looking at the film and seeing the things that we can improve on and seeing if we can do them for longer stretches and just give ourselves a chance to win."
Forward Candace Dupree
On her thoughts on the game
"First quarter was difficult, first half actually because we did not have any rhythm of flow offensively, they were killing us on the ball. Surprisingly we actually shot a higher percentage then they did and had only five turnovers at halftime. I though in the second half we really picked up the intensity, got a lot of stops, rebound and we were able to get out and run."
On what adjustments they made in the second half
"We knew we had to crash the boards, we gave up too many offensive rebounds in the first half.  In order for us to get out and run we have to get stops and rebounds. We did a much better job of that in the second half. We did a good job of helping each other defensively, packing the paint, helping off and getting back."