Big 12 announces 2013-14 women's basketball preseason honors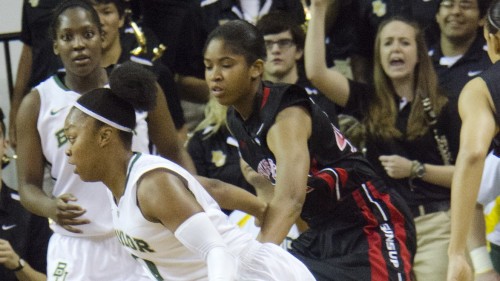 The Big 12 Conference has announced its Preseason All-Big 12 Team as well as honors for preseason player, newcomer and freshman of the year for the 2013-14 women's basketball season. The awards are chosen by head coaches, who are not allowed to vote for their own student-athletes.
Baylor's Odyssey Sims was named Big 12 Preseason Player of the Year after earning unanimous All-America honors last season. She is a two-time All-Big 12 selection and was the league's Freshman of the Year in 2011. The senior point guard averaged 12.9 points, 2.5 rebounds and 5.8 assists in the Lady Bears' run to the Sweet 16 in 2012-13. She finished second in the nation with a 2.67 assist-turnover ratio.
Oklahoma State junior transfer Marisha Wallace was selected Big 12 Newcomer of the Year. The NOC-Enid product averaged 17.6 points and 7.1 rebounds during her sophomore season. She was a second team all-conference pick and helped her squad to its second-straight Oklahoma Collegiate Athletic Conference title.
Big 12 Preseason Freshman of the Year honors were awarded to Baylor's Ieshia Small. This marks the second-consecutive season and third in the last four in which the Lady Bears have captured preseason recognition for both player and freshman of the year. The guard from Miami, Fla., was a 2013 McDonald's All-American and Florida's Gatorade Player of the Year. She was ranked by recruiting services as No. 3 nationally in her position and No. 19 overall. Small averaged 25.0 points, 9.0 rebounds, 5.4 assists and 5.0 steals as a high school senior.
Joining Sims on the Preseason All-Big 12 Team were Hallie Christofferson (Iowa State), Aaryn Ellenberg (Oklahoma), Imani McGee-Stafford (Texas) and Asya Bussie (West Virginia). Christofferson and Ellenberg were All-Big 12 selections a year ago while McGee-Stafford was an Honorable Mention pick. Bussie missed the season due to a knee injury.
The Big 12 Women's Basketball Preseason Poll will be announced on October 9.
PRESEASON AWARDS
(coaches not allowed to vote for own players)
Preseason Player of the Year
Odyssey Sims, Baylor, G, 5-8, Sr., Irving, Texas/MacArthur
Preseason Newcomer of the Year
Marisha Wallace, Oklahoma State, C, 6-2, Jr., Midwest City, Okla./Midwest City/Northern Oklahoma College – Enid
Preseason Freshman of the Year
Ieshia Small, Baylor, G, 6-0, Fr., Miami, Fla./Florida High School
PRESEASON ALL-BIG 12 TEAM
Name
School
Pos
Ht.
Cl-Exp
PPG
RPG
Hometown
Previous School
Odyssey Sims
Baylor
G
5-8
Sr-3L
12.9
2.6
Irving, Texas
MacArthur
Hallie Christofferson
Iowa State
F
6-3
Sr-3L
15.6
6.7
Hamlin, Iowa
Exira
Aaryn Ellenberg
Oklahoma
G
5-7
Sr-3L
18.7
3.3
Las Vegas, Nev.
Bishop Gorman
Imani McGee-Stafford
Texas
C
6-7
So-1L
11.1
9.4
Los Angeles, Calif.
Windward School
Asya Bussie
West Virginia
C
6-4
Sr-3L
12.1
6.6
Randallstown, Md.
Seton Keough
Honorable Mention (listed alphabetically by school)
Alexis Prince (Baylor), Tiffany Bias (Oklahoma State), Liz Donohoe (Oklahoma State), Zahna Medley (TCU), Nneka Enemkpali (Texas), Christal Caldwell (West Virginia)