Dishin & Swishin 10/03/13 Podcast: Lin Dunn and Brian Agler break down the WNBA finals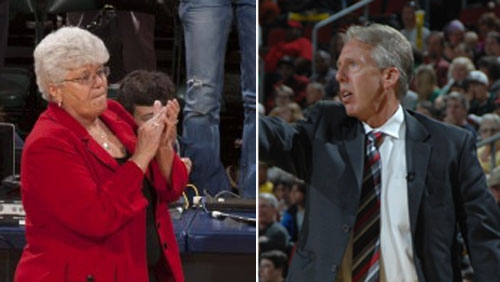 [display_podcast]
The last team Indiana Fever coach Lin Dunn faced this season was the Atlanta Dream. As coach of the Seattle Storm, the last team Brian Agler faced this season was the Minnesota Lynx. Who better to analyze the WNBA finals matchup between the Dream and the Lynx which begins on Sunday? Much has already been written about the finals; how it is a rematch of 2011, how the Lynx feel they are going to take back what they should never have lost to the Fever last season, how nobody thought Atlanta would get by Indiana in the conference finals, and so on. However, what these two outstanding coaches share on today's podcast includes:
How Janel McCarville is crucial to the success of the Lynx.
Why Fred Williams and his staff are the perfect coaches for this Dream team, and the same for Cheryl Reeeve and her Lynx staff.
What kind of role will the benches of each team play in this series.
Why Minnesota is better equipped to handle a smaller lineup this year than last year.
How Atlanta has matured since their last finals appearance and how that will impact the series.
How will each team defend the other team's stars (Minnesota defending Erika de Sousza and Angel McCoughtry, Atlanta defending Maya Moore and Seimone Augustus)
That is just a small sampling of the fascinating breakdown of this series in this lively 40-minute discussion on today's podcast. Hopefully, the finals will be as much fun to watch as the podcast is to listen to! Enjoy!