Dishin & Swishin 10/17/13 Podcast: Women's National Team Director Carol Callan looks at the past, present and future of USA Basketball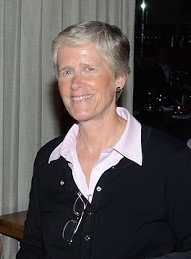 [display_podcast]
The WNBA season is in the books and NCAA teams are practicing for the upcoming season. With the lull in the action, it seemed like a great time this week to catch up with Carol Callan, the Director of the USA Women's Senior National team.
Callan joined USA Basketball in 1995, overseeing all facets of the gold medal winning 1996 team. Upon the completion 1996 Summer Games, she assumed the position of assistant executive director for women's programs, now renamed women's national team director.
Callan has been busy traveling the world the last few weeks, going from the first senior national team camp of the 2013-2016 period in Las Vegas to FIBA meetings in Geneva to an Olympic site walk through in Rio de Janeiro.
Callan is also the chair for the USA Basketball's women's developmental committee, as well as the team steering committee that chooses the coaching staff. She also serves as one of the five members of the player selection committee.
If anyone knows what is going on behind the scenes at USA Basketball, it is Callan.
On today's podcast topics discussed include:
Geno Auriemma's return as coach, the first returning coach for the senior national team.
The camp in Las Vegas, the participants and why the pool of candidates size is what it is.
DeLisha Milton-Jones' comments on an earlier podcast on why she dislikes the current selection process.
The makeup of the coaching staff nd why the pro and college mix is the way that it is
What goes into choosing those final one or two spots on the senior national team, and the choices the selection committee faces.
The role of Auriemma in the player selection process.
Hopefully many of your questions about the inner workings of USA Basketball are answered.
Enjoy the podcast!