Barclays Invitational Roundup: LSU and Michigan advance to title game in Brooklyn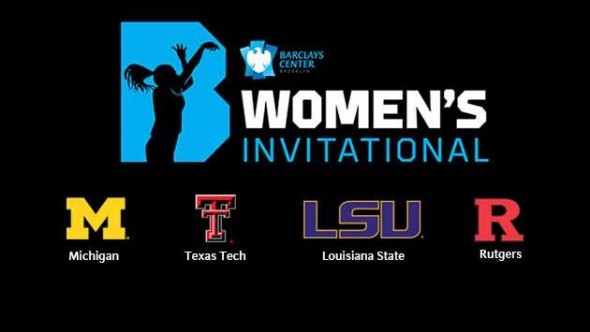 BROOKLYN, N.Y. – It was a day for rookies at the Barclays Center Women's Invitational Friday afternoon with newcomers sending Michigan and LSU into Saturday night's late title game at the home of the NBA New York Nets, which opened a year ago.
Siera Thompson, who had scored 22 points in a non-conference win over Pittsburgh at home in Ann Arbor on Nov. 20, topped that total by two points for new personal mark of 24 as the Wolverines beat Texas Tech 82-71 in what was Michigan coach Kim Barnes Arico's second homecoming appearance of the season.
The Wolverines mentor had coached St. John's for a decade prior to departing for the Big Ten school prior to last season.
Earlier this season Michigan (5-2) lost to Bowling Green in the opening round at Iona's tournament in New Rochelle to the north of New York City and then beat Arizona in overtime.
Meanwhile, 15th-ranked LSU fought through adversity and thrived on Raigyne Moncrief's 27 points while senior center Theresa Plaisance had 16 points and senior Shanece McKinney scored 10 as the Tigers held Rutgers off at the finish for a 69-65 victory.
Moncrief was 15-for-20 from the line and also had seven rebounds and seven steals to go with three assists. Her free throw with 2.1 seconds left in regulation wrapped up only the second win in seven games with Rutgers, though the two teams had not met since Rutgers edged the LSU at home 45-43 in Piscataway, N.J., in November 2007.
Former Tennessee star and assistant Nikki Caldwell was not the coach at the time and was at UCLA prior to her arrival for the 2011-12 season.
The Tigers (5-1), whose only loss has been to fourth-ranked Louisville, will play the Wolverines at 10 p.m. after Rutgers (4-2) and Texas Tech (3-2) meet at 7:30 p.m., a time slot the Scarlet Knights from nearby central New Jersey were going to play win or lose.
Moncrief's 15 foul shots – the Tigers overall were 23-33 vs. Rutgers' 14-for-19 – became second best in program history behind 18 shots by Pokey Chatman, who later became coach at her alma mater and now is coaching the Chicago Sky in the WNBA.
LSU, which defied several Rutgers' surges, was playing without starting guards DeShawn Harden and Danielle Ballard, who were suspended for a game after being tossed for fighting during last week's win over Louisiana Tech. The ousters were assessed following a video review of the fracas by officials.
"Everyone knows (Rutgers Hall of Fame coach) C. Vivian Stringer stresses defense and the strong transition game," Caldwell said. "We've been stressing all week that we have to share responsibility because we were two guards short."
"Even though we had some turnovers that led to transition baskets, we did a good job of stepping up our defense to cancel out some of those turnovers as well," she continued.
"We know it would definitely be a low scoring game, because both coaching staffs believe in defense and board play."
Ironically, Stringer, disappointed with her team committing 29 turnovers, of which 22 were in the first half, said that she had spent more time working offense and perhaps the time was to revert to her traditional emphasis.
Rutgers got back Yolanda Laney, who had suffered a sprain on her right ankle, and she had 11 points and seven rebounds, but also committed eight of the turnovers.
Kahleah Copper scored 16 points for Rutgers while Brionty Canty scored 13.
Rutgers had been looking for ways to cancel out last week's stunning loss at Massachusetts and losing to LSU was a missed opportunity because unlike past killer schedules, especially in nonconference play to go with the rigors of the old Big East, barring some emergence for other opponents, the Scarlet Knights are going to see only four ranked teams in six games.
LSU was the first and Tigers rival Georgia will visit on Dec. 21. Later in their first and last year in The American conference before moving on to the Big Ten, Rutgers will face top-ranked and defending NCAA champion Connecticut and NCAA runner-up Louisville in home-and-home confrontations.
Stringer said the early dose of cupcakes were "meant to provide" confidence with some wins to a squad which has no seniors.
However, after a decent revenge outing in the home and season opener against four-time defending Ivy champion Princeton, the Scarlet Knights struggled against Northeastern on the road and La Salle at home before losing at Massachusetts, which won only three games last year.
They returned home a week ago to host Howard.
Stringer said that perhaps her team was nervous and excited to play a ranked opponent and the mental breakdowns stemming from meeting LSU were different than losing to a team her squad gave signs of taking lightly during the warm-ups.
Caldwell lauded Moncrief, saying, "`Ray has done a lot for this team in the short period of time she's been here. I feel like she has grown since the Louisville game. We play her at multiple positions, but I think the thing that stands out is her intensity on the defensive end. It can really disrupt people. I like how 'Ray plays at a level and intensity as though it's her last game."
Coming from Baton Rouge and the special culture of the Deep South, especially Louisiana, the LSU players were thrilled to visit the big city, which they have toured and taken in some of the sights.
But playing here is its' own highlight.
"Coming here and playing in such a great arena, it was a great opportunity to see the facilities they have," Plaisance said. "It's a player's dream to come play in New York on a big stage and this was our time to do it."
Meanwhile, in the win over the Red Raiders (3-2), Michigan coming off a nine-day break, also got 15 points from Shannon Smith, 14 from Cyesha Goree, and 12 from Nicole Elmblad.
Texas Tech's Amber Battle had 23 points, while Jasmine Caston scored 15 points, and Minta Spears scored 10.
Barnes Arico was glad to see Thompson's performance because "we're so young and we lost 90 percent of our scoring from last season."
In talking about the opportunity to play, "I definitely jumped at it. But it's funny because when I first got to Michigan (men's coach John Beilien) told me, `When I was at other schools, we didn't get calls that much, but once I got to Michigan the phones started ringing: You want to be on CBS? You want to do this.' That block M really stands for something," she alluded to the school emblem.
"And I was surprised (to get the call) because we graduated nearly everyone. We're pretty young this year. The opportunity to play here and in this tournament is pretty special."