Dominant frontcourt leads UConn to 89-34 victory over Hartford in opener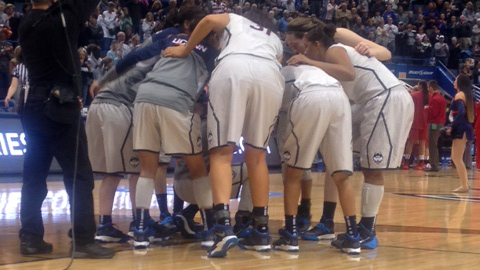 HARTFORD, Conn. – Moriah Jefferson led Connecticut in scoring with a career-high 17 points against Hartford, but it was the Huskies' frontcourt of Stefanie Dolson, Breanna Stewart, and Kaleena Mosqueda-Lewis that dominated the game, as the Huskies rolled over the Hawks, 89-34.
In front of a crowd of 8.186 at the XL Center, the Huskies' trio of Dolson, Stewart, and Mosqueda-Lewis combined for 42 points on 16-for-24 shooting (4-for-5 from three-point area), 12 rebounds, seven assists, six blocks and committed just one turnover.
Hartford coach Jennifer Rizzotti, who coached all three for USA Basketball, joked, "they like to show off for their old coach."
"I think what's so impressive about Stefanie and Breanna,"  continued Rizzotti, "is how much better they have gotten every year. They are just not content to be as good as they were, so they add something to their game every year."
It took until the second half for Dolson to even miss a shot, and her two three-pointers now equal 20 percent of the made three-pointers in her entire career.
UConn controlled every facet of the game from the opening tip, earning a 55-17 halftime lead, mostly from 23 first-half points off turnovers, and a 38-6 advantage in points in the paint.
"They all have individual strengths," said UConn coach Geno Auriemma of his frontcourt stars, "and they are all different from each other, and yet they are all pretty good ball handlers, they all pass the ball pretty well, so not only are they pretty good individually, but they help each other a lot"
Senior Bria Hartley, sophomore Jefferson, and freshman Saniya Chong, formed a solid three-guard rotation as well, scoring 31 points and dishing out 10 assists. Auriemma was pleasantly surprised by the performance of Chong.
"Some kids just come into a program as freshman, and they know where the ball is supposed to go, and somehow they get it there," he explained. "It doesn't mean she makes every great decision, she does the same dumb stuff that most freshman do, but if I was to judge her just based on past freshman we have had over the last I don't know how many years, for a kid that scored that many points. She's a really, really, really good passer."
The competition ramps up considerably for the Huskies next, as over the next week they play host to Stanford, followed by a road trip that features Maryland and Penn State.