No. 1 Connecticut overcomes loss of Mosqueda-Lewis to defeat No. 3 Stanford 76-57 behind Hartley's 20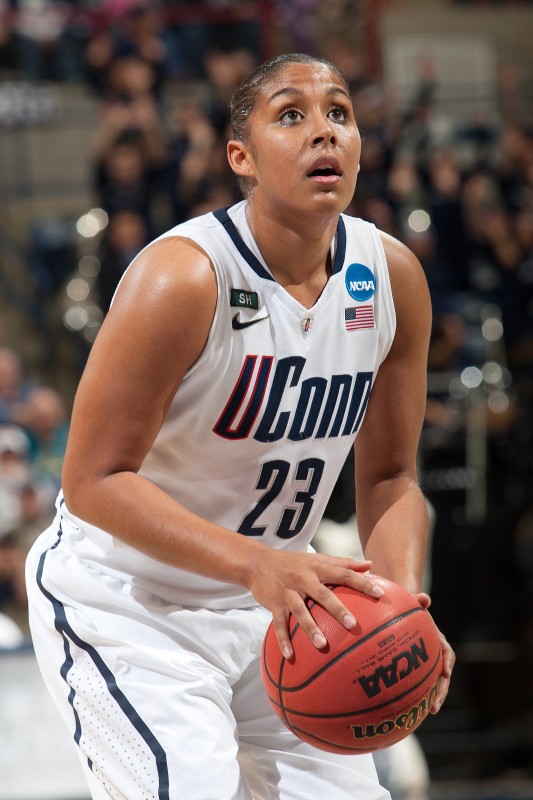 STORRS, Conn. – When two top teams play each other in mid-November there are many ways to look at it if you are a coach.
If you win convincingly, it shows your team is pretty strong, a viable contender. If you lose in a blow out, it is early, only November, and you know your team will not look the same come April. If you win a close game, maybe your team is exposed as not being as good as you thought it was. If you lose a close one, you know you are really close to getting over one of the top teams in the country.
So armed with that information, and the knowledge two Hall of Fame coaches carry onto the court, Geno Auriemma and Connecticut hosted Tara VanDerveer and Stanford in an early test of two teams with final four aspirations, and a matchup between two of the preseason candidates for player of the year, the Huskies' Breanna Stewart and the Cardinal's Chiney Ogwumike.
Both of these teams needed more than just their star power forwards, with the Huskies getting the better of it, coming away with a 76-57 victory, but possibly losing a big part of their team, as Kaleena Mosqueda-Lewis injured her right elbow in a hard fall. She did not return to the game after being helped to the locker room.
"It's always really sad to see someone go down," Stanford's VanDerveer said postgame, opening her comments with a wish for good health to Mosqueda-Lewis. "She's a great player."
Bria Hartley, healthy for the first time in almost a year, proved that she may join Ogwumike in the WNBA lottery this spring, scoring 20 points, pulling down eight rebounds and dishing six assists. She controlled the tempo for the Huskies.
VanDerveer felt Hartley was the difference in the game.
"I think all the kids that play here know what the stakes are, and she's improved. She's a very talented player and I really enjoy her game."
With foul trouble claiming Breanna Stewart and Moriah Jeferson for most of the first half, the bench stepped up for UConn, with center Kiah Stokes putting in eight points and grabbing eight rebounds, while blocking five shots in the first half alone. Stokes would finish with 10 points and 13 rebounds, in what Auriemma referred to as "the best game she's had at Connecticut."
Morgan Tuck stepped in for the injured Mosqueda-Lewis in the second half and did not disappoint. After being held scoreless in the first half, she scored 11 points in the second.
UConn threw a variety of centers at Ogwumike defensively, designed to prevent her from dominating in the paint and on the boards, and making the rest of the Cardinal make plays.
Amber Orrange, who was one assist from a triple-double in the season opener versus Boston College is crucial to the Cardinal's success this year, as she is needed to counter the inside game of Ogwumike, and provide guard leadership. Orrange had a solid game, scoring 22 points.
UConn's bench outscored Stanford's 27-12. While Tuck and Stokes had double figures, two big three-point shots by freshman Saniya Chong helped break the scoring drought in the first half. Chong was very proud of the job the bench did overall.
"Not only me but Kiah played an awesome game, and Tuck came in and hit two threes. I just helped out on defense and hit those two shots. I think we all played pretty well off the bench."
So, now back to that first statement about what coaches can say after the game?
Geno Auriemma watched his top ranked Huskies win by 19 against a top five team.
"This game probably went, except for Kaleena getting hurt, exactly the way you would hope it would," he said. "We played great at times, we played terrible at times, we struggled, we had to overcome certain things, and in the end we beat a really good team and we had the game in hand pretty much the whole second half. That's better than coming out here, making every shot, and winning by 35."
VanDerveer watched her top five team lose by 19, but never give up.
"I think it's great for this particular team to have played this game right now," VanDerveer said. "I told our team, it's not going to be harder. There isn't a place we're going to go to, what other team are you going to play? This is as hard as it gets. You've seen it, now what are you going to do about it?"
One thing for sure, both teams will look much different come tournament time. It would not be a surprise to see a rematch in the NCAA tournament.