Notre Dame's Muffet McGraw reflects on Philadelphia connections after win over Penn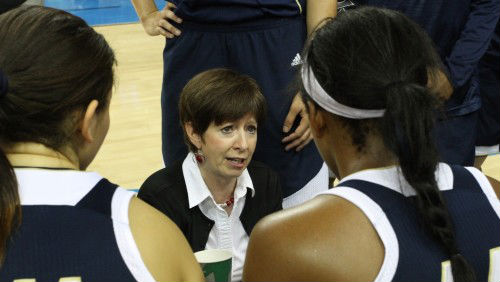 PHILADELPHIA – The Notre Dame stop in this area on the old Big East tour for Irish coach Muffet McGraw always featured the joy of a homecoming to family and friends combined with the agony of having to deal with Villanova and coach Harry Perretta's passes-a-plenty slow execution of his motion offense.
But with the Irish off to the Atlantic Coast Conference and once it was obvious that the former confederation was going to implode after last season, McGraw saw an opportunity to retain the best and jettison the worst of her former situation involving visits here.
"I'm not giving up my Philly visit, that's for sure," McGraw said thinking of future nonconference opponents when events began to unfold. "I'm going to start making phone calls, but I'm not calling Villanova."
If the Notre Dame football and men's basketball programs have an adjunct of fans in New York City known as the subway alumni, then McGraw likewise has a following here that could by called the SEPTA alumni
However, they will have to opt from past rail travel to the Main Line home of the Wildcats in the Western suburbs to city transit to see McGraw's teams in the future.
Having starred at Saint Joseph's at the northwest edge of the city in the late 1970s and hailing from the area, McGraw is a member of the locally prestigious Big Five Hall of Fame, though she was already graduated when the formal annual round robin among the schools began.
All of which led to Saturday's visit by the No. 5 Irish to budding Ivy contender Penn at the Quakers' fabled Palestra.
Ideally, McGraw said, an attempt would be made to play her alma mater in the future, perhaps as early as next year on Hawk Hill at Hagan Arena, so the matchup between the two schools would get McGraw home every season.
It was an interesting afternoon on the Penn campus in West Philadelphia because the football game next door in Franklin Field started two hours earlier so in an arrangement seen with major league baseball teams in spring training the Quakers had split squads involving the cheerleaders and band to perform at both events.
There was a bit of the concept of the first Rocky series in the movie genre in that as improving as Penn is under fifth-year coach Mike McLaughlin, Notre Dame, currently ranked fifth in The Associated Press women's poll, giving the Quakers a shot would be akin to a WNBA farm club playing against an opponent several levels below in talent.
Still, unlike Penn's upset loss in its season-opener here Nov. 9 to St. Francis of Brooklyn, a first-ever setback in the series, the Quakers hung tough for a long time, and were tied until Notre Dame veteran Kayla McBride hit a layup with 14:14 left in the half to launch an 11-0 run broken by Alyssa Baron's trey with just under nine minutes until the break.
Penn got back to within four several minutes later but by the break Notre Dame was up 34-22 and although the lead would grow to 24 points, it never really got ugly for the Quakers the rest of the way when the Irish officially stayed unbeaten at 4-0 with the 76-54 victory.
So on one hand, McGraw avoided the migraines from the past playing the Wildcats of the ritzy Main Line, who on occasion would get the Irish, but there were still some minor headaches involved.
"It's really special to be back in Philadelphia," McGraw said after Notre Dame extended its small unbeaten mark to 3-0 over Penn. "It's such a great town. It's a great building to be in and the tradition is unbelievable here. We're going to go downtown and see a little history on our way to the airport."
The big news for Notre Dame in terms of normal business when the schedule gets a little tougher just around the corner was the return of Natalie Achonwa, who had been sidelined since the season opener rehabbing from surgery that saw the repair of a torn meniscus in her right knee.
Achonwa played 14 minutes and scored four points while also being in the starting lineup.
"She looked a little rusty and we played her a little more than I wanted to, but we needed her," McGraw said.
Penn made a showing on the boards, being outrebounds by just six at 43-37, a statistic that McGraw was not happy to see.
McBride had game-highs of 15 points and nine rebounds for the Irish, while freshman sensation Taya Reimer, off the bench, scored 14 points and substitute Michaela Mabrey had 13. Starter Jewel Loyd scored 12 points, but Penn senior Alyssa Baron defended her into shooting 4-for-13 from the field.
However, to McGraw's delight over some of the slack that was overcome, was Lindsay Allen shooting 3-for-4 and scoring eight points.
Penn's Katy Allen and freshman reserve center Sydney Stipanovich each scored 11 points, while Baron, a former Ivy scoring champion, finished with 10 points.
Additionally, McLaughlin lauded the play of center Kara Bonenberger, who fouled out late in the second half.
Notre Dame dominated in most all the comparison scoring categories: 34-22 in the paint, 25-10 in points in transition, 12-0 on fast break points, 35-20 points in bench production, but held just an 8-7 advantage in second-chance points.
McLaughlin was glad to see his team compete the entire 40 minutes after being idle for two weeks since the season opener.
For all the ado, it was not Notre Dame's first game in The Palestra. A previous visit occurred on Dec. 18, 1981, when the Irish were the equivalent of an expansion team being relatively new at the Division I level.
The coach was Mary Distanislao, a former assistant at Immaculata who had previously led Northwestern to a national ranking.
The Irish won that encounter 62-47 and afterwards Distanislao noted that in being Notre Dame if she was coaching a brand new ping pong team in South Bend, it would have a target on its back for merely being part of the Irish sports family.
McGraw now moves from here to some interesting games ahead beginning Wednesday night hosting former Big East rival DePaul, which is part of the new Big East alignment but is also a long-time regional foe of Notre Dame.
Then next Sunday Notre Dame will travel to Toronto, Canada, near Achonwa's hometown, to play Atlantic 10 contender Duquesne of Pittsburgh, followed by another emotional deal for McGraw on Dec. 4.
That's when Notre Dame will travel to No. 14 Penn State to play in the Big 10-ACC challenge and the matchup pairs McGraw against Lady Lions coach Coquese Washington, a former star of the Irish who later became McGraw's associate head coach.