10-0 UConn goes into final exam break with 60-point victory over UC-Davis, 97-37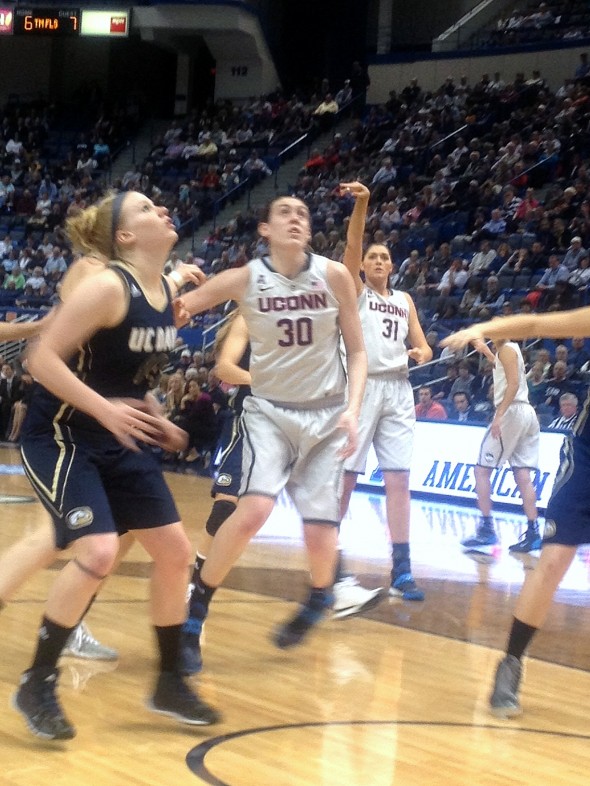 UC Davis traveled across the country to challenge top-ranked and undefeated UConn, but did not find their visit particularly enjoyable. UConn trailed 5-4 early, but then blew the game open, despite being down three key players (Kaleena Mosqueda-Lewis, Morgan Tuck and Kiah Stokes) with injuries.
When you are down to eight players, two of them walk-ons, it can be either good or bad for your opponent. UC Davis had no answer for Bria Hartley, Breanna Stewart, Stefanie Dolson, Moriah Jefferson, Brianna Banks or Saniya Chong for that matter. After a slow start against the UC Davis zone defense that left the Huskies trailing early, they went on a 22-0 run to put the game out of reach. By halftime it was 60-17, and Hartley had 20 points, three assists, three rebounds, and two steals. UConn had 18 assists on 23 baskets and five turnovers (one by each of the starters).
The pace slowed considerably in the second half, but by the time the game was over, UConn had racked up 29 assists on 37 field goals, hit 56 percent of their shots (46 percent from three-point range), had 14 rebounds plus 25 second chance points, and only ten turnovers. UC Davis took 45 shots in the entire game, UConn made 37 shots.
Hartley led the team with 25 points, including hitting 5-for-5 from three.
"It did feel really good to go out there and hit a couple from the floor," Hartley smiled.
UConn coach Geno Auriemma commented that Hartley, who suffered through an injury plagued junior season, was overlooked at the start of the season.
"I think Bria got lost in the hype of the preseason," he explained, "and from the very first game she's kind of reminded everybody, 'you know I'm a pretty good player. Matter of fact I've proven I'm a pretty good player since freshman year.'"
Despite the Huskies' dominance against UC Davis, Auriemma would rather not have to play with so few available players anytime soon.
"It wasn't ideal, let's put it that way," Auriemma said. "There's not a lot you can say about what our rotation is or any of the other issues, because it is what it is, and the kids know it is what it is. They don't have any choice, they have to play well, they have to stay out of foul trouble. Sometimes when you have that much pressure on you, it's not bad at all. I'm glad those two guys (Mosqueda-Lewis and Tuck) are coming back though, and I'm glad Kiah's only going to be a few days. We're going to have a couple days off from practice anyway."
UConn breaks now for final exams, a break that everyone seemed to feel was coming at just the right time for the bruised and tired Huskies.
"It really is coming at a good time," senior Dolson said, "we've had a lot of practices and a couple of games in a row, and we know the next two weeks of practice are going to be tough, so it's a good time to take a break from it."
Breanna Stewart, coming off her worst game of the season against Ohio State on Sunday, was outstanding against the Aggies, finishing with 19 points, 13 rebounds, five assists, and three blocked shots. Despite the lack of available players, Stewart said fatigue was not a big issue.
According to Stewart, "after a while fatigue gets to you but we've done a really good job with recovery and the coaches haven't been killing us in practice, only on some days, it just makes us in better shape. Obviously being in this kind of shape in early December is really helpful."
Stewart also said academics have to be the focus right now, then second-ranked Duke, the next opponent for the Huskies.
"With finals coming up and the end of the semester, it's nice to be able to focus on school work a little bit," she said. "Then we can prepare for Duke."
Hartley and Dolson also agreed the semester break was the perfect time to get back their injured players.
With Mosqueda-Lewis and Tuck cleared to resume practice next week, the Huskies are looking forward to a complete roster.
"It's time to work them into practice, they'll do a little bit, I'm not sure how much," Hartley said. "We're really excited to have them back for practice."
"It's probably going to be a little weird, because we've gotten so used to how many we have now," Dolson said of the returning Huskies,"but once we get them in for a couple of practices we'revgoing to be right back to where we were at the beginning, it's great timing for them."