Dishin & Swishin 12/12/13 Podcast: Is #2 Duke ready for #1 UConn? Coach Joanne P. McCallie talks about the Blue Devils and Mechelle Voepel discusses a program seeking a signature win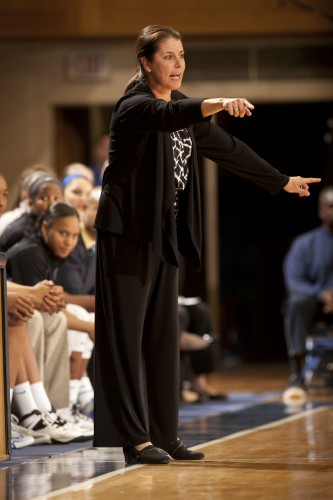 [display_podcast]
Tuesday night in the Jimmy V Classic at Cameron Indoor, top-ranked UConn takes on second-ranked Duke. It will be the 18th time UConn has participated in a 1-vs-2 matchup; the Huskies are 14-3 overall, and 10-1 when they are the top-ranked team. These are the games Geno Auriemma and his program live for.
But what about Duke? Are the Blue Devils ready to take that next step, like Notre Dame and Baylor before them? Are they ready to defeat the Huskies, and ascend to the top of the polls?
This is a very talented Duke team, that there can be no denying. Still, Duke has been talented before too.
The last time Duke beat UConn, Gail Gostenkors was the head coach and Alison Bales dominated inside. Gostenkors left soon thereafter for Texas, and Joanne P. McCallie took over as head coach. The program has rolled through top ten finishes, and ACC competition, but they have not gotten that signature win over a top-ranked team, and they have not beaten UConn. In six games, UConn has won each by an average score of 76-47, and Duke has scored 50 points once.
Auriemma's UConn team should get back injured star Kaleena Mosqueda-Lewis and role players Kiah Stokes and Morgan Tuck. Breanna Stewart, Stefanie Dolson and Bria Hartley have all been playing All-American caliber basketball, and the Huskies have already rolled through an early season schedule featuring Stanford, Maryland, and Penn State.
Duke coach McCallie joins Dishin & Swishin to talk about the 2013-14 Blue Devils. On paper, this may be the most talented team she has had in Durham. Elizabeth Williams and Chelsea Gray were both on every pre-season "watch list," and Tricia Liston has taken her summer experience playing for USA Basketball and used it to become more of a complete all-around player. Alexis Jones also played USA Basketball and is improved, and senior Haley Peters is as flexible a player there is out there. The Blue Devils just gave McCallie her 500th career victory, and their season already includes victories over Oklahoma, Purdue, Vanderbilt and California.
McCallie discusses the significance to Duke of playing in the Jimmy V classic, the importance of this game versus the tournament in March and April, the health and performance of Gray, and what she is looking forward to seeing from her team on Tuesday night.
Then, ESPN's Mechelle Voepel joins the podcast to talk about Duke vs. UConn and more. In a fast paced discussion, host David Siegel and Voepel discuss what makes the UConn teams special, Auriemma's ability to face 1-vs-2 games head on, and how he gets his team ready for those challenges by embracing them. Is Duke ready for that? We know Pat Summitt was able to do that at Tennessee, Muffett McGraw at Notre Dame, and Tara VanDerveer at Stanford.
Is McCallie ready to face that at Duke? Does Duke have what it takes, as a team and as institution, and do they want to take that position as the hunted, not the hunter, in women's college basketball? Are the students ready to pack Cameron? Is the administration ready to make UConn_Duke a big time women's game akin to the Duke men's games with top ranked teams?
Those are not easy questions, and we will find out a lot about them on Tuesday night.
Enjoy the podcast, and watch Duke host UConn for the number one spot in the country on Tuesday evening on ESPN.