Dishin & Swishin 12/26/13 Podcast: Lin Dunn & Rebecca Lobo on the UConn dilemma: Is dominance good for the game?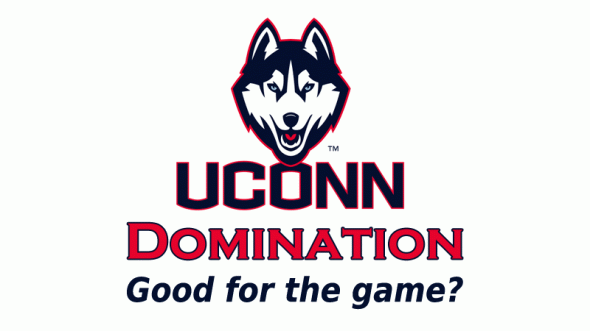 [display_podcast]
Happy Day-After-Christmas everyone! We hope you had a wonderful holiday, full of family, friends and fun!
For the final podcast of 2013, we have a special present for you.
Lin Dunn, head coach of the Indiana Fever, always referred to here as the southern belle of the Dishin & Swishin Podcast, has become a voice of social conscience for women's basketball, its growth and its coverage on television. Her platform is the social network Twitter, and she has stirred up strong feeling and emotional responses on a number of topics, most notably the dominance of Geno Auriemma's 2013-14 Connecticut Huskies.
Today, ESPN analyst Rebecca Lobo, who has been an active participant in the Twitter debates regarding women's basketball as well, joins Dunn on the podcast. Lobo brings the unique perspective of being someone who has played on an undefeated championship team and now covers the game from the broadcaster's perspective of having to capture the moment in close games and fill airtime in blowout games.
Both are passionate about the game they love dearly, and want women's basketball to take responsibility for the game itself, mold and guide it, and steer it into the mainstream. Which leads to a common discussion: Is UConn's dominance (they have won their games by an average margin of 37,7 points per game) good for the game of women's basketball? The follow-up question: Is showing their games on television bad for business, as the games are usually blow outs?
On today's podcast Dunn and Lobo take on not just those two questions, but also many of the other difficult questions that come from this debate, including:
Should there be rule changes and adjustments to promote parity in the game
Are coaches doing enough to improve their teams and their own abilities to coach
Who are the "elite" coaches, who is in the next tier and are they ready to move to elite status
Does it matter if a head coach in women's basketball is male or female, and should it matter
What is the role of the institution, the college itself, in building a program to elite status or should it fall strictly to the athletic department
Can and should ESPN find ways to show "better games" nationally, and what constitutes a better game (close outcome, better skill players, etc.)
Is out of conference scheduling a tool to better games on television, and how important is it for the growth of players and also interest in the game overall
While the NCAA continues to tweak the game based on Val Ackerman's "white paper," Dishin & Swishin brings to you a great discussion of what could be the most pressing questions in the growth of women's basketball.  There is not too much in the game that Dunn and Lobo have not seen or done, and I know you are going to enjoy hearing their perspectives on issues that have so many facets.
Enjoy the podcast, have a wonderful and safe New Year's celebration! We'll see you in 2014!