Los Angeles Sparks sign head coach Carol Ross to a multi-year contract extension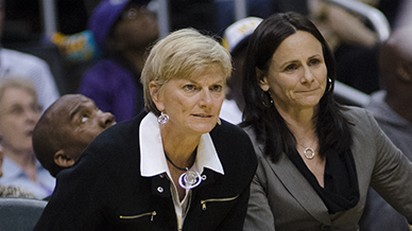 From the Sparks:
The Los Angeles Sparks have signed head coach Carol Ross to a multi-year contract extension, it was announced today by Sparks Executive Vice President and General Manager Penny Toler. Per team policy, terms of the deal were not disclosed.
"Carol is a dynamic coach who has her sights and goals set on bringing Los Angeles a championship team," said Toler. "She is a proven leader who knows what this team needs to win; having her back as the Sparks head coach brings us one step closer to the ultimate win this season, the 2014 WNBA Championship."
The 2012 WNBA Coach of the Year, Ross returns to the Sparks for her third season as head coach. In her first two seasons at the helm, she led Los Angeles to back-to-back 24-10 regular season records and consecutive WNBA Playoff appearances. Last season, she helped the Sparks set a WNBA record by notching its 13th overall postseason appearance.
"I am thrilled to be returning to the Sparks as head coach," said Ross. "The roster Penny Toler built is extremely solid with its combined talent, depth and competitive drive to win. As a team, our goal has always been to win another WNBA Championship. I am excited to return and continue leading that drive to bring the WNBA trophy back to Los Angeles for the fans, organization and city."
During her first season in Los Angeles in 2012, Ross led the Sparks to a nine-game improvement over the previous season, accounting for the second-largest turnaround in franchise history. She helped the team finish second in the Western Conference, advancing to its first postseason berth after a year off in 2011 and its first conference finals since 2009.
The five-year WNBA coaching veteran spent her first three seasons in the league with Atlanta as an assistant coach. During her final two seasons with the team, she helped lead the Dream to consecutive 21-13 regular season records en route to two WNBA Finals appearances (2010, 2011).
Prior to the WNBA, Ross amassed 16 seasons as an NCAA Division I head coach, earning an impressive 324-161 record during that span. She led the University of Florida and her alma mater, Ole Miss, to 12 NCAA Tournaments, two Elite Eight (1997,2007) appearances and two WNIT Tournaments. A two-time Coach of the Year, she earned her first honor as the SEC Coach of the Year with Florida in 1997 and in 2004 was named the SEC co-Coach of the Year with Ole Miss. Ross was also a two-time finalist for the Naismith National Coach of the Year while at Florida (2001, 2002). Averaging over 20 victories per season during her 12-year tenure, she still stands as the winningest coach in school history with a 247-121 record at Florida.
Her coaching experience also includes two stints with USA Basketball where she served an assistant coach with the 2005 Under-19 World Championship team that won the gold medal as well as head coach of the 1998 USA Women's Select Team that went 7-1.
A four-year starter for the Ole Miss Lady Rebels from 1978-81, Ross became only the fourth women's basketball player ever to be inducted into the University of Mississippi Athletic Hall of Fame when she was honored on Sept. 1, 2001. The Oakland, Miss., native has served as a board member for both the American Cancer Society and the Coaches vs. Cancer organization, which honored her as its 2000 Coaches vs. Cancer Champion Award winner.