No. 19 Cal's second half surge leads to win over UCLA, 69-53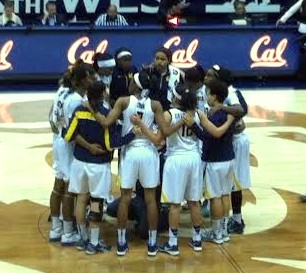 BERKELEY, Calif. – What started out as a close first half match morphed into a rout as No. 19 Cal defeated UCLA 69-53 Sunday night in front of a rowdy crowd of 2,060 fans in Berkeley.
Reshanda Gray and Brittany Boyd helped Cal (14-5, 6-2) recover from Friday's home loss vs. USC in a dominating fashion, especially in the second half when the Bears amassed at 20-point lead at 2:17.
"The main key was how are we going to bounce back (from the USC loss)," said Gray postgame. "I think my team did a really great job of bouncing back. We fell apart in the last six minutes that game, so our main focus was to play hard for 40 minutes."
Both teams came out of the gate with jitters, committing turnovers and missing jumpers. Cal earned a five-point lead about halfway through the first half, leading 15-10 after a free throw from Gray. However, UCLA (10-11, 4-5) fought back and broke away for a four-point edge at 6:56. But that was the last lead the Bruins would have as Cal turned up their offense to finish the period ahead 37-31.
The second half was all Cal. The Bears raced out to extend their lead to double digits at 14:56, 47-37, and did not look back. Gray's rebounding prowess and strong moves in the paint was a thorn in UCLA's side. The Bruins seemed to have no weapons to stop the 6-3 junior forward. Boyd helped out with stellar ball handling, committing only one turnover in the second stanza.
In addition to a career-high 15 rebounds, Gray was one point short of a setting her new personal best in points with 32. She is now at 969 points in her career at Cal. Her 15 boards surpassing the 14 rebounds she had against UCLA on February 9, 2012.
Boyd, who seemed to be all over the court in the second half, finished with 18 points plus five rebounds, six assists and three steals.
Cal head coach Lindsay Gottlieb remains unbeaten against UCLA at Haas Pavilion (3-0) and moves to 8-9 against California-based Pac-12 schools in her tenure and 4-2 against UCLA.
UCLA had only one player in double figures: Nirra Fields with 26 to go along with 10 rebounds for a double-double.
Cal faces Pac-12 leader No. 4 Stanford on the road Thursday while UCLA returns home to host Washington on Friday.