Dishin & Swishin 01/30/14 Podcast: Angela Taylor hopes to help lead Atlanta to a WNBA championship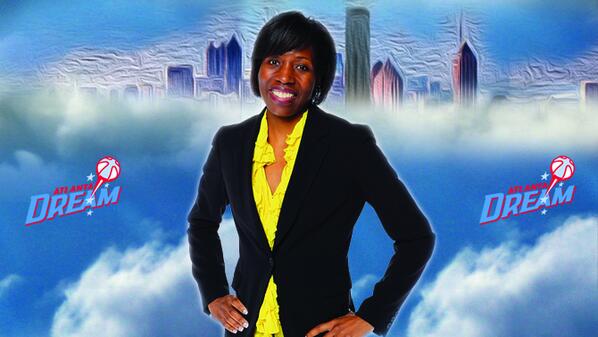 [display_podcast]
It is not very often in the world of professional sports that there is a job opening for either the head coaching position or the general manager job when the franchise has been to the championship game or series three of the last four years.
However, that is exactly what the Atlanta Dream was looking at. After being swept in the WNBA finals, the same result as in 2010 and 2011 previously, the Dream decided it was time to head in another direction to try to get over that hurdle. General manager and head coach Fred Williams was relieved of his positions. The Dream followed up by hiring former Los Angeles head coach Michael Cooper who achieved championship success with the Sparks.
Last week the Dream announced their latest hire, Angela Taylor, as executive vice-president and general manager. Taylor brings a wealth of experience to Atlanta. Taylor served as vice president and GM for the Washington Mystics for two seasons, the second of which the team won 22 games and the Eastern Conference regular season championship. Prior to that, she was vice president of business pperations for the Minnesota Lynx from 2006 to 2008.
This week Atlanta All Day suggested that "the move to bring in Taylor could be that one off-season move that helps the Dream take the next step and pull off a series win in the WNBA Finals."
While that is a lot to put on an executive that will not be one of the eleven (or twelve depending on the Collective Bargaining Agreement) to hit the hardwood for the Dream this summer, Taylor is ready to take on the high expectations.
It is a pleasure to welcome Taylor back to Dishin & Swishin. A participant in previous podcast roundtable discussions, NCAA hoops breakdowns and game evaluations, Taylor comes back to discuss her decision to "Run with the Dream."
Topics covered include:
Joining a team that has had so much success, but not the ultimate in success
Working with new coach Michael Cooper
The Dream roster and free agency, pending CBA adjustments
The WNBA in general, where it stands and where it is going in light of the Sparks' ownership situation and no CBA in place
The impact of the World Championships on this season
Stanford, being a part of the family, and Richard Sherman
Welcome back to the WNBA, Angela Taylor, and good luck with the Dream.
Enjoy the podcast