Dishin & Swishin 1/09/14 Podcast: Seattle Storm's Karen Bryant set the bar high for WNBA executives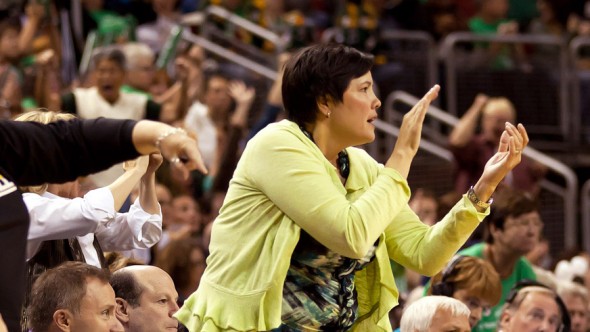 [display_podcast]
Karen Bryant is a women's basketballaholic, and proud of it.
From her days as a player, making it to the Elite Eight for the University of Washington, through the rise and fall of the ABL and the Seattle Reign, and finally arriving in the WNBA as president and CEO of the Seattle Storm, there really is not too much that Bryant has not seen, done and achieved.
She has won numerous awards recognizing her success and achievements in the business world and the sports world. Her favorite awards though, are the two championship rings earned by the Storm in 2004 and 2010. The upcoming season will be her last with the team after 15 years.
Along the way, Bryant has given young women a role model and a blueprint for success starting as a student-athlete and persevering through the highs and lows of the business world, earning respect along the way.
Bryant joins Dishin & Swishin this week to reflect and to look forward.
Topics in the discussion include:
Lessons learned as a student-athlete (as a senior her Washington team was defeated by Stanford in the Elite Eight, former Storm player Sonja Henning was on that Stanford team)
The ABL and the Seattle Reign and the folding of the ABL
Being a part of the Seattle Storm from day one and reflections on Bird, Jackson, Agler, the Storm Crazies and so many others that have made it one of the best franchises in the WNBA
NCAA basketball today, being a role model and affecting student-athletes, and being a fan
The WNBA, the Los Angeles Sparks situation, the collective bargaining agreement and the future of the league
The departure of Bryant is a significant loss to the Seattle sports community and the WNBA. She has taken steps in this final year with the Storm to ensure that things continue in a positive way. However, an organization cannot lose a visionary that has achieved so much without some pains. Hopefully, the pain can be kept to a minimum, but for now, it is our pleasure to celebrate the success and passion of Karen Bryant.
Enjoy the podcast!