Dishin & Swishin Q&A looks at the Class of 2014: Can Kayla McBride lead Notre Dame to a title?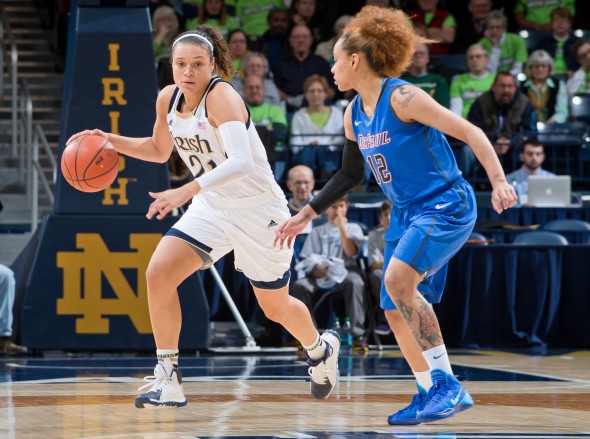 [display_podcast]
It is our pleasure to introduce a new feature on Hoopfeed. As we head toward conference tournaments, the NCAA tournament and then the WNBA draft, Dishin & Swishin podcast host David Siegel is taking time to chat with some of the top seniors in this year's college class. These are the leaders of their teams, the focus of their opponent's attention and those that WNBA coaches have their eyes on. By draft day, you should have information on most of the people your favorite team may choose!

We start the series off with Notre Dame guard/forward Kayla McBride (Villa Maria Academy/Erie, PA). Recently selected to the mid-season Naismith Watch list and to the pool of players for selection of the U.S. Senior National Team, McBride has upped her game this season, helping fill the void left with the graduation of Skylar Diggins. She has improved virtually every statistical measure of her game and has led Notre Dame to an undefeated start to their season and a number two national ranking.
What does the WNBA think of McBride? An insider says:

McBride can create her own shot and has a great mid-range game. She has improved her shooting from the three-point line as well. McBride has a great 'pro body,' which she uses to defend well. She's smart and poised, and coming from Notre Dame knows how to compete and win in big games.
DNS: I used to joke that you kicked stuffed Husky pups to get ready for UConn games, but that extends to all big games. You just seem to really love those spotlight games and the big game atmosphere.
KM: I feel comfortable in it. I think coming out of high school and playing in state championship games, and then coming to Notre Dame, it's the biggest stage of them all, I like that feeling. I like going in with confidence, I like making big plays, I like getting my teammates involved. I think my competitive nature starts to come through and like to motivate my teammates. I just want to win.
DNS: Versus Tennessee you fell behind by twelve, but the Irish never panicked and it seemed like you always felt like you had the upper hand. Is that a fair assessment?
KM: As a senior, we've been through a lot, with three final fours; it takes a lot for us to get shaken. I thought that's what Tennessee felt like, the atmosphere and everything, it felt like that. We came in and we were never shaken. We knew we just had to execute our game plan.
DNS: You were selected for the pool for the U.S. Senior National team for the World Championships and Olympics, congratulations, and how excited are you about that?
KM: I'm definitely excited; it's really humbling just to be mentioned with players like Sue Bird, Candace Parker and Diana Taurasi. It's unbelievable, but I've worked really hard to get there. I'm just going to make the most of my opportunities.
DNS: You played with them in camp this summer, when was the time you looked around you and said, "Wow, I can't believe this."
KM: I think it was just when we started playing 3-on-3 and just being able to see how many scorers were out there; it's a lot different than college. There's a lot of nerves coming in, then when you see the other collegiate athletes were there> I saw Kaleena (Mosqueda-Lewis), Stef Dolson, Breanna Stewart, and others I'm familiar with and played against and with. It was comforting in that way, but after the first shock you know it's the same game you've played since you were little and I just had to go out there and play my game.
DNS: How was it to look across and see (Geno) Auriemma coaching you instead of against you?
KM: (laughs) It's a little different, he threw some comments at me, but he's a great coach, I respect him and respect his program. UConn's a great team. It was a cool experience. I'd heard a lot about coach Auriemma and his coaching style, and I was happy with it.
DNS: You spent three years in the Big East, you're part of its history, how does it feel to be a part of the AAC this year?
KM: I thought we were part of the best conference last year with the Big East, with Louisville and UConn. We'd get a great game every night. With the AAC it's a lot faster, teams are bigger, a lot more athletic. It's definitely a challenge for us, and it's going to be good for us, especially going for the NCAA tournament. I think we're still playing in the best conference in the country so it's not that different for us.
DNS: With Skylar (Diggins) gone your scoring was going to need to go up, but you've improved all areas, and the three-point shooting, It's clear you put in a lot of time on that in the offseason.
KM: With Sky being gone there's a lot of things I had to step up and do. We have a freshman point guard, so I have to take some pressure off her with assists, and then score and rebound, that's always been my job, so it's just a little bit more and this year I was ready to take on that role.
DNS: How comfortable are you in that leadership role that Skylar used to have, she was so clearly out in front of the team.
KM: Over the summer we worked a lot on it; it was something different for me because I'm not as vocal as a lot of other people are. It was something I had to adjust and I had to grow up with and I'm getting more comfortable day by day.
DNS: I thought the loss of Skylar was going to keep this year's team from being as good as last year, but you're proving me wrong. What is different between this year's team and last year?
KM: I think last year we relied so much on Sky, and that wasn't a bad thing because we were still winning games, but I think this year everybody's kind of stepped up their role. If you look at our bench with Madison Cable, Taya Reimer, Kayla Mabrey, they are doing so much more than last year. They've come in everyday ready, and that's a really big thing for us. We know the veterans are going to be there, but we need those people coming off the bench and they've done a great job with that. I think that's why we've been so successful, because of our bench.
DNS: Does it bother you that you won't get to prove you're the number one team in the country until the tournament, not being able to play UConn a few times like in the past?
KM: I'm definitely going to miss playing UConn. I think that's a great game, great for women's basketball. I love the competitiveness between us; we have a great history, a great rivalry. But we're going to create more rivalries with Duke, Maryland, Virginia, all those different types of teams, and I'm excited about that. I didn't mind playing them a lot though; I thought they were great games. I thought there was so much intensity and so much around it; it was a great game to go into.
DNS: How cool is it going to be to hear "With their first round draft choice, X team selects Kayla McBride" for the WNBA?
KM: It'll definitely be something I've dreamed about since I was little, it's something you aspire to be as a college basketball player, especially as a women's college basketball player, to get to the WNBA. I'm looking forward to it, but I'm still trying to live in the moment, and enjoy where I'm at right now, at Notre Dame as a senior captain and I'm just looking forward to finishing out the season strong.