Five Questions with No. 21 California head coach Lindsay Gottlieb as the Golden Bears head into the Battle of the Bay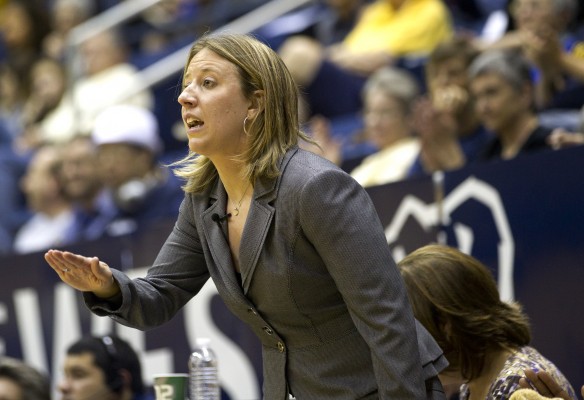 The "Battle of the Bay" part I takes place this Thursday night at Maples Pavilion when No. 21 California travels to the peninsula to take on No. 4 Stanford in the first of two games in four days between the Bay Area rivals. Cal head coach Lindsay Gottlieb took some time out of her schedule to answer some questions for Hoopfeed this week.
What does this series mean to you with two nationally-recognized teams in the Bay area?
"We feel really fortunate to be a part of this series and this rivalry. First, it's always an opportunity to play one of the very best teams in the country – and that s a testament to Stanford's consistency of excellence. They have made us raise our level of play.  Second, I think it showcases the Bay Area as one of the best, most supportive places for women's basketball."
Do you think the naming of the series as the "Battle of the Bay" will help to market it better and bring in more fans?
"The term "Battle of the Bay" was coined several years ago and I definitely think it's helped in the branding and marketing of this series. There have been a few sellouts at Maples and Haas for the game in the last few years. There have been 10,000 people in our building to see two quality teams go at it, and isn't that what we all want? It's pretty cool that we are only separated by some water and a few bridges."
What are your thoughts on the efforts of student-athletes Toni Kokenis and Mikayla Lyles to help with LGBT awareness in college sports?
"In our role as coaches and educators, our greatest aim is to empower these young women to be great students, competitors on the court, solid teammates and engaged members of the community. Mikayla is passionate about importance of inclusion and equality in sports for the LGBT community. She teamed up with Toni and they organized a meaningful panel discussion. I think it's admirable that they are using their platform as student-athletes at prestigious universities to positively impact the communities around them."
This year the Pac-12 has had some surprising results with Washington State's resurgence and upsets at the hands of USC. Do you think this means the league is getting more competitive?
"The Pac 12 this year is more competitive than any year I can remember. The depth of talent in the league is better than even. Stanford is at an elite level right now, but there are multiple NCAA tourney worthy teams, a lot of players who deserve national attention, and great coaches. I'm proud to be a part of this conference and we will be better come March for having had to play such a competitive schedule each weekend."
Why are your fans the best in the league?
"How much space do I have for this answer? The spirit and enthusiasm of our Cal fans is unmatched. They have literally helped us get a stop on a big possession or come back from a deficit to win a game with their noise and support. Our arena is great: it puts fans close to the court and the acoustics make it loud, giving us a terrific home-court feel. Not only that, our fans appreciate the young women who wear the Cal uniform, they feel a connection to them as people and that makes this a special place for women's college basketball."