No. 1 Connecticut snaps No. 7 Baylor's 69-game home win streak with 66-55 victory in Waco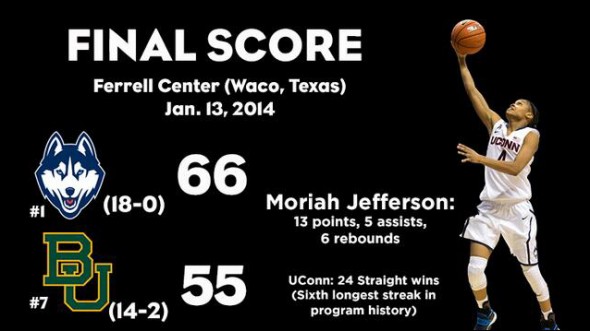 No. 1 Connecticut (18-0) came to Waco and snapped No. 7 Baylor's 69-game home win streak with a 66-55 victory in front of a season record crowd of 9,145. It was the first loss in the Ferrell Center for senior guards Odyssey Sims and Makenzie Robertson.
Sims carried the offensive load for Baylor (14-2) and did not get much help from the rest of her team until late in the first half. Makenzie Robertson and Nina Davis helped to keep the Lady Bears within 10 but UConn' size and rebounding was too much for Baylor. Nevertheless, the Lady Bears kept it close and ended the half trailing the Huskies 36-27. While Stefanie Dolson and Bria Hartley helped UConn maintain a lead during the first stanza, they ended the period with three fouls each.
Breanna Stewart led UConn with 12 points and seven rebounds after the first half. Texas native Moriah Jefferson added 10 and Kaleena Mosqueda-Lewis had eight. For Baylor, Sims paced the Lady Bears with 15 points and Robertson had seven.
Baylor started the second half on a 15-9 run to get within three, 45-42 at 14:28. They outscored UConn for much of that period, nipping at the heels of the Huskies, staying within striking distance, narrowing the lead to one, 50-49 at 10:54 after a three point shot by Odyssey Sims. Baylor's young players Nina Davis, Kristina Higgins, Niya Johnson and Imani Wright helped Sims with some offensive production as well. Baylor was within three at 3:51, 56-53.
Stewart finished with a team-high 18 points plus 11 rebounds. Hartley followed with 17. Jefferson had a nice stat line with 13 points, six rebounds and five assists. Dolson was the fourth Husky in double figures with 10 points and seven rebounds.
Sims, finished below her season average of 31.1 points per game, with 20 points and four assists. Freshman Davis had 11 points plus 17 rebounds. Robertson contributed 10 points and five rebounds.
UConn returns to the East Coast to face Rutgers on the road Sunday, January 19. They return to Texas on February 4 to face American Athletic Conference member Southern Methodist.
Baylor heads to Kansas to play the Jayhawks on the same day the Huskies face the Scarlet Knights.
Box Score
UConn vs Baylor
1/13/14 6 p.m. at Ferrell Center – Waco, Texas
UConn 66
 

 

 

Total

3-point

 

Rebounds

##

Player

p

fgm-fga

fgm-fga

ftm-fta

off-def

tot

pf

tp

a

to

blk

stl

min

23
Mosqueda-Lewis, K.
f
3-12
2-7
0-0
2-2
4
3
8
0
2
0
0
34
30
Stewart, Breanna
f
4-14
0-5
10-10
3-8
11
3
18
4
3
0
1
39
31
Dolson, Stefanie
c
4-6
0-0
2-2
2-5
7
3
10
3
6
2
1
32
04
Jefferson, Moriah
g
4-8
2-3
3-4
1-5
6
2
13
5
0
1
4
38
14
Hartley, Bria
g
7-18
2-6
1-2
1-2
3
3
17
3
4
0
2
37
12
Chong, Saniya
–
0-0
0-0
0-0
0-0
0
0
0
0
0
0
0
3
13
Banks, Brianna
–
0-0
0-0
0-0
0-0
0
1
0
0
0
1
0
2
41
Stokes, Kiah
–
0-2
0-0
0-0
2-4
6
0
0
0
0
4
0
15
TM
TEAM
–
–
–
–
2-2
4
–
–
–
–
–
–
–
Totals…………..
–
22-60
6-21
16-18
13-28
41
15
66
15
15
8
8
200
36.7%
28.6%
88.9%
Team summary:
FG
3FG
FT
1st Half:
11-30
4-13
10-10
36.7%
30.8%
100 %
2nd Half:
11-30
2-8
6-8
36.7%
25.0%
75.0%
Baylor 55
 

 

 

Total

3-point

 

Rebounds

##

Player

p

fgm-fga

fgm-fga

ftm-fta

off-def

tot

pf

tp

a

to

blk

stl

min

13
Davis, Nina
f
5-10
0-0
1-3
7-10
17
1
11
3
3
0
2
38
22
Agbuke, Sune
c
2-3
0-0
2-2
1-2
3
2
6
1
2
0
1
24
00
Sims, Odyssey
g
4-25
2-6
10-10
0-1
1
4
20
4
7
0
1
36
02
Johnson, Niya
g
3-8
0-0
0-0
1-6
7
4
6
6
2
0
1
36
14
Robertson, Makenzie
g
3-7
3-5
1-3
2-3
5
2
10
1
0
0
0
39
20
Wright, Imani
–
1-5
0-3
0-0
0-0
0
2
2
0
2
0
0
8
24
Small, Ieshia
–
0-0
0-0
0-0
0-0
0
0
0
0
1
0
0
2
44
Higgins, Kristina
–
0-1
0-0
0-0
1-1
2
1
0
0
0
0
0
13
55
Cave, Khadijiah
–
0-0
0-0
0-0
0-1
1
2
0
0
0
0
0
4
TM
TEAM
–
–
–
–
1-2
3
–
–
–
–
–
–
–
Totals…………..
–
18-59
5-14
14-18
13-26
39
18
55
15
17
0
5
200
30.5%
35.7%
77.8%
Team summary:
FG
3FG
FT
1st Half:
6-28
3-5
12-15
21.4%
60.0%
80.0%
2nd Half:
12-31
2-9
2-3
38.7%
22.2%
66.7%
Sc

ore by Periods

 1st 

 2nd 

 Total 

 

UConn
36
30
66
Record: (18-0 #1/1)
Baylor
27
28
55
Record: (14-2 #7/7)
Officials: Dee Kantner, Jesse Dickerson, Maj Forsberg

Technical fouls: UConn-None. Baylor-None.

Attendance: 9145