Proud to be an American, but is No. 1 Connecticut happy to be in the American?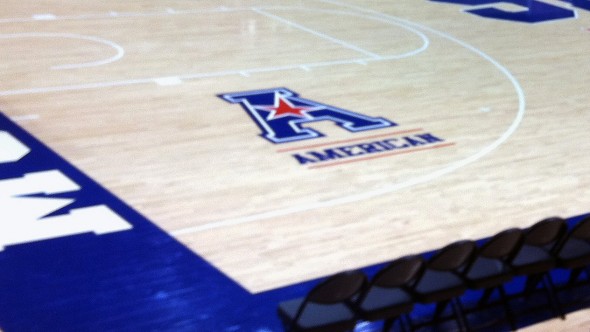 Prior to their American Athletic Conference game against the Houston Cougars, the University of Connecticut faithful saw five of the nine players on scholarship for the Huskies receive honors from USA Basketball for gold medal performances during the summer of 2013. The players included Breanna Stewart, Bria Hartley, Kaleena Mosqueda-Lewis, Moriah Jefferson and Morgan Tuck. Stewart also received the USA Basketball Player of the Year award for the second consecutive season. If senior Stefanie Dolson was not beset with injury this past summer, she most likely would have been number six to win gold.
After the awards ceremoney, UConn beat Houston by the ridiculous score of 90-40. Through four conference games, they are not only undefeated, but they have won their games by an average margin of victory of 38 points. No AAC opponent has scored 50 points against them.
Postgame, coach Geno Auriemma talked about how his players love playing for USA Basketball, that Stewart does not even need to be asked; she just needs to be told when and where to be and she will be there. He said he is living the American dream, a little Italian kid that came over on a boat like Leonardo DiCaprio did in the movies (no one wanted to stop him, he was on a roll), and is coaching USA Basketball's senior national team while his players love to represent the United States in basketball.
However the other discussion that surfaced was not coaching for America, but coaching in the American. Before this season the Huskies were in a conference that featured two one-year AAC members Louisville and Rutgers, plus Notre Dame. Other American conference members include South Florida, Temple, Central Florida, Southern Methodist, Memphis, Cincinnati and Houston.
The weekend's AAC Schedule
Saturday, January 11
Temple at UConn, Noon, SNY
SMU at Rutgers, 2 p.m. ET, American Digital Network
Cincinnati at Houston, 3 p.m. ET
Memphis at UCF, 4 p.m. ET, American Digital Network
Sunday, January 12
Louisville at UCF, 3 p.m., ESPNU
Monday, January 13
UConn at Baylor, 7 p.m. ET, ESPN2
Sitting courtside during the Houston game, conference play felt different. Yes, the old Big East had more than its share of UConn blow out games, that will be the same thing with the AAC. But somehow the history made those games more palatable. Prior years had Harry Perretta and Trish Juhline winning with Villanova, Doug Bruno and DePaul along with a never-ending supply of Quigleys. Heck, even Pittsburgh had the handshaking respect of Agnes Berenato to look forward to.
"It does feel different," said Auriemma about the new AAC and its members after the postgame press conference, "because you don't know them, they don't know you. You don't know the coaches as well, you don't know what their system is, what they're going to do, how they are going to react. So you're going in with a lot of unknowns; and they don't know how to play against us. They're not quite sure how to approach this."
He could not define what the difference really was, though, jokingly said, "I don't know what it feels like; believe me I'm not smart enough to figure out what it's supposed to mean, I wish I had an answer but I don't. The only way this could be any different is if we play poorly, and we're just not going to do that. We're just not going to play poorly."
A few minutes earlier, Mike DiMauro for The Day, a New London, Connecticut newspaper asked Auriemma if he, the coaches, and the players get tired of the blowout games. Did they yearn for a season full of close games? Auriemma gave an extended answer that needs to be read in its entirety to grasp the difficulty of the situation the coaches are actually in at UConn.
"Believe me it's something we talk about a lot. How if we're not careful you kind of get lulled into just playing and thinking that everything's always going to be hunky dory, and everything's going to be fine. We never have to worry about executing exactly right. So we have to try to create that stuff in practice as much as we can, but there is nothing like doing it in a game.

But, I've been on both sides of it, I remember probably my first 15 years here where every game seemed to be decided in the last minute or two, especially in the Big East and certainly the non-conference games. There is something to be said for that, and you do get a kick out of those games, and we certainly have scheduled with the intention of having a lot of those games. They just haven't panned out that way this year. I'm confident that when that time comes, we'll be ready for it.

It's something that the players want too; the players love being in that kind of game. You see it, at Penn State or at Maryland, we're on the road, playing a good team, if they're making a run, it just feels different. I think the players really get a kick out of that. Sometimes though, you've just got to go with what's going on out there, and you've just got to play.

I was thinking about that in college football. I think about teams that play 12 games. When you play 12 games that's not a lot, and everyone's like a playoff game. It's not like the NFL where you can afford to lose a couple of games during a season. Every Saturday is a playoff game. But when you look at some of the scores, I would wonder how many games Alabama or Florida State or any of those teams, were decided by less than two touchdowns out of a year, out of 12 games. Two, three? The other nine were laughers.

I think there's a danger when you get to be really, really good, that you do make it look easy. It's really not that easy, but because you have the kind of players that make it look easy, coaches are always on pins and needles about making sure that doesn't become who you are.

But I don't know how you prevent that. I don't.
Dolson, the starting center for the Huskies, has played the most games against the old Big East opponents and now enters into her one season in the AAC. Dolson's response indicated that this "problem" is more for the coaches and administrators to worry about than for her and her teammates. They do not seem to care.
"We don't think about that on the court," Dolson said. "They (the opponents) play their best, they play hard. When we do such a good job passing the ball and playing together, I can't say that it feels different, because as long as we're playing well you get caught up in that.
Something our coaches do such a good job of is making sure we are always motivating ourselves to play in these games no matter who the opponent is. We know that not every team we play is going to be at the status of a Duke or Baylor, but we've got to focus on our game and make sure we're doing things well and playing well."
So as the season progresses, maybe the new schedule will seem less "different." Maybe it will become easier to adjust to playing opponents named Central Florida and Temple instead of Seton Hall and Marquette.
Or maybe it does not matter.
As Kaleena Mosqueda-Lewis put it, "it just feels different because they are new, we haven't played them before. That's one thing that as UConn, we try not to do is put different teams in different categories. We try to focus on ourselves and make sure our intensity and our focus is the same, regardless of the opponent."
That is what may lead UConn to championship number nine.