Rosters announced for the 2014 McDonald's All American Game, UCLA has most commits participating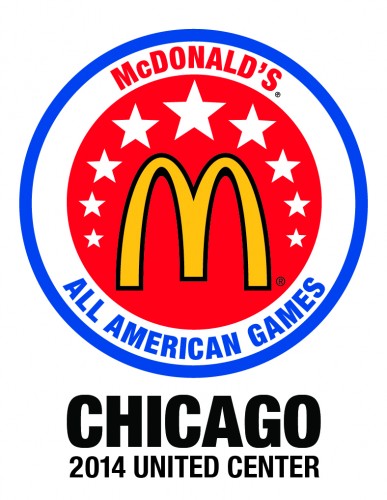 The McDonald's All American High School Basketball Games unveiled the official rosters for the 13th Annual Girl's Game during a selection show on ESPNU. The nation's top annual high school basketball all-star event will again be played at Chicago's United Center on April 2. The girl's game begins at 6:00 p.m. CT April 2, and will be televised live on ESPNU.
The girl's team includes top ranked A'Ja Wilson (Heathwood Hall Episcopal School – Columbia, S.C.) along with five players from California and four from Texas. California participants include Jordin Canada (Windward School – Los Angeles, Calif.), Lajahna Drummer (Long Beach Polytechnic High School – Long Beach, Calif.), high school teammates, Mikayla Cowling (St. Mary's College High School – Albany, Calif.) and Gabby Green (Saint Mary's College High School – Albany, Calif.) and Mariya Moore (Salesian High School – Richmond, Calif.).
The four Texas participants include Brianna Turner (Manvel High School – Manvel, Tex.), Ariel Atkins (Duncanville High School – Duncanville, Tex.), Recee' Caldwell (FEAST Home School – San Antonio, Tex.), and Brooke McCarty (Clear Springs High School – League City, Tex.).
Of the 24 Girls Game participants, UCLA will have the most McDonald's All Americans suiting up next fall with three commits.
2014 McDonald's All American Games Girl's Alphabetical Roster
EAST TEAM
| | | | | |
| --- | --- | --- | --- | --- |
| Name | Pos | Hgt | High School (Hometown) | College |
| Lynee' Belton | C | 6-2 | Bullis School (Clinton, MD) | Duke |
| Sierra Calhoun | W | 6-0 | Christ the King High School (Brooklyn, NY) | Duke |
| Bianca Cuevas | PG | 5-6 | Nazareth Regional High School (Bronx, NY) | South Carolina |
| Sadie Edwards | G | 5-9 | Blair Academy (Meriden, CT) | UConn |
| Myisha Hines-Allen | W | 6-1 | Montclair High School (Montclair, NJ) | Louisville |
| Alexa Middleton | G | 5-8 | Riverdale High School (Murfreesboro, TN) | Tennessee |
| Kelsey Mitchell | PG | 5-8 | Princeton High School (Cincinnati, OH) | Ohio State |
| Mariya Moore | W | 6-0 | Salesian High School (Pleasant Hill, CA) | Louisville |
| Shakayla Thomas | W | 5-11 | Sylacauga High School (Sylacauga, AL) | Florida State |
| Kathryn Westbeld | F | 6-2 | Fairmont High School (Kettering, OH) | Notre Dame |
| Jatarie White | C | 6-4 | Providence Day School (Charlotte, NC) | South Carolina |
| A'ja Wilson | F | 6-5 | Heathwood Hall Episcopal School (Hopkins, SC) | Undecided |
WEST TEAM
| | | | | |
| --- | --- | --- | --- | --- |
| Name | Pos | Hgt | High School (Hometown) | College |
| Ariel Atkins | G | 5-11 | Duncanville High School (Duncanville, TX) | Texas |
| Recee' Caldwell | PG | 5-8 | FEAST Home School (San Antonio, TX) | UCLA |
| Jordin Canada | PG | 5-6 | Windward School (Los Angeles, CA) | UCLA |
| Mikayla Cowling | W | 6-1 | Saint Mary's College High School (Benicia, CA) | California |
| Lajahna Drummer | F | 6-2 | Long Beach Polytechnic High School (Los Angeles, CA) | UCLA |
| Gabby Green | W | 6-1 | Saint Mary's College High School (Oakland, CA) | California |
| Brooke McCarty | PG | 5-4 | Clear Springs High School (League City, TX) | Texas |
| Jaime Nared | W | 6-1 | Westview High School (Portland, OR) | Tennessee |
| Alyssa Rice | C | 6-3 | Reynoldsburg High School (Reynoldsburg, OH) | Kentucky |
| Brianna Turner | F | 6-3 | Manvel High School (Pearland, TX) | Notre Dame |
| Chatrice White | C | 6-3 | Shelby Public High School (Shelby, NE) | Illinois |
| Gabby Williams | G | 5-11 | Edward C. Reed High School (Sparks, NV) | UConn |