USF size, defense too much for SMU, Bulls spoil Mustangs return to Moody Coliseum with 76-62 win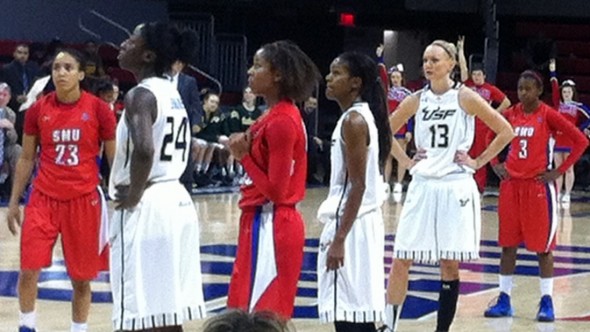 DALLAS – South Florida spoiled Southern Methodist's return to a newly renovated Moody Coliseum and the American Athletic Conference home opener for the Mustangs. The Bulls handily defeated SMU 76-62 in front of a large crowd that hung around for the second half of a doubleheader Saturday afternoon. The SMU men defeated No. 17 Connecticut before a sellout crowd during the first game.
After playing their nonconference games at the Curtis Culwell Center in nearby Garland, the Mustangs returned to their home floor after a $47 million renovation and expansion of a coliseum built in 1956.
USF senior guard Inga Orekhova launched a three-pointer to land on the scoreboard first. However, SMU senior guard Keena Mays and senior forward Akil Simpson helped the Mustangs accumulate at five-point lead before the Bulls began to come back, overtaking SMU at 9:32. The lead changed four more times before the Bulls began to pull away. They ended the half with a 33-27 advantage over SMU.
TheBulls continued their offensive onslaught early in the second half and at 17:27 extended their lead to 11, 41-30. SMU seemed to pick up some offensive steam midway through the second period with outside shooting from Mays and a drive by Simpson. The Mustangs narrowed the deficit to four at 12:00. However, USF regrouped and began to pull away again, oblivious to the crowd in a hostile yet gleaming Moody. They went on a 9-0 run and widened the lead to 13.
Akila McDonald and Orekhova kept SMU out of the paint, blocking shots and preventing any penetration from the Mustangs especially Simpson and Mays.
"We didn't get our running game going today," said SMU head coach Rhonda Rompola. "I don't believe we had any transition points. That was really disappointing…defensively, we gave up a number of transition points."
While Simpson reached a milestone, 1,000 career points, in the first half, she was in foul trouble for much of the game. She fouled out at 7:04 in the second half after an over-the-back foul on Shalethia Stringfield.
McDonald discussed her team's size advantage when discussing Simpson's fifth foul.
"We just knew we had an advantage, from the get go. Even when she was in the game, we had somewhat of a height advantage. When she fouled out it gave us more of an opportunity to score inside."
No SMU starters are over 6-0 while McDonald is 6-4 and Orekhova 6-2. USF reserve center Katelyn Weber is 6-5. She played 13 minutes. USF had seven blocks (three from McDonald) while SMU had none.
Four Bulls scored in double-digits. Sophomore guard Courtney Williams led USF with 14 points. Sophomore point guard Stringfield contributed 12 points, six assists and four rebounds. McDonald finished with 11 points and 11 rebounds. Orekhova added 10 points plus five rebounds.
Mays had 26 points, eight rebounds and four steals for SMU. Outside of Mays and Simpson, SMU had very little production from the rest of their squad. The remaining players shot 8-of-37 from the floor.
Rompola expressed frustration with the rest of her team's offensive performance.
"I feel like a broken record right now because the bottom line is we've got two players that consistently produce offensively: Keena Mays and Akil Simpson." said Rompola. "Everybody else right now, they're just very inconsistent. We've had a couple of disappearing acts. We're a little shorthanded right now. We don't have a lot of depth and we've got to be able to stay out of foul trouble and that's something that's hurt us with Akil."
Both teams return to play on Tuesday. SMU (10-4, 1-2) hosts Memphis and USF (7-7, 2-1) returns home to face Temple.
Danielle Donehew, the American Athletic Associate Commissioner for Women's Basketball attended Saturday's game.
Other AAC scores from Saturday
No. 1 Connecticut 90, Memphis 49
No. 7 Louisville 64, Cincinnati 45
Rutgers 68, Houston 47
Temple 75, UCF 54