Dishin & Swishin 02/06/14 Podcast: Fred Williams looks to build success in Tulsa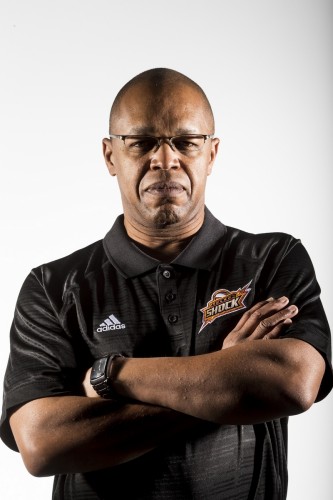 [display_podcast]
Last week new Atlanta Dream general manager Angela Taylor was the guest on Dishin & Swishin. We began by discussing how infrequently a team makes it to the WNBA finals in three out of four years only to have their head coach and general manager relieved of their position.
This week, the podcast welcomes the man who Atlanta decided to replace, Fred Williams, an experienced head coach that the Tulsa Shock feel is the man to lead them into contention for a title.
Last season the Shock finished 11-23, but of those 23 losses, seven were by five points or less. That is a little tough to swallow when the final playoff spot went to a Seattle Storm team that only won six more games than Tulsa.
With that in mind, the Shock decided to bring in Williams as the third head coach since the team's move to Tulsa (Teresa Edwards was the interim head coach after Nolan Richardson resigned in July 2011).
Williams has a myriad of experience in various coaching positions, dating back to Southern California from 1983 to 1990 as an assistant, plus stops in the WNBA with the Utah Starz and Charlotte Sting, in addition to his time with the Dream.
The Shock has some young talent, but also some challenges. On Dishin & Swishin, Williams discussed a lot of these, including:
Expectations for point guard Skylar Diggins
Liz Cambage and the commitments of international players to their country's teams
Building on Glory Johnson's All-star achievements
In addition, more general topics discussed include:
Some of the top college players available in the WNBA draft
The wild Western Conference he is joining this summer
The ""new" Los Angeles Sparks, and what the addition of the Magic Johnson as an owner means to the league
Enjoy the podcast!