Dishin & Swishin 02/20/14 Podcast: Dawn Staley on the rise of South Carolina, Nikki McCray & Play4Kay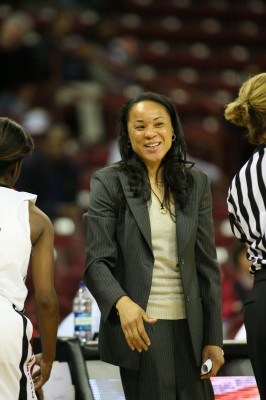 [display_podcast]
The rise of South Carolina is one of the top women's basketball stories this season. On this week's Dishin & Swishin we welcome back to the podcast Gamecocks head coach Dawn Staley.
Even Staley admits on this week's podcast that she did not expect to be this good, this fast, after losing three starters from last year's team.
Yet here they are, heading into a key SEC tilt with Kentucky in Lexington tonight on top of the conference with an 11-1 record (the one loss being in overtime at Texas A&M). Even more impressive than leading the conference perhaps, is their national No. 4/6 rankings in this week's AP and USA Today polls.
Staley has put together a team that reflects her personality: tenacious, aggressive on both ends of the court, and never willing to back down. Only hardcore women's basketball fans know the names of the players, and it was not until the midseason additions that the Naismith and Wade watch lists had a Gamecock listed (sophomore Tiffany Mitchell).
There is only one senior, and only three players average in double figures. But, the team averages over 74 points per game, and their average margin of victory is over 20 points per game. They outrebound their opponents by almost ten per game, and average over seven blocked shots per contest. Mitchell has emerged as a force, making big shots and big plays routinely. If people wondered who South Carolina's "go to" person would be, Mitchell has answered that.
Staley has united the group, and part of that has come from the preseason announcement that assistant coach Nikki McCray has breast cancer. McCray has handled this incredibly well, with class and dignity, and has not stepped back in her responsibilities as a coach and mentor to this team. Her stamp is indelible on the program, and this weekend, South Carolina will show respect to one of their own family as they host Florida in the annual Play4Kay game.
Special shirts honoring McCray are available, and they are looking forward to raising money and awareness for the breast health initiative of the Kay Yow Cancer Fund.
Like all things Staley does, it will done with preparation, it will be done big, and it will be done right.
Enjoy the podcast!