Dishin & Swishin 02/27/14 Podcast: Our annual look at mid-majors featuring Ebony Rowe (MTSU) & Crystal Bradford (CMU) plus a Q&A with Graham Hays
[display_podcast]
As we near conference tournament time, it is a good opportunity to look at some of the mid-majors across the country that are making some noise.
In addition to perennial successes like Gonzaga, Dayton, and Marist, programs like Middle Tennessee State, Central Michigan and James Madison are playing great ball as well. The players are outstanding, with statistics that are eye-popping.
Two of those stars join the Dishin & Swishin podcast this week.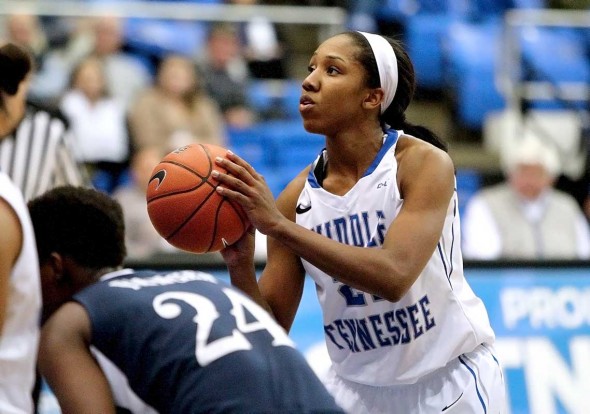 First is Ebony Rowe, the forward from Middle Tennessee that has set school records in several categories, has her team ranked in the top 25, but perhaps most impressive is her 3.7 grade point average, as she looks toward being an engineer after her basketball days.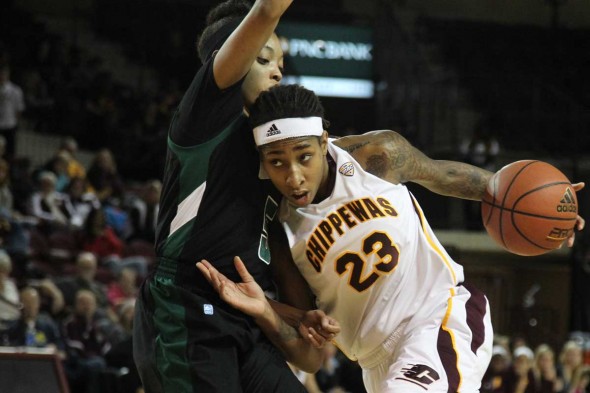 Second is Central Michigan guard Crystal Bradford, a Dawn Staley award finalist who has two triple-doubles this year and is in the top five in five different categories for the Mid-American conference. Her put-back basket won the semi-final game versus Australia in the World University games, and she averaged over 10 points per game in the tournament while only playing 14 minutes per contest.
Of course our look at the mid-majors would not be complete if our friend Graham Hays did not participate in a Q&A session. Hays is one of the absolute experts on these programs, and has weekly column and rankings on ESPN are considered to be some of the most insightful around.
So enjoy the Q&A and podcast, as we talk mid-major basketball!
DNS: Graham, you are the authority at ESPN on mid-majors, and your poll is always fascinating. How much time do you spend actually researching and watching these teams? Is it mostly done online?

GH: Probably more than is healthy. Some part of me would like to make the rankings weekly, as opposed to once every two weeks, but thankfully my editor is a voice of reason because even every two weeks ends up being a time crunch.
The short answer as far as how much time and how many games is as much and as many as possible. That's mostly online, although I try to find a way to games as often as possible. Keeping track of things is easier with some conferences than others. The MAAC and Ivy League, for instance, play a lot of Friday games, which is usually a lightly scheduled day for the rest of the country. It's also easier to revisit games in some leagues than others. I can time shift anything on ESPN3 (shameless plug), but leagues like the Horizon also do a good job of archiving the games they provide (I say it every year, but any conference that wants to get its product out there ought to take a lesson from how the Horizon League goes about it — user-friendly, free, reliable).
One of the pitfalls in all of this is some version of confirmation bias. There is no way to regularly watch every team that is in contention for the top 10, so is there an unconscious bias toward the teams I do see or see more often? There probably is, but I try to keep that in mind when going over the data.
DNS: Has there been a conference that has surprised you this year in its overall strength?
GH: I don't know that it's necessarily a surprise, so it may be twisting the question, but the Atlantic 10 has been the most difficult conference for me to figure out this season in relation to the rest of the mid-major picture. After Dayton, which had a slow start that wasn't really as slow as a lot of people made it out to be when the Flyers dropped out of the top 25, it's really a challenge to figure out a pecking order with St. Bonaventure, George Washington, Saint Joseph's, Fordham, Duquesne and even VCU, and then where that pecking order fits nationally.
The A-10 is a conference, like the WCC, that is at the very top of a very hazily defined "mid-major" pyramid to begin with, so the problem is what does it mean when the teams start beating up on each other? Saint Joseph's has five conference losses, but when I look at the components of that team, with a back court of Natasha Cloud and Erin Shields, great ball control and good shooting, I can't help thinking it is a better all-around basketball team than many one- or two-loss teams in other conferences. And there are similarly appealing aspects for most of the other teams in that cluster around second place. That Dayton has separated itself, I think, speaks highly of that team right now.
DNS: Has a particular team surprised you with the way they have played (good or bad)?
GH: I believed George Washington would get back to being a mid-major factor with Jonathan Tsipis taking over, but I'm surprised at just how quickly he turned it around. That's the team in the A-10 crowd that I didn't expect to be there. When you look at how good they have been despite not having arguably their two best players on the court together much — Megan Nipe because of injury and Jonquel Jones because of transfer eligibility — it's all the more impressive that they followed up the early eye-catching win against California with consistent success in conference play.
Joe McKeown showed you can make GW a long-term home, and maybe Tsipis won't feel a need to leave such a talent-rich region and an area with good quality of life, but you have to think a lot of big-money programs are going to be knocking at his door in the next few years.
DNS: For those that don't know, who are some of the more exciting players this season playing on mid-majors? Who would you compare them to?
GH: I'm not very good at the comparison game. I tend to end up comparing everyone to Pacers players from the early 1990s, and nobody appreciates a good LaSalle Thompson analogy. But a few players who are comparable to what you expect to see in major conferences are Albany's Shereesha Richards, Central Michigan's Crystal Bradford, Wright State's Kim Demmings, BYU's Jennifer Hamson, Pacific's Kendall Kenyon, Gonzaga's Haiden Palmer (who obviously started her career at a major conference school at Oregon State), Saint Joseph's Cloud (likewise, a transfer from Maryland). If you put those players on just about any court in the ACC, Big 12, Pac-12, whatever, they would fit in.
In terms of players who might be comparable to mid-major standouts of years gone by, IPFW's Amanda Hyde, Iona's Damika Martinez, Southern Miss' Jamierra Faulkner, Middle Tennessee State's Ebony Rowe come to mind. That isn't to say those players wouldn't be just as good in bigger settings, but whether it's being undersized or whatever, they fit that sort of image of a mid-major player with something to prove to people who overlooked them.
One player I haven't seen is Saint Francis' Alli Williams, which I need to rectify before it's too late. They tweeted recently that she's the 11th player in NCAA history to amass 2,000 points, 1,000 rebounds and 300 steals. That's impressive, and it's a reminder that there are always more good mid-major players and stories than there are hours with which to see and tell them. I'm going to try to watch her this week or next, and I'll encourage everyone to.
DNS: Graves, Georgis, Bollant all have deserved reps as great coaches and/or recruiters. Who else should people know about?
GH: There are so many, it's difficult to know where to start.
Kenny Brooks by all accounts has had opportunities with major conference schools, but he is still at James Madison, still winning and drawing close to 3,000 fans a game in a league where that is about three or four times the norm. I can't think of a team there that didn't defend well and didn't rebound. And he seems to have a knack for both finding and developing special talent like Tamera Young, Dawn Evans and now Kirby Burkholder.
In the same conference, Drexel has had its share of ups and downs with a very young roster, but Denise Dillon is one of the best young coaches out there. She's done it with heavily international rosters and more local rosters, but her teams always play a distinct style — what else would you expect from a Harry Perretta disciple — and she always gets everything out of a team at the end of the season.
Bowling Green's Jennifer Roos should be on any list. She's a great example of a trusted assistant who succeeded in putting her own stamp on a successful program, and that's really a pretty difficult thing to do if you look at the success rate in such instances. She's the kind of coach I'd want to play for, intense but positive and genuine. Although I wouldn't play nearly enough defense to pass muster for her.
Navy's Stefanie Pemper is an interesting case, She's been wildly successful at Navy and had similar results at Bowdoin, If you're doing it at a service academy and a strong academic school in Maine in Division III, you aren't taking the easy route (she also spent time at Alaska-Anchorage and Harvard, so challenges must be in her blood).
He's just getting started, but Austin Parkinson is doing some impressive things at IUPUI. He already seems very confident in his philosophy and coaching style, which means he doesn't try and make up for uncertainty or insecurity by being a martinet. He's a perfect fit for a program that needed energy and enthusiasm but also a tactical mind.
DNS: Thank you for the time Graham, it is going to be a fun postseason.
GH: Always happy to help; yes, it should be exciting!