Dishin & Swishin Q&A looks at the Class of 2014: Is Bria Hartley next UConn guard in WNBA?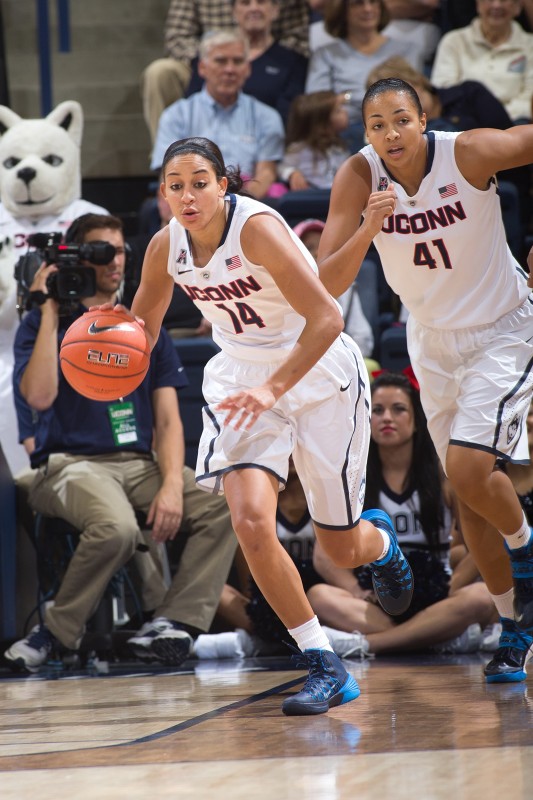 It is our pleasure to introduce a new feature on Hoopfeed. As we head toward conference tournaments, the NCAA tournament and then the WNBA draft, Dishin & Swishin podcast host David Siegel is taking time to chat with some of the top seniors in this year's college class. These are the leaders of their teams, the focus of their opponent's attention and they have the eyes of WNBA coaches on them. By draft day, you should have information on most of the people your favorite team may choose!

As a senior guard at the University of Connecticut, Bria Hartley has not only faced lofty expectations on the college level, but also an incredible lineage of guards that have produced in the WNBA. It is an impressive lineage indeed, including Jennifer Rizzotti, Rita Williams, Nykesha Sales, Svetlana Abrosimova, Sue Bird, Diana Taurasi, Ashley Battle, Ketia Swanier, Kalana Greene, Renee Montgomery, Tiffany Hayes and Kelly Faris.
Hartley, with a defending championship pedigree, gold medals around her neck, and the high praise of coach Geno Auriemma, seeks to become the next UConn guard to lead her team to back-to-back national championships, and on to a professional career.
On the heels of a junior year marred by an ankle injury that shook her confidence, Hartley has rebounded to the All-American form she displayed as a sophomore. She is hitting three-point shots and pull-up jumpers, has cut down on her turnovers with improved ball handling, and frequently defends the best player on the other team.
Will UConn win the national championship? Will Hartley be a top draft choice? In April, we will find out if the two are connected.
What Does the WNBA think of Hartley? An insider says:
Hartley has good upside; she has great length and athleticism. She is versatile, and has the ability to play off the dribble in mid-range and shoot the three as well, which is a big time combination. This year we are seeing more of her ability to defend too, and she has been an asset on both ends. Being from a winning program and being coached at a high level always gives an advantage too. Plus, you know the work ethic is there.
DNS: What's it like playing on a team where there are so many different offensive weapons that each night it can be a different player that steps up?
BH: It's big with our team that anyone can step up and do it at any time. We have been getting some really good contributions from Stewie (Breanna Stewart), Stefanie (Dolson), Kaleena (Mosqueda-Lewis), Mariah (Jefferson) has really stepped up. I think that anyone on our team can really lead our team on any given night.
DNS: Being healthy, being a senior; what's different this year? Can you just talk about the adjustments a little bit?
BH: I think it's just awesome to go out there and play with confidence. I mean even my freshman and sophomore years coach always said I was a really confident player. He would always say we have players and people that go out there that have tremendous confidence, and he would mention Bria Hartley, and I felt that last year that kind of got away from me. I wasn't doing so well, and I kind of let my confidence drift a little bit and had some doubt creep in. This year I just kind of tell myself, I learn from that and I'm not going to let that happen. I'm going out there, I'm confident, and I know I'm one of the better players out there on the court. I usually do well if I keep that mindset
DNS: Well, you definitely have been playing with such confidences this season, what does that do to your game?
BH: Now that it's my fourth year, I have a lot of experience and even if I do make a mistake, I kind of already know what I need to do to correct it before coach tells me so. Don't tell him that, but I think it's exciting being out there when you know how to correct yourself. When you know what the next play should be, and pretty much how to help your team.
DNS: In consecutive games earlier this year, you defended Alyssa Thomas Maggie Lucas and then Chrishae Rowe from Oregon. Three totally different types of players. How difficult is it to adjust, how you can defend someone from game to game, but it's such a different type of player?

BH: I try to really pay attention to the scouts, and try to take them away from their strengths and force them into their weaknesses. I don't mind if they get a lot of points, but I'm there to make sure that they have to take a lot of shots to get them. I just usually try to stay in front of them.
DNS: How much did playing for USA basketball the summer help that?
BH: Oh I think it helped me a lot! At first, I wasn't sure that I wanted to do it; especially when last season I wasn't able to play great, but then I know I'm the kind of person that I need to go out there and play and that's where I really built my confidence. Playing USA basketball always helped me in the past, so I made the decision to go out there and play. I was one of the older girls on the team, one of the leaders on the team, and I really kind of embrace that role coach Cole was awesome and I just had a great time playing.
DNS: It seems like it was just yesterday, and you and I were talking about what it felt like to give up lacrosse to focus on basketball as a freshman, and now here it is four years later and 1700 points later. What does that mean to you?
BH: It means a lot. I've always wanted to be the kind of player to come in and make an impact on the program, and to score 1700 points; not a lot of players have done it. To me it means that I have made an impact. I've always been a natural scorer so it's really exciting.
DNS: This year even when the shots aren't falling, like in the Maryland game for example, it seems you still have the confidence to keep firing away.

BH: I think when I was a freshman coach said to me if you're not hitting shots you don't impact the game. The one thing that he's really taught me throughout the years is even if you aren't hitting shots, there are other ways you can impact the game. I wouldn't even say three-point shot is my best shot, so if I don't have a three-pointer I can take a pull-up or I can drive to the basket. It's good that I've worked on my game and have those other ways to attack the defense so whatever they give me that's what I'm going to take.
DNS: One thing that I've noticed this year that first step on the perimeter when you drive, you aren't traveling anymore/
BH: (laughs) I used to travel every time. I used to get so mad because I didn't think I was. I mean coach Shea (Ralph( has worked on that with me, to just kind of slow it down. I used to get anxious and go, so kind of slowing it down really sell the shot fake and then driving by.
DNS: You were recently honored at halftime for your academic performance in the spring semester. How important to you was achieving that level of success?
BH: It was really exciting; last couple of years I just missed it, and now I'm a senior and I really wanted to be out there, so it was exciting to be able to stay out there for that.
DNS: How cool is it going to be when you hear your name announced at the WNBA draft?
BH: It will be awesome, it's what I've dreamed of since I was a little kid. I can't wait to experience and I know it's going to be awesome, but it will be even better if we win the national championship right before the draft.