Dishin & Swishin Q&A looks at the Class of 2014: Shoni Schimmel brings more than just flash to the court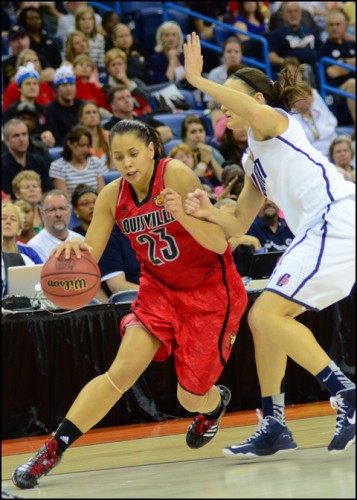 It is our pleasure to introduce a new feature on Hoopfeed. As we head toward conference tournaments, the NCAA tournament and the WNBA draft, Dishin & Swishin podcast host David Siegel is taking time to chat with some of the top seniors in this year's college class. These are the leaders of their teams, the focus of their opponent's attention and they have the eyes of WNBA coaches on them. By draft day, you should have information on most of the people your favorite team may choose!

The image is tough to forget; 5-9 Shoni Schimmel challenging 6-8 Brittney Griner, finishing with an over-the-head back-to-the-basket shot that was the exclamation point on what may have been the biggest upset in women's college basketball history, Louisville's elimination of Baylor in last year's NCAA tournament.
Why should we be surprised though? Louisville has been in the championship game twice, last year and 2009. Yet, like her school, Schimmel is often overlooked in discussion of the top seniors and potential lottery picks in the WNBA. Sometimes her flash and attempts at the play that will draw the big reaction leads people to overlook the facts.
Those facts include a team-leading 17.7 points per game scoring average this season, along with 4.6 rebounds and 3.9 assists per game. They overlook the way she represents an entire country of Native Americans on and off the court as a role model.
However, the most important fact to Schimmel though, is the team's 25-2 record, as they head toward a possible tournament regional in their own KFC Yum! Center.
One thing is certain, Schimmel brings with her a flair that is lacking at the guard position in the WNBA since Ticha Penichiero retired and is needed.
What Does the WNBA think of Schimmel? An insider says:
I love the scoring mentality that Schimmel brings to every possession. She has very good shooting ability, as well as the ability to put the ball on the floor; all positives. Her shot selection and ability to defend are question marks, as appears to be her fitness level at times (which lends to self-discipline questions).
On February 19, she reached the 2,000 career scoring mark at Louisville, second only behind former All-American and WNBA star Angel McCoughtry.
DNS: Shoni, it is senior year, you have been a lot more consistent on your outside shot and clearly you spent a lot of time working on your overall game in the off-season. Was there a particular focus pr area that you wanted to improve?
SS: Just coming out there for my senior year, I've got nothing to lose, so just to run out there and enjoy it; that's exactly what I've been doing. I'm not there thinking like "oh my God this is my last year." I'm just enjoying the ride.
DNS: I've always said being a referee in a Jeff Walz game has got to be one of the toughest things out there. How is it is a player

SS: (laughing) You think it's hard as a referee try playing for him! But, seriously, he's a great coach. he has his ups and downs but at the same time he knows what he's talking about so you've got to listen.
Schimmel on scoring 2,000 points

"It's a great accomplishment to be able to score 2,000 points. It's been great to be at Louisville for four years and it's special to be able to share it not only with my teammates, but with the fans as well, just because I've put a lot of work into it. It's just very special."
DNS: When people talk about the top teams in the country it seems that Louisville sometimes gets shortchange, yet three of the last four years you've been in the final four. Do you guys play off of that, the respect card?

SS: We kind of like it when people underestimate us. We prove our point every time; the Baylor game the Tennessee game. We just continue to keep going out there and play basketball and it's getting us far, because we don't have anything to lose being the fifth-ranked team. So we just go out there and have fun
DNS: One of the things I noticed is that Bria Smith handled the ball a lot last year and you were moved off the ball. This year you seem to be handling the ball more and being back at the point a lot.

SS: It's a little of both. Bria comes in and she handles the ball some; when Bria is out I take over and I am the one for a little bit, then Jude [Schimmel, Shoni's sister] comes in and she handles the one. So we have a really good rotation where anyone can really handle the ball and anyone can shoot, so it really works for us.
DNS: How much fun has it been playing with your sister at Louisville?

SS: It's been amazing; it's been like 13 years that we've been able to play with each other on the same court, on the same team. With Division I you don't see that too often, so it means a lot to me because it's special every game.
DNS: It is going to be tough next year without her isn't it?

SS: Yes, different definitely, but I'm still going to support her and her playing basketball and she's going to do the same for me. So it's all good even if we are in different places.
DNS: In the Big East there were so many great teams with so many great guards that every night you had a difficult challenge. It seems like there may be some concentration issues with the team this year, playing against new teams that may not be as good. Is that the case, and is it a problem getting ready to play these new teams night in and night out?

SS: Our coaches do a great job of preparing us and we've just got a go out there and stay focused ourselves. We've got to not underestimate everybody, because we did that a couple of games. It's a challenge because we've never played some of these teams before; it's the first time playing against them, it's different than the Big East. In the Big East you knew what you were getting yourself into but these games you're not sure what to expect. So we try to learn from it and grow from it and by the time we play each team the second time, we are ready and have a feel for them, so you know what you're doing.
DNS: You have embraced and been an outstanding representative and role model as a Native American. The school has been very supporting of you and inviting various local organizations to come out to games, and then have you and Jude stay afterwards for autographs and to meet people. How important is that to you?

SS: It's always been there [the school support] ever since my freshman year. People are coming up, "Hi, I'm a Native American, thanks for coming [to Louisville]. It's great for them to support me and my sister; being Native American it is special to us because it's something we embrace. We traveled halfway across the country just to come play here, and in turn they are showing that respect for us, and we are bringing in that fan base. The third [March 3rd, senior night at Louisville against UConn] is going to be pretty crazy.
DNS: The WNBA is around the corner, so let's skip the NCAA tournament and go to that moment when your name is called as a draft choice. How exciting is that going to be?

SS: It's going to be unbelievable I've dreamt of this my whole life. As a little kid growing up I would say, "oh I'm going to play in the WNBA." It's going to be pretty awesome, but I want to keep going with my senior year. I'm going one game at a time and enjoying the ride.
DNS: Bria Hartley said the draft would be great, but it will be even better if she's won the national championship right before it.
SS: (Laughs) She's right only hopefully it will be us not her!
DNS: So after the circus shot over Brittney Griner last year, what do you have in store for us for this year?

SS: That's just kind of an in the moment kind of thing. It was unbelievable; it just happens. So you'll just have to wait and see.