Sophomores Stewart & Jefferson continue to thrive as No. 1 Connecticut defeats No. 4 Louisville, 81-64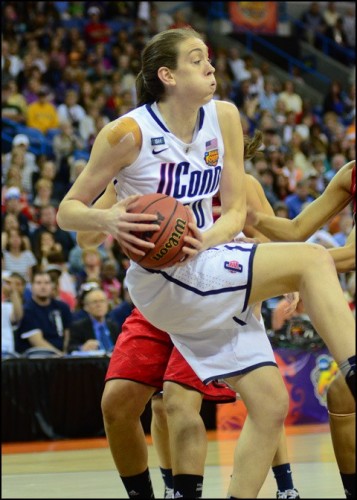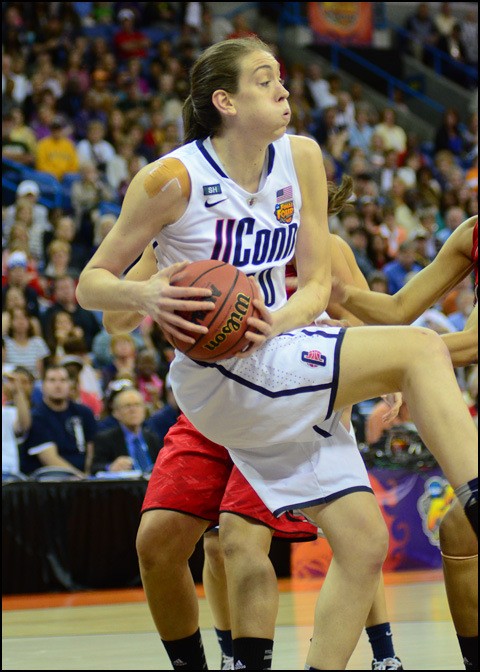 STORRS, Conn. – The University of Connecticut features senior center Stefanie Dolson and senior guard Bria Hartley, plus junior forward Kaleena Mosqueda-Lewis, but as the season has progressed it is the evolution of sophomores Breanna Stewart and Moriah Jefferson that could make Geno Auriemma's dream of a ninth national championship a reality.
Today's performance against Louisville, previously unbeaten in the American Athletic Conference, is the latest evidence of the duo's overall improvement this year. A sell out crowd of 10,167 in Gampel Pavilion watched them help lead the Huskies to an 81-64 victory over the Cardinals.
"I remember saying that the great players we had, started playing great when they sophomores," said UConn coach Geno Auriemma. "They started acting really good as sophomores. Once they have had a year of practice, a summer between when they know how to prepare, train, and improve, they come in as sophomores and gain all of the confidence that makes them the players that you want them to be as juniors and seniors."
Stewart was the one that got all the preseason and early season press, as the national player of the year candidate opened the season with 24 or more points in four of the first seven games of the season. Against Louisville she scored 24 once again, but also contributed ten rebounds and six assists. She seemed to make shots at all the right times, when the Huskies seemed to struggle and the Cardinals began a run.
"The biggest difference I've seen in Stewie is her ability to shake off a bad play and come out with a big play," explained Auriemma. "When last year a bad play in her mind would frustrate her so much it would lead to two more bad ones. Right now her mindset is not as much one as a kid only in her second year in college, it is a little bit above that. That is why she can make big shots in big moments that other players can't make."
He will get no argument from Louisville head coach Jeff Walz.
"She's a special player," said Walz of Stewart. "I told our players there is no question that she is the best player in the country in my opinion. What she does is when you have breakdowns, she makes you pay for them."
Jefferson, on the other hand, did not come in to the season with the expectations of Stewart. In addition to her disruptive defense, her play-making ability, ball handling, and decision-making have been stellar all season. Jefferson has an impressive 133 assists versus only 41 turnovers, but it is still her speed that dazzles people the most.
Jefferson impressed Louisville All-American candidate Shoni Schimmel, who Jefferson guarded most of the game, and held Schimmel to 4-for-15 shooting.
"She's a hard worker and she's fast as heck," said Schimmel. "She's one of the fastest people I've ever seen. She's a great player and she's definitely grown as a player from her freshman year to her sophomore year. She only has room to grow from here."
Jefferson is still, according to Walz, the one player on the court you have to trust to miss some shots compared to Stewart, Dolson, Hartley, and Mosqueda-Lewis. The point guard made the Cardinals pay with her shooting today, scoring a career high 18 points on 6-for-9 shooting, including two three-pointers.
She is not surprised that teams dare her to make the shot, and she relishes the challenge.
"If they left me open I was prepared to pull up," she said. "If I'm not making shots I would leave me open too. I take it as a challenge and try to go out there and step up to the challenge."
"I was really proud of her," said Auriemma, "because I know how hard she has worked leading up to today and these are the types of games that you test yourself. You work hard so that you can be successful in games like today."
When Mosqueda-Lewis went down with an injury to her arm last in the first half, it appeared the already thin UConn roster had gotten even thinner. However she returned in the second half with a sleeve on her arm, and gave the Huskies seven minutes of playing time. However, Stewart, Jefferson, Dolson, and Hartley each played the whole 20 minutes, and Jefferson the entire 40 minutes. With Morgan Tuck out for the season, Brianna Banks not playing for the foreseeable future and the status of Mosqueda-Lewis up in the air, this could be the norm, but it does not scare Hartley.
"I think part of being a competitor is going out there and being prepared to play 40 minutes every game," she said smiling. "You might be tired but you have to be prepared for that. When it's tournament time you have to step up and be ready for anything."