Dishin & Swishin Q&A looks at the Class of 2014: Jordan Hooper…with a name like that, she's got to be good!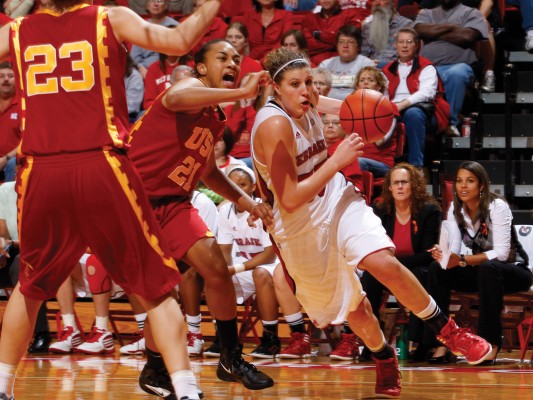 The name has basketball player written all over it, Jordan Hooper. For the Big Ten champion Nebraska Huskers, the name also means excellence.
Wade, Naismith, Wooden, as well as the Senior CLASS award finalist Hooper has put her stamp on the Nebraska record books. She is the all-time leader in three-pointers, second in career points, second in career rebounds. A gold medalist on the 2013 World University games team, the quiet leader of Nebraska has been a double-double machine; producing 29 in her career.
Nebraska will host a regional final in this year's tournament and if they make it that far in the competition, Hooper will play a big role.
What Does the WNBA think of Hooper? An insider says:Hooper has great size, and is a strong scorer and rebounder. She has a quick release, excellent range for her size and is really good at catch-and-shoot play. She needs to improve her ball handling to be able to play off the dribble; can't be one dimensional in the pros. Defense against other fours will be a question too.
DNS: You've averaged 20 points and 9 rebounds per game this year, yet you seem to fly under the radar when people are talking about individual accolades. Why do you think that is? Do you enjoy that?
JH: I think the reason for that is that I am on a team where there are other great scorers as well and the focus is not on me as much as years past. I do enjoy that, for me, it is not about all the individual accolades, it is about getting better everyday and working together with this team and accomplishing out team goals.
DNS: The Huskers program has grown considerably in the last five or six years. What feels different as a senior from when you first chose Nebraska?
JH: The thing that feels the most different is the amount of publicity and media coverage the women's basketball team is getting. When I was a senior in high school, the games were never on TV, now we are on TV a lot more and more and more people know about us. I guess we have more of a fan base and more notoriety.
DNS: What part of your game do you consider your biggest strength? What improvement over your career are you most proud of?
JH: My biggest strength would be my shooting. The improvement over my career that I am most proud of is my defense. I think I have made huge steps in that area, although I am not done developing and getting better.
DNS: How difficult was it this year without (Minnesota Lynx guard) Lindsey Moore, as you are so close on and off the court?
JH: I would just say it was different. It was not difficult, just different. As a team, we relied a lot on Lindsey to get us out of bad situations, whether that be on offense or defense, and this year we all stepped up and filled the gap that Lindsey left-we rely more on every person to make a play, rather than just one person to do it all.
DNS: Coming off that last game at Purdue, the team went on a great Big Ten tournament run. What does the team have to do to make a deep run in the NCAA tournament?
JH: We need to focus at practice, focus on one game at a time, seize the moment, play for each other, and know that we cannot look backward anymore because it is tournament time and these upcoming games are the only ones that matter now.
DNS: You are a candidate for the Wade, Naismith and Woodenawards as well as the Senior CLASS award, which recognizes an outstanding senior in competition, character, the classroom and the community. Which would mean the most to you to win?
JH: Honestly, any would be an amazing honor. There is not one in particular that I ever thought I would be up for, so just being on the list is a great accomplishment. I appreciate all the support I have gotten over the years and I do not take that for granted. So, any of these prestigious awards would be pretty cool to say I won.
DNS: You are near the top of almost every statistical category in Nebraska's history; what would you like your legacy to be when you have graduated?
JH: I would like my legacy to be that I was a hard worker and had a lot of heart for the game, but also that I became a better person along the way. I want people to remember that I wanted to win, but that I had fun along the way.
DNS: Some eyebrows were raised when you made a comment about giving the WNBA a try and seeing if you like it. Are you excited about the prospect of being a pro basketball player and the upcoming WNBA draft?
JH: I am excited. I did not mean that as a lack of excitement. I only meant I was not sure about my future, but I am very excited to see where that opportunity could take me.