Dishin & Swishin Q&A looks at the Class of 2014: Is Odyssey Sims the best guard to enter the WNBA in years?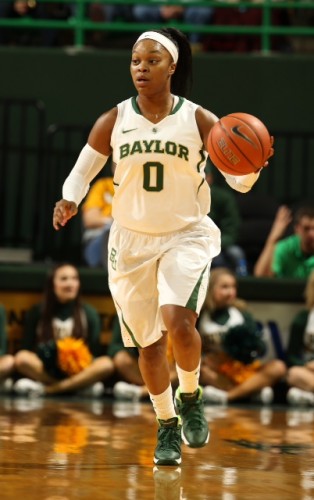 If Odyssey Sims had not played one minute this season, there still would be no denying that she had one of the greatest careers for a guard in NCAA women's basketball history. She earned national championship honors, All-American selections and was a finalist for Wade, Naismith and Wooden awards as both a sophomore and a junior.
However, this season, Sims faced an unfamiliar situation. Not only did two-time Player of the Year Brittney Griner graduate, but also four other seniors. Combined, they accounted for 68 percent of the team's offense. Then, returning sophomore Alexis Prince, counted on as an experienced starter, went down as well with an injury and was out for the season.
Sims' season and the statistics she accumulated, are the things legends are made of. She scored over 1,000 points, only the second person in history to achieve that number. For perspective, the next closest competitor was over 80 points behind her.
Baylor surprised everyone, going 32-5 on the season, and Sims was the unquestioned leader of the Lady Bears. Over time, she gained confidence in a group of young players that coach Kim Mulkey inserted alongside her. Nina Davis, the freshman center, became a candidate for freshman of the year off Sims' bullet passes, along with the space created by Sims' ability to make three-point shots at will. She showed her maturity during the NCAA tournament, helping keep her team keep an even keel against some controversial foul calls versus Notre Dame.
What makes Sims truly special, however, may be her defensive prowess. She is widely considered the best on-ball defender to enter the WNBA since perhaps Alana Beard in 2004. She has an innate ability to know when to go for the steal, and her hands are so fast that she's on her way for another layup before her opponent realizes it.
What Does the WNBA think of Sims? An insider says:
Sims is a great defender, but she will face quicker guards in the WNBA. On offense she has all three levels; to the rim, mid-range, and three-point shooting. Her leadership has gotten better. She will step in and contribute right away. Sims and Ogwumike are the only players in the draft you can definitively say that about.
DNS: All-American everywhere, and now, Wade Trophy winner. What the WBCA calls "the Heisman" of basketball. What does that mean to you, winning the award?

OS: Receiving the award means a lot. I am just blessed and honored to have received it.
DNS: Only the second person in history to score 1,000 points in a single season. That number is just remarkable. How does that feel?
OS: It feels great. I never knew I would score that many points in one season. I made history. I think it's pretty cool.
DNS: Players talk about "being in the zone" when they are on a scoring roll. You were on a roll all season. Is there ever a time that you feel you can't beat your defender?
OS: I think when I'm real tired in the course of a game, when I need a timeout but the game is too critical so you just have to play through it.
DNS: Still, when I think of Odyssey Sims, I think of the best on-ball defender I've seen in a long time. What do you consider the key to your success on the defensive end?
OS: I think it's a God-given talent. That's nothing that I had to work on. It just developed on its own.
DNS: Which do you enjoy more, draining the big shot, or making the big stop?
OS: Making the big stop!
DNS: People know BG left after last season, but you lost all four starters beside you. How difficult an adjustment was it to play with all new starters?
OS: It was very different. I had to embrace a role I didn't think I could handle at the beginning of the season. But, as I grew, my teammates grew too, so that helped me a lot.
DNS: Over the course of the season, you clearly developed more and more trust in your teammates, especially Nina Davis. How does a teammate earn that kind of trust from you, so you will not feel the need to make every play for your team?

OS: That goes without saying, Nina grew quickly. We have a special bond from the rest of the team. But trusting my teammates made everything easier for me.
DNS: Each of the last two years the team's season ended under shall we say "questionable circumstances" regarding the officiating. Does that make it more difficult to accept the final outcome?
OS: Not at all, it's kind of expected somewhat. It does bother me but I just take it as is and keep moving forward.
DNS: You've certainly handled several different roles during your four years. What accomplishments and development in your game are you the most proud of?
OS: I would say my senior year. Taking upon a different role that nobody thought I would be able to handle. I had a different role and different team and I really enjoyed playing with this group. They helped me in so many ways to get better.
DNS: You had a great summer playing USA Basketball, outstanding player in the World University Games. How much did that impact your senior year, and are you looking forward to continuing to play USA Basketball?
OS: I learned a lot from that experience. It made me want to be a better leader to my teammates going into my senior year.
DNS: WNBA draft comes next. What do you think it's going to be like hearing your name called? Are you ready for the next step in your career, and what would you tell a GM deciding between you, Chiney Ogwumike or Alyssa Thomas for the top spot?
OS: I will be so happy and shocked, because I will now be living my dream when they call my name. I am ready for the next step, slowly but surely, I'm just more excited than anything.