Dishin & Swishin Q&A looks at the Class of 2014: Stefanie Dolson, transformation complete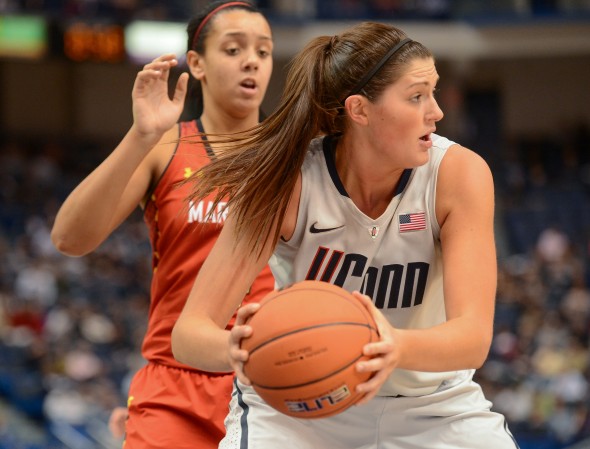 When you go to Connecticut to play basketball for Geno Auriemma, the pressure is high, expectations even higher. The state loves their Huskies, and, much to the chagrin of Auriemma, expects conference championships and NCAA final four appearances annually.
Pretty intense, right?
Enter Stefanie Dolson, the 6-4 senior who entered the program smiling and laughing, with a song in her heart and dancing in her feet. She leaves the program sometime in the next week the same way, but transformed in many other ways.
Physically, the transformation is striking; as a freshman and sophomore she lived up to her Twitter name of @bigmommastef, and still contributed on the court. When she came back for her junior year, the body was transformed into a svelte, mobile, aggressive weapon. She peaked this year with All-American honors and won the Lowe's Senior CLASS award.
Several writers and voters for postseason honors claim that Dolson is not the best center in the country. They point to her statistics, her size and perceived foot speed. To look at those things, without considering the other things she brings to the court is failing to recognize the scope of her game. She has played with proficient scorers like Maya Moore, Breanna Stewart and Kaleena Mosqueda-Lewis, so she has not needed to be a big scorer. She sets incredibly solid screens that allow those shooters the space to get their shots off. Dolson's passing may not always get her an assist, but she will make the pass that leads to the assist. She may not get all the rebounds, but she will get the tip that keeps the play alive for her teammate to get the rebound. Finally, her solid defensive post play allows her teammates to take chances, to use their quickness for steals knowing Dolson is behind them.
That does not even mention her leadership this season. Kelly Faris and Caroline Doty were strong, confident leaders that Auriemma trusted last year; it is easy now to forget the question marks at the start of this season about leadership, with Dolson and Bria Hartley the only seniors. Both have come through with flying colors, and the Huskies are on the verge of a possible championship repeat.
Which, in the end, is what Dolson really cares about anyway.
What Does the WNBA think of Dolson? An insider says:
Dolson has great skills, great passing ability. She can knock down shots from the high post and inside she finishes with both hands well. She has a great basketball IQ and great size. Questions are her ability to defend in the two-man game as she hasn't had to yet, and while she is improved, Dolson needs to prove she can rebound with pro centers, where even Griner struggled last year.
DNS: Expectations are always high at UConn, but you have managed to deal with everything so well, with a smile on your face always.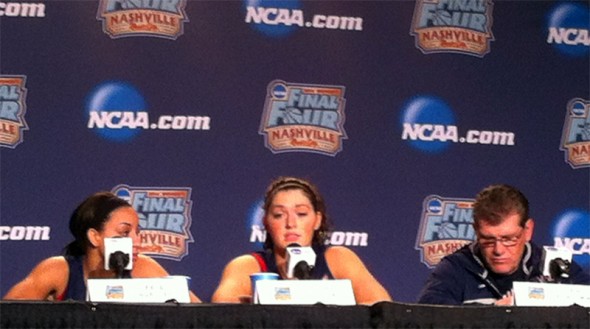 SD: I definitely have no regrets. I kind of let life come to me and I always try to make the best out of any situation. It's easy to do when you have girls around you that you love that are really your second family. I'm thankful enough to have my family live pretty close too, but we all just support each other and they've helped me through it all. I couldn't ask for anything better
DNS: After four years what are you most of proud of for an accomplishment as a team and as an individual?
SD: As a team, obviously winning the national championship last season. Also how much we've grown together, having new players every year since I was a freshman, seniors moving on. We've just been able to mesh every year with new players and I'm kind of proud of that.
Individually I'm just proud to be on that Huskies of oHnor wall. It's something that I never imagined would happen to me a few years ago in high school. I was just a big girl that really didn't do much on the court, so they managed to transform me and help me develop into an amazing player that earned All-American.
DNS: I have to tell you Cosmic Brownies are definitely…
SD: (interrupts) …THE BEST!
DNS: The whole body transformation that included giving up Cosmic Brownies; talk for a second about what went on inside you. What made you decide that things had to change?
SD: After sophomore year I thought "I'm about to be a junior I only have two more years left" and in the two years I was here, I don't want to say that I didn't help my team but I didn't help them as much as I wanted to. So after that I felt I had to do something different than I did before, and that's what kind of sparked it.
DNS: Who is the fiercest competitor you played with or against on the court?
SD: On another team I would say (Brittney) Griner; her sheer size is something that you can't overlook. On the team, either Maya (Moore) or honestly Kiah Stokes. She may not be the toughest but she is a great defender and in practices, whenever she's defending me. I hate it because she blocks everything and is extremely physical. So I have to say Kiah is pretty tough too.
DNS: What would you tell incoming freshmen joining the program?
SD: (hesitates) I don't know; I guess listen to coach, listen to what he says. The biggest thing when I was a freshman was kind of buying into the whole "everything the coach says is right" trust and all of that is sometimes hard as a freshman. It's tough when it's you, when you have a new coach, and it's your first year; but I'd say as a freshman come in believe in the things he says and does. He says and does things for reason and is the best coach in the country for a reason.
DNS: You get pounded inside the lane, just about every game, yet you never seem to lose your cool. How difficult is it mentally to stay calm?
SD: Sometimes I keep my cool (laughs). I definitely used to give in a lot mentally as a freshman or sophomore. Now it's still hard to not retaliate or want to do something back on the court, but the coaches do a great job of making sure that my head is on straight all the time. I know that in those big games, they're going to need me and I can't get caught up in all that other stuff.
DNS: By this time next week, you will be done as a college player; the conference next year won't be as strong as this year. Any thoughts on the future of UConn?
SD: Kaleena (Mosqueda-Lewis), Kiah and Briana (Banks) will be the seniors next year, then Stewie (Breanna Stewart), Moriah (Jefferson) and (Morgan) Tuck will be juniors. You can't ask for better people and better players; just phenomenal players and they've matured a lot since last year. So I'm not worried about them adjusting at all
DNS: WNBA draft is coming up; what do you think it's going to be like to be a first-round draft choice?
SD: I don't know. I'll tell you what it's like when it happens! It's going to be a really special moment and I'm really excited for it, because I definitely wasn't sure about it a few years ago. I didn't know what would happen, so I'm really excited for it.