Notre Dame advances to championship game, cruises past Maryland 87-61
By David Siegel and Cheryl Coward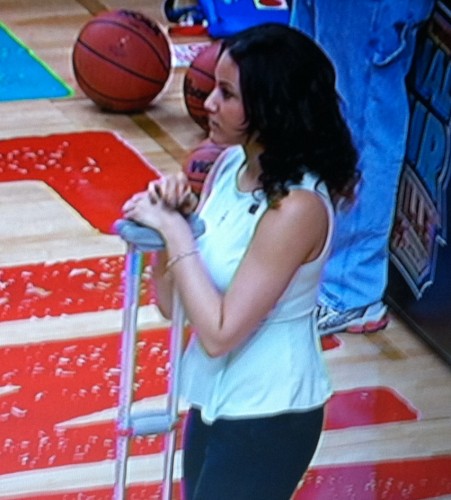 NASHVILLE – Notre Dame's self-proclaimed status as underdog due to the loss of starting forward and Irish leading rebounder Natalie Achonwa to an ACL injury in the Elite Eight evaporated Sunday night when they dominated in the first game of the Final Four. The Fighting Irish routed Maryland 87-61 in Nashville's iconic Bridgestone Arena.
Undefeated No. 1-seed Notre Dame (37-0) dominated like a juggernaut. Maryland coach Brenda Frese replied with derision Saturday when a reporter queried her about the Notre Dame's tenuous underdog status.
"Yeah, yeah, Notre Dame can't play that card," said Frese with disdain. "They've been to four straight Final Fours. You're not an underdog….But when you have the best 1-2 punch in the country, two of the best All-Americans, the top 10, the depth in the roster, the All-Americans that they have, they by far still had the experience. Everyone's still picking them, so there's no way they can be the underdog. They can try."
Achonwa may be Notre Dame's Final Four inspiration, but Kayla McBride and Jewell Loyd are the All-Americans for the Irish.
The dynamic combination led the Irish to a victory over Maryland (28-7) combining for 44 points and 16 rebounds for the Irish. McBride finished with 28 pints and seven rebounds. Her 19 first-half points are the most ever scored by an Irish player in a half at the Final Four. Loyd scored 16 and added nine rebounds.
They also outrebounded the Terrapins by a startling 50-to-21 margin. The +29 rebound margin is the most in any women's Final Four game, besting a previous record set by Old Dominion in 1985. Maryland entered the game ranked third nationally with a rebounding margin of +11.5 per game. The 50 rebounds were the most the Terps have ever allowed in an NCAA tournament.
The Irish saluted senior leader Achonwa by wearing warm up shirts with her number 11 on the back. Her replacements on the court, Taya Reimer and Markisha Wright, were up to the task contributing 21 points and 14 rebounds.
For the Terrapins, Alyssa Thomas, who has been incredible this entire tournament, was held to 5-for-13 shooting and 14 points. She posted a double-double in 28 of the previous 34 games this season. Center Brionna Jones led Maryland with 16 points.
The all-time series between the two teams is now 4-4, with the Irish winning three of the last four contests between the teams. Notre Dame is just the sixth school to advance to the Final Four in four consecutive seasons. The Irish seniors are are 138-14 in their careers.
They face undefeated Connecticut Tuesday night for the national championship.