A Dishin & Swishin Q&A Session: Crystal Langhorne looks to keep the Storm rolling in LJ's absence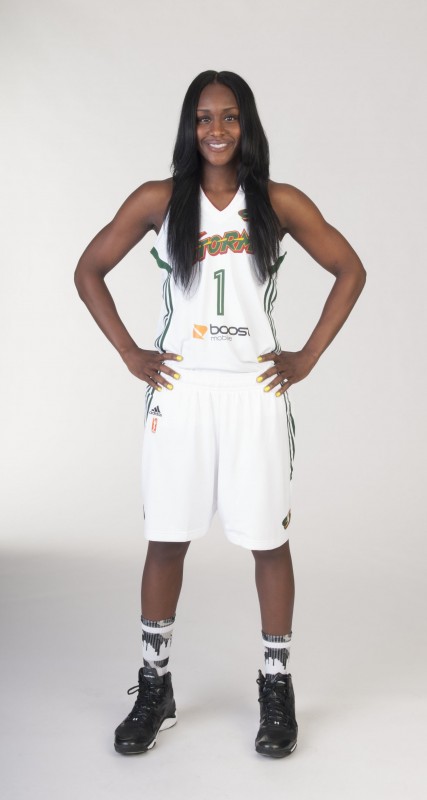 For Seattle Storm fans, this season was supposed to reward their patience with the return of both of their WNBA all-time greats, Sue Bird and Lauren Jackson.
They are getting half of that combination, with Jackson sitting out the WNBA season due to injury and Australian national team obligations.
With the retirement of Tina Thompson, who the team brought in to hold down the fort until Jackson's return, an opening was there for a new player to step in and fill that role.
Instead of drafting a player to play power forward, and waiting for that player to develop into a WNBA star, Brian Agler and the organization made a bold move, trading their top pick to the Washington Mystics, and bringing to Seattle six-year veteran and All-Star Crystal Langhorne.
Like Seattle's Camille Little, Langhorne is a bit of an undersized post, who has made it work successfully throughout her career, averaging 12.9 points and 7.1 rebounds per game. She is durable, having played no less than 31 games in every season of her career, averaging at least 28 minutes per game in all but her rookie season.
In a very deep and talented Western Conference, will the addition of Langhorne and the return of Bird be enough to make the Storm a contender? It will be fun for Storm fans to watch and find out.
DNS: So preseason is in full swing; how are you adjusting to being out West? Are you getting to know everybody? What has been your impression of the Seattle area so far?
CL: Yes it's been great so far; everybody's been very helpful. I've always enjoyed coming to play here. It's a great city, great food. I love to eat so I'm good with that! I'm still an East Coast girl at heart though, so I can't say that I'm a West Coast person yet.
DNS: Before we talk Storm, what did you think of coach Frese and the Maryland Terps' run this year?
CL: They played awesome! Coach B had them playing unreal. A lot of people didn't think they would get that far but they did. It was great year with Alyssa Thomas and they have a talented group of young players. They just had to keep that mindset that they can play with anyone.
DNS: So talk to me about draft day you're sitting there watching and then the phone rings…
CL: I'm watching the draft on TV and I get a call from the Mystics' GM and he told me they made a trade. I was a little shocked at first, but then I was got excited because with (Storm head coach) Brian (Agler) and the team, they have a great history here, they won championships and I thought it was a great spot for me.
DNS: You must be excited about playing with one of the greatest point guards in WNBA history; looking forward to having Sue Bird to distribute the ball to you?
CL: For sure! I'm so excited to play with her. She's such a great player. She makes other people better. It only can help my game and help the team with her on the perimeter.
DNS: As a road player you've seen the legendary Storm Crazies, and seen how Key Arena can be such a difficult place to play. I guess you must be looking forward to having them cheer for you instead of against you.
CL: Coming to play here in the past, it's always been a tough place to play, and I'm so excited to be a part of it. I mean, they are crazy! It is going to be great playing in a packed gym on home nights.
DNS: What are your expectations for yourself and the team for this year?
CL: I try not to give myself any personal expectations. I'm new, but I know coach Agler and the team expects me to rebound, to score, to defend, but I'm not trying to set any specific goals. Really I'm all about the team. I just want to fit in and help us win.
DNS: People have said you're a bit undersized to be a post player but you know how to use your body and those long arms, and you been very successful for your entire career. Now you're paired with Camille Little, who has also been called in undersized post. What would you say to the people that say that the Storm is too small in the frontcourt?
CL: Oh no; last year Camille and Tina Thompson were their post players, so they weren't big last year either, and they still did well. So I know me and Camille can bang in the post. We both use our footwork really well to get around bigger post players, and then we can stretch it out and shoot some. We're small but I think really use it to our advantage.
DNS: When you move to the Western conference, you also end up in a conference where some of the best power forwards in the WNBA reside. It's always tough in the WNBA, but to be facing the likes of Ogwumike, Brunson, Dupree every night in conference play is certainly going to be a challenge.
CL: Definitely, the West Coast is stacked! There are some great post players out there so I'm just going to focus, and be ready every night that I go out there, and rely on my teammates to help me out.
DNS: You've gone from a franchise where there is been a bit of a revolving door of coaches to one of the most stable franchises in WNBA. I'm sure that something that's a little bit different for you.
CL: Yeah it is it is different. It's very comforting as a player just to know the organization you're coming to has a great history like that. It's refreshing to know you have people that are backing you up.
DNS: Good luck this season; the Storm is one of those teams that always seems to find a way, and always seems to be in the playoffs every year.
CL: Yes they are and this year will be no different. We will definitely be in the playoffs.