Dishin & Swishin 05/01/14 Podcast: Elena Delle Donne, Kelsey Griffin & Tamika Catchings talk WNBA Eastern Conference
[display_podcast]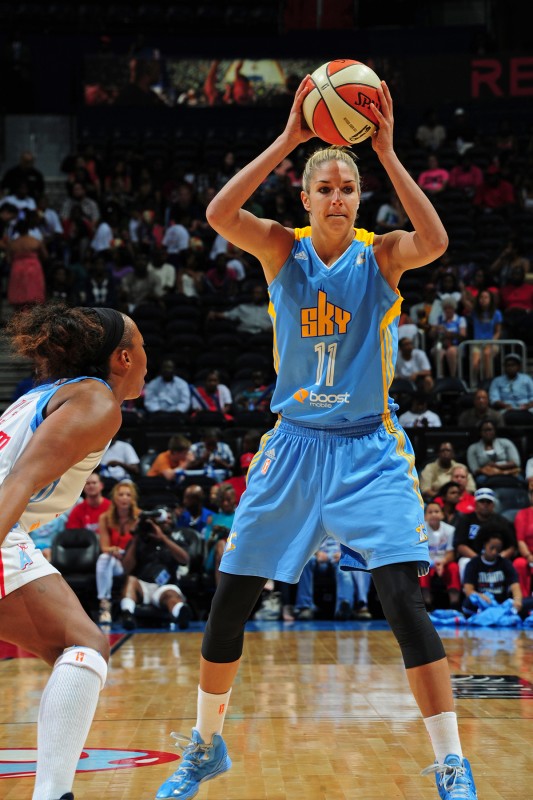 Last season the Chicago Sky won the Eastern Conference, the Indiana Fever finished fourth, and the Connecticut Sun was at the bottom, in sixth.
All three come into this season expecting things to be different; the question is however how different will the Eastern conference be?
Chicago enters the season with center Sylvia Fowles injured and as of now starting forward Swin Cash remains unsigned. Top draft choice Markeisha Gatling should help relieve some of the inside duties that are normally Fowles' domain. The backcourt remains strong with the returning Epiphanny Prince and Courtney Vandersloot. Last season's rookie of the year, Elena Delle Donne, will be facing a lot more responsibility though without Fowles and Cash in the lineup. Already scoring 15 points per game, she will need to increase her scoring load even more, and increase her rebounding as well.
Delle Donne is our first guest on Dishin & Swishin this week, and as good as she is on the court, she is just as strong off the court. A global ambassador for Special Olympics, she spent a great deal of time in the community this offseason, representing both the Special Olympics and the Sky. From shooting hockey picks to running clinics. Delle Donne has shown to be just what the franchise needed. Topics covered include previewing the Sky, her offseason and her community endeavors.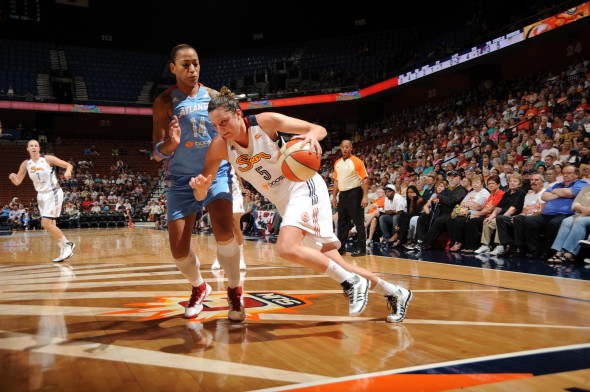 For Connecticut, there is no place to go but up. A dismal season yielded only ten wins and resulted in changes to the roster that included departures of Kara Lawson and Tina Charles, and the addition of Katie Douglas, Chiney Ogwumike, and Alyssa Thomas. One of the returning veterans is forward Kelsey Griffin, now entering her fifth season. On a team that seemed to lack effort and enthusiasm at times, Griffin was a bright light, always giving a complete effort and putting up some of the best individual numbers of her career.
Griffin is our second guest today, from Sun media day this week. On the heels of a second consecutive Australian WNBL championship and a second consecutive Grand Finals Most Valuable Player award, Griffin is armed with a new two-year contract extension and confidence in what her role will be on such a young team. She is looking forward to assisting the new players on and off the court, and seems energized for the new season. Topics discussed include the upcoming Sun season, playing in Australia, last season's trials and tribulations, and having her jersey retired at Nebraska this past winter.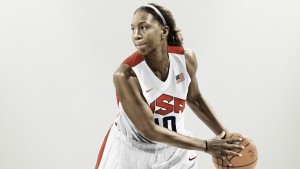 Throughout the career of Tamika Catchings, the Indiana Fever have moved players in and out, reloaded rather than rebuilt, but the constant has been the star wearing number 24 on her uniform. This year's edition is no different, with veteran guards Katie Douglas and Erin Phillips gone, along with center Jessica Davenport. For Catchings, it will be business as usual; setting the defensive tone and doing all the little things necessary for the team to succeed.
As good as Delle Donne is as an off the court ambassador, Catchings has been the standard-bearer for the WNBA for years with her Catch the Stars Foundation and more. Just this past week, a new court was opened in Indianapolis for disadvantaged kids, and named in her honor. It is always a pleasure to have Catchings on Dishin & Swishin. Topics covered include her foundation and Catchings Court, the changes made by the Fever and the 2014 season, and her return to what could be her final appearance for USA Basketball.
It is a fun thirty minutes for you this week, with three of the most important players for their teams in the Eastern Conference.
Enjoy!