Dishin & Swishin 05/22/14 Podcast: Lynx coach Cheryl Reeve looks to cement her place in history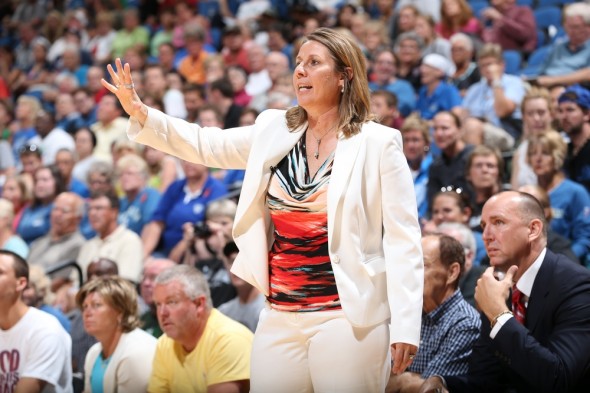 [display_podcast]
Minnesota Lynx head coach Cheryl Reeve already has the highest winning percentage of all coaches in the WNBA with 100 games coached in the league. Her two championships at the helm of the franchise place her behind Van Chancellor (four, Houston Comets) and Bill Laimbeer (three, Detroit Shock) and in a tie with Michael Cooper (two, Los Angeles Sparks) for most championships won in the WNBA.
During her first year, the Lynx missed the playoffs. Since then, they have been to the WNBA finals each year. This summer, Cheryl Reeve will add USA Basketball senior national team assistant coach to her impressive resume.
As the Lynx begin this season where they left off last year, winning games, Reeve continues to cement her place in history as one of the best coaches in WNBA history. The general managers know. They chose her the best coach and the coach that runs the best offense in their preseason polls.
It always takes a bit of luck to win a championship, especially when it comes to injuries. Reeve admits her Lynx were lucky in that regard the last few years, but not this year. To begin the season, they are missing starting forward Rebekkah Brunson and key reserves Monica Wright and Devereaux Peters. The Lynx continue to roll, however, led by the Olympic trio of Maya Moore, Lindsay Whalen and Seimone Augustus. The three have accounted for an astounding 63 percent of the Lynx offense in their first two games.
Can the Lynx streak continue in an absolutely stacked Western Conference? It will be a challenge, and a difficult schedule that includes three games over the Memorial Day weekend and six games in ten days in June will not make it easier.
Reeve returns to Dishin & Swishin this week, to discuss what her USA Basketball job means to her and coaching with University of Connecticut coach Geno Auriemma, the Lynx championship banner raising and ring ceremony, the continued evolution of Maya Moore as a truly elite player, as well as the rest of the 2014 Minnesota Lynx and the high expectations that come with being the defending champion.
Enjoy the podcast!
*Click here to subscribe to the podcast with your feed reader or podcast app