Alyssa Thomas, Katie Douglas help Sun overcome sluggish start to defeat Sky, 79-69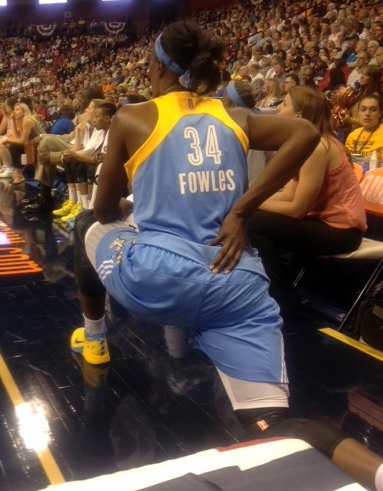 UNCASVILLE, Conn. – "I thought we looked like a team that had not played in a week," Connecticut Sun coach Anne Donovan said of her team's first quarter Wednesday night against the Chicago Sky, "but the resiliency and the fight that we had to come back and not get down was there."
That resiliency showed itself in a dominant third quarter that saw the Sun go on a 27-10 run to turn a 45-39 halftime deficit into a 66-55 lead.
Alyssa Thomas, on her way to a career-high 23 points, scored 12 in the third quarter, outscoring the Sky by herself. Thomas added eleven rebounds as she racked up her first career double-double.
"I'm definitely a lot more confident," Thomas said. "The more we play, the more confident I get. Credit my teammates for helping me to be comfortable out there."
The victory gives the Sun (8-6) a six-game winning streak, the best in the WNBA, and inches them closer to first place Atlanta. The Sky fall to 6-8; after starting the season 4-0 they have dropped eight of their last ten games. This was the first of a five-game road trip that includes three games on the West Coast.
For the first time this season, Sky coach Pokey Chatman started a game with the lineup she expected going into training camp: Sylvia Fowles at center, Elena Delle Donne and Jessica Breland at forward, and Courtney Vandersloot and Epiphanny Prince at guard. The lineup paid immediate dividends, as the Sky opened up a 12-point first quarter lead. Fowles had nine points and Breland six during the quarter, combining for a perfect seven-for-seven from the floor.
Delle Donne, in her first game back after missing several with symptoms of Lyme disease struggled, hitting only 3-of-11 shots from the floor, and needing frequent substitutions as she gets back her stamina.
Katie Douglas scored 19 points for the Sun, including four three pointers, while Chiney Ogwumike and Alex Bentley added 12 each. Bentley also contributed a season-high nine assists. The Sun controlled the boards, outrebounding Chicago 44 to 27, including 21 offensive rebounds, six by Kelsey Griffin and five by Thomas.
Center Kelsey Bone was quick to point out, however, that the Sun is not satisfied with their current streak, and realizes there is a long season still to go.
"We remember when we were 1-6 and 2-6," said Bone. "I think that's the best thing about this situation. We didn't get too down when we were in the pits in the beginning. We're not going to get too high now that we are winning."
The Sun face a stretch of five games in nine days, starting with road games against conference rivals Washington and New York this week.