Dishin & Swishin 06/12/14 Podcast: Underrated as a player and team, Danielle Robinson and San Antonio surprising in the West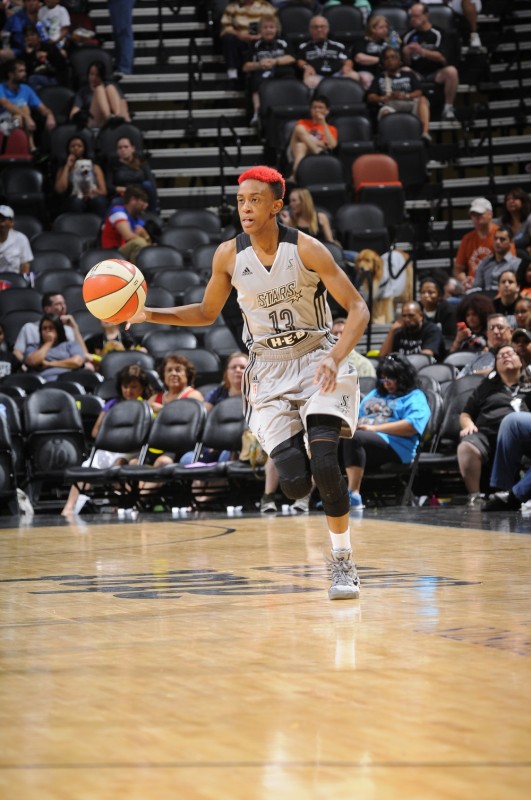 [display_podcast]
Minnesota, Los Angeles, Phoenix. Those were the three teams that were supposed to dominate the Western Conference of the WNBA. Most expected San Antonio, Seattle, and Tulsa to fight among themselves for the final playoff spot.
However, with just about a quarter of the season complete, the San Antonio Stars are sitting in third place, percentage points ahead of the Sparks.
Coach Dan Hughes' team is doing it with depth, an offense that includes the second best three-point shooting in the league and timely execution. They are a mix of veterans and youth; four players have eight or more years in the league, the rest have four years or less. In their nine games, four different players have led the team in scoring.
Only one player on the roster averages more than 26 minutes per game. As Hughes rotates players in and out, though, the one constant is Danielle Robinson. D-Rob, in her fourth year out of Oklahoma and already a WNBA All-Star, is averaging almost 34 minutes per game, and is having her best season in the league.
Robinson joins the Dishin & Swishin podcast this week, back for the first time since her appearance on WNBA draft day in 2011.
She was chosen one of the most underrated players in the league by the general managers in the preseason WNBA.com poll, as well as one of the best on ball defenders, and one of the best to play the passing lanes. In fact she currently is seventh in the league in steals.
Robinson's offensive game has blossomed, and she is boasting career high averages in scoring, field goal and free throw percentage, rebounds per game, and minutes played, while averaging similar assist numbers as last season.
Despite her knee injury last season, she is still one of the fastest people in the WNBA from end-to-end with the ball. Using advice and suggestions from experienced players like coach Vickie Johnson, and current and former teammates Becky Hammon and Tully Bevilaqua, she now has that speed under control.
After the season, Robinson will be a part of the pool of participants for the USA senior national team, headed to the World Championships in Turkey, and later the Olympics. A gold medalist from the World University Games, she is one of a group of young guards that includes Courtney Vandersloot, Odyssey Sims and Skylar Diggins that hopes to be the future point guard of her WNBA team.
As for the present, the Stars face conference rivals Los Angeles and Seattle two times each this month, and also face two games with Washington and one with Atlanta. It is a difficult schedule, and each game is crucial to the Stars' playoff aspirations. Robinson is looking forward to the task.
Enjoy the podcast!