Dishin & Swishin 6/27/14 Podcast: Can Michael Cooper take Atlanta to that elusive WNBA title?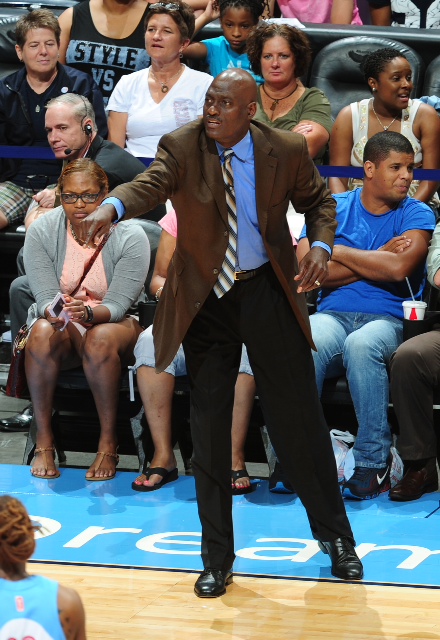 [display_podcast]
A bonus podcast for you this week! Yesterday we talked about the viral #Chillin4Charity movement, so today, we are going to take you back on the court for some WNBA conversation.
The Atlanta Dream reached the WNBA finals for the third time in four seasons last year, so it was somewhat of a surprise when the Dream chose not to bring back head coach and general manager Fred Williams for another season.
Dream ownership, however, had other ideas. Tired of being the WNBA bridesmaid and never being the bride, they brought in Angela Taylor to oversee operations, and hired former five-time NBA champion player and two-time WNBA champion coach Michael Cooper to coach Atlanta to that elusive title they desperately want.
In Cooper, they hired a coach with a past that included those two championships with the Los Angeles Sparks, but also less successful runs with the same Sparks and in the college ranks. Would Cooper be able to deliver their Dream?
Coach Michael Cooper joins Dishin & Swishin this week for the first time.
While it is too early to tell how the season will play out, thus far the Dream has to be thrilled with their coach and team. Atlanta sits on top of the Eastern Conference with a 10-4 record, two games ahead of second-place Connecticut. While the Dream has been on top before, there are clear differences between this team and prior teams.
Angel McCoughtry, the superstar that has had a history of "difficulties" on and off the court, is playing like a Most Valuable Player candidate, averaging 20.3 points (third in the league), 5.5 rebounds, 4.2 assists, and 2.39 steals per game (third in the league). In the post, Erike de Souza is averaging 15.9 points per game, three per game more than her previous high, and 9.5 rebounds per game. Sancho Lyttle is still a force at the power forward slot, and Tiffany Hayes has emerged as a constant threat on the wing as well.
Perhaps the best work Cooper is doing however, is at the point guard spot, where the Dream juggles incumbent Jasmine Thomas' defense and stability, the outside shooting and spectacular passing of rookie Shoni Schimmel, and French import Céline Dumerc, known as one of the best all-around point guards in the world. All three average between 15 and 23 minutes per game, and combine for around 17 points and 10 assists per game. During the podcast Cooper discusses the differences between each, and who he feels will eventually be the Dream's point guard.
There is also the matter of "Shoni-mania," as the rookie has a following like a rock star following the team; when a rookie gets this much attention, it would be easy for the veterans to be irritated. Under Cooper's guidance, the Dream seems as a whole to be enjoying the attention, and Schimmel herself has helped make it that way with her unassuming demeanor.
Of course, with 20 games to go, a lot can change. You have to like their chances of staying the course though, with an experienced leader that only wants to win titles like Cooper in charge.
Enjoy the podcast!