Team effort leads Connecticut Sun to 85-76 victory over Atlanta Dream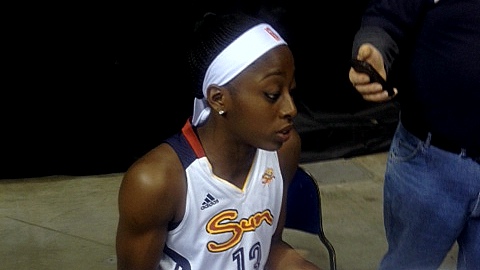 UNCASVILLE, Conn. — Seven Connecticut Sun players scored five or more points, while eight played at least 14 minutes, as the Sun rode a balanced effort to an 85-76 victory over the Atlanta Dream Sunday afternoon.
Coming into the game with a 1-5 record, the first win of their three-game home stand was big for the Sun.
"It was very important for us to come back here and get this one," said guard Allison Hightower, "to get our home court back, when we know we have a lot of home games coming up." She finished with 13 points, six rebounds and two assists.
The post combination of Kelsey Bone and rookie Chiney Ogwumike continues to develop chemistry, combining for 30 points and 14 rebounds against the formidable Dream combination of Erika de Souza and Sancho Lyttle.
"When you have the opportunity to go up against two strong veterans like that," Bone said, "we might be the younger version of that. To go out and play well against them is a great feeling."
Much of the postgame talk centered on the developing guard rotation of Hightower, Renee Montgomery (18 points), Alex Bentley (5 points, 4 assists) and Katie Douglas (8 points, 5 rebounds, 2 assists).
Coach Anne Donovan, clearly getting tired of answering questions on the subject stated succinctly: "It's the game of basketball, people play based on production."
Tiffany Hayes, a former University of Connecticut guard, returned to the state and led the Dream with 17 points. The Sun stymied the production of All-stars Angel McCoughtry and Lyttle. McCoughtry scored seven points on 2-for-14 shooting while Lyttle had ten points on 2-for-7 shooting. Rookie Shoni Schimmel, returning to Mohegan Sun Arena where she led Louisville to a berth in the American Athletic Conference tournament finals, finished with 11 points on 4-for-7 shooting. Atlanta falls to 3-3.