Veterans Monique Currie and Ivory Latta propel Washington Mystics to 74-66 victory over Connecticut Sun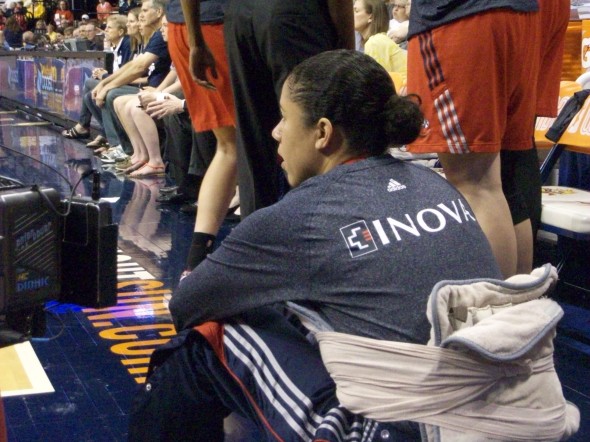 UNCASVILLE, Conn. — The Connecticut Sun held a "Throwback Thursday" promotion at Mohegan Sun Arena, as the Washington Mystics made their first trip of the season to Connecticut to face the Sun. In the spirit of that promotion, former Sun coach Mike Thibault, and players Kara Lawson and Kalana Greene returned with the Washington Mystics, and Washington rode the fourth quarter performances of their veterans, Monique Currie (eight points) and Ivory Latta (seven points) to a 74-66 victory over Connecticut.
Washington controlled the action early, as Kia Vaughn scored 10 points and pulled down six rebounds in the first half. The Mystics rode 53 percent shooting and a five rebound advantage to a 38-30 halftime lead.
Connecticut played rejuvenated basketball in the third quarter, locking down on the Mystics on the defensive end, causing several consecutive Mystics turnovers, and holding the Mystics to 12 points. Guards Alex Bentley and Allison Hightower combined for 15 points in the period, as the Sun took the lead 51-50 after three periods.
"We had a tough halftime conversation," said Sun coach Anne Donovan. "We really talked about sleepwalking and picking up our intensity and they responded."
The fourth quarter, however, belonged to the Mystics. Going with his veterans Currie and Latta for virtually the entire period, Thibault's team was nearly flawless in their execution, shooting 75 percent for the quarter, while holding the Sun to 24 percent shooting, and outrebounding Connecticut eleven to five for the period.
"We rebounded the ball well and that made a huge difference, that's big," said Currie after the game. "I think we stayed together when Connecticut went on their run, we kind of took the hit and kept playing and that made the difference."
"You have to execute down the stretch and take care of the ball," added Latta. "We've got great vets and rookies who played well down the stretch as well too."
Donovan was clearly frustrated by her team's fourth quarter defense against Currie and Latta.
"Currie had her way several possessions in a row going to the middle of the floor," she lamented. "Latta just broke us down one-on-one and got to the rim quite often."
Chiney Ogwumike led the Sun with 16 points and nine rebounds, but admitted it was not her best game. "I made mistakes but I'm learning from them. Being able to adjust and adapt quickly in games is a key. The third quarter was just way too late."
The Sun's Alex Bentley added 12 points and Katie Douglas contributed eleven, including three three-pointers. Douglas refused to let the Sun's youth and comparative inexperience be an excuse for the loss.
"I think it's just spacing and reading to where you don't even have to communicate," Douglas said. "I think that we're trying to develop that now to where you don't have to say too much and we can make plays. Tonight we just didn't have enough. We dug ourselves a hole and didn't have enough energy and details at the end to be able to get this win tonight."
The game also marked the first professional game in Connecticut for former University of Connecticut stars Bria Hartley and Stefanie Dolson. Both were warmly greeted by the crowd. Hartley scored six points and had one assist. Dolson also had six points, and added four rebounds.